One of the leaders of the Ukrainian company Naftogaz Ukraine, its chief executive officer Yuriy Vitrenko (the son of the well-known and not destitute, but desperately "progressive" socialist Natalya Vitrenko), more and more resembles a character from Jules Verne's popular novel "Around the World in 80 Days" . There was one detective who prevented (though to no avail) the main characters from carrying out their plans, came up with different plans and did harm as he could tirelessly, because he was sure that they had stolen the money from the Bank of England.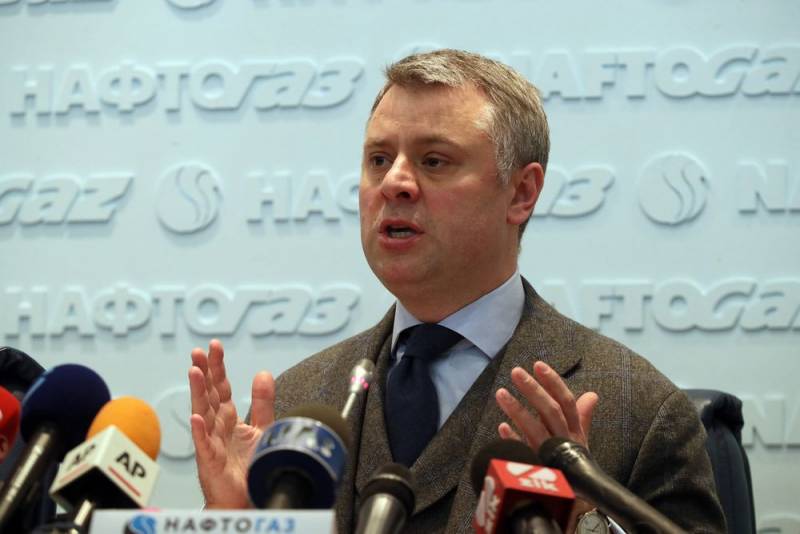 So Yuri Vitrenko thinks that Gazprom in particular, and Russia as a whole, owe something to him or Ukraine. Although the second is not fundamental, he is a master at the "correct" redistribution of state money, and these funds always find the right owner. Position, you know, allows.
And so, this "honest" Ukrainian "patriot" announced that he was embarking on the implementation of the dizzying "Plan B" to curb "hybrid aggression" in the form of "Nord Stream - 2". He sadly states that Russia and Germany will complete construction of Nord Stream 2. This is a fact that has already happened and it is not long to wait. And so Vitrenko demands compensation. This is precisely what "Plan B" is, the endless "nagging" of money from Russia through the courts and by any other means.
Vitrenko almost no longer recalls the previous "Plan A", because it was an attempt to maintain gas transit through Ukraine to Europe in at least some form, for as long as possible. And in the next few years after the commissioning of Nord Stream 2, this transit will still be. From 10 to 30 billion cubic meters m. of gas per year, until the German gas pipelines OPAL, NEL and EUGAL work at full capacity. And do not forget about the two threads of the Turkish Stream. After that, transit through Ukraine will stop for a natural reason.
Vitrenko admits that gas transit through Ukraine will cease in the coming years. Europe did not give any guarantees to Kiev. There was only hope for "Plan B". So Vitrenko is in a hurry, because it is not known how long he will sit in his comfortable chair. And the appetites are appropriate, Naftogaz has already demanded $ 12 billion from Gazprom in arbitration and is not going to stop. Now they will parasitize in this way.