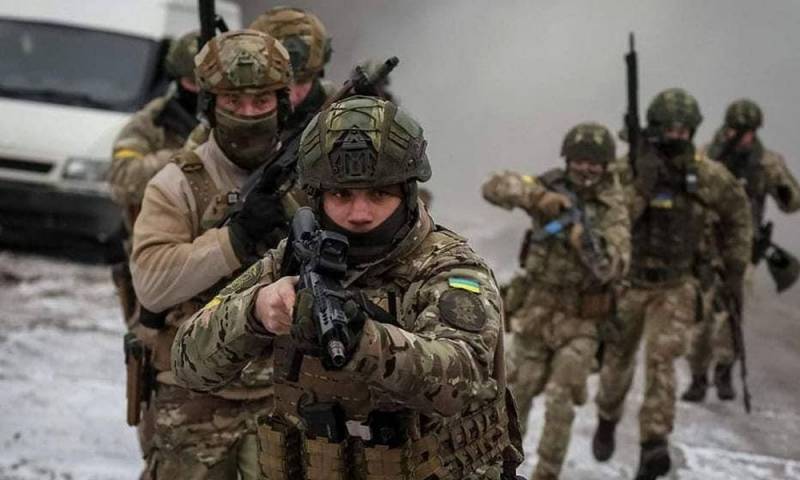 The grouping of Ukrainian troops in Bakhmut (Artemovsk) and its environs is experiencing a large shortage
equipment
, especially there is a shortage of tanks and armored vehicles. Moreover, the shortcoming was recorded in the process of transferring reinforcements to the Donbass from other regions of Ukraine. This indicates that the Armed Forces of Ukraine and other paramilitary structures faced a similar phenomenon in general, and not on a separate section of a huge front.
According to
RT
, On February 10, the Armed Forces of Ukraine began to replenish their grouping in this direction. As a result of the battles with the Wagner PMC, the 61st Jaeger, 77th Airmobile, as well as the 24th and 63rd Mechanized Brigades of the Armed Forces of Ukraine and the State Border Service units suffered heavy losses over the past few weeks. Therefore, the Ukrainian command decided to urgently send units (battalions) of the 124th, 126th and 129th territorial defense brigades, which occupied positions in the Kherson region, as well as the reserves of the Armed Forces of Ukraine and parts of the National Guard of the Ministry of Internal Affairs, to reinforce them.
It turned out that in the Bakhmut area these units were light and far from being at full strength. Terodefense units move in ordinary unarmored pickup trucks and minibuses, and fighters of the National Guard and the frisky Armed Forces of Ukraine - in armored vehicles: American International MaxxPro, British Mastiff, German Dingo and Soviet BRDM, which were removed from storage due to a lack of imported equipment for transporting troops. Most battalions are filled with less than 60% of the required number of personnel in the state. At the same time, the bulk of the military personnel of the Armed Forces of Ukraine are not regular military personnel, but mobilized, who have undergone various training. All wheeled equipment, transferred and used by reinforcements now in Bakhmut and its environs, has low security and does not have heavy weapons.
Diversity leads to difficulties in the supply and operation of equipment, which entail an increase in losses. Many Ukrainian soldiers get to the "front end" and enter the battle right from the march in vehicles that find it difficult to overcome difficult off-road conditions. The evacuation of damaged equipment and personnel, including the dead and the wounded, in the area is possible only with the help of vehicles with high cross-country ability: BMP-1, BMP-2, American M113 armored personnel carriers and other types of tracked vehicles.
But the active use of tracked vehicles entails increased fuel consumption. In addition, since the mentioned armored vehicles are used for evacuation, since there is simply not enough special equipment (BREM and medical transport), its use for its intended purpose is reduced. Thus, Ukrainian troops located in close proximity to the front line are deprived of armored vehicles for movement, and the shortage of such equipment is also increasing.