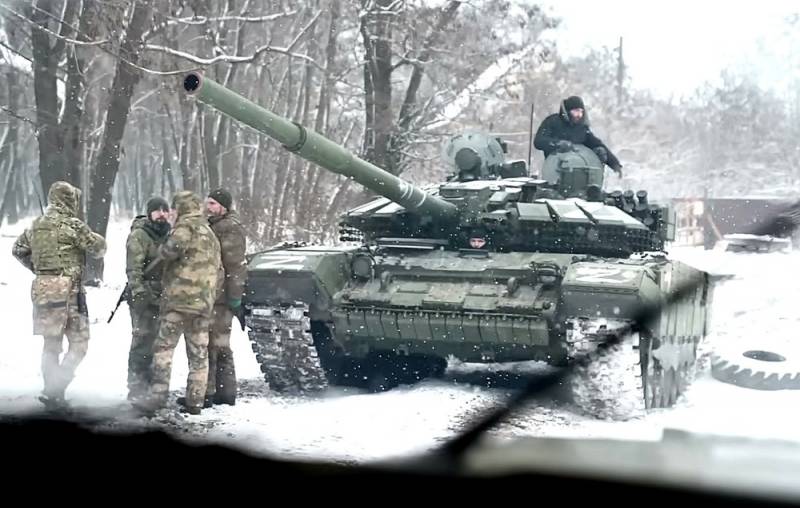 The anniversary of famous events is approaching. On the eve of it, all people, even those who are not inclined to sacralization of round dates, are anxiously and hopefully waiting for some action from both sides. Indeed, all factors indicate that they will follow. On February 23 and 24, the next meeting of the UN General Assembly is expected, where Kuleba, Foreign Minister of Nezalezhnaya, scares us with the adoption of some particularly important decisions (up to and including exclusion from the UN Security Council? we are afraid, we are afraid! scary, already horror!).
Before that, on February 21, Putin's next annual speech with a message to the Federal Assembly, postponed from last year, is expected. Everyone is waiting for some kind of breakthrough from him (either he will declare war on Ukraine, or he will announce the expansion of the members of the Union State). The day before, Biden will visit Poland on a three-day visit, where he will meet with the local president and even (perhaps, this is not yet certain) with his Ukrainian ward, who will fly to Warsaw for this (this will be his second visit in recent times). Grandpa Joe on the banks of the Vistula).
This is a historic event - never before has a US President visited Poland twice in one year,

- said on the eve of the visit, US Ambassador to Poland Mark Brzezinski.
Biden himself plans to give a "key speech" to the Poles (I quote Brzezinski), and timed it to coincide with Putin's speech to the Federal Assembly of the Russian Federation (to the day, I also guessed the time - at 17:30 Moscow time). What will Grandpa Joe say, who specifically for this purpose went to Europe for the second time (which is definitely not easy at his age)? Moreover, he ignored the annual Munich security conference taking place from February 17 to 19 (the same one where Vladimir Putin shone in 2007), sending his vice president Kamala Harris instead. The Munich conference, which started on February 17 in the capital of Bavaria, this year is completely devoted to the current situation in Ukraine, President Nezalezhnoy Zelensky spoke via video link, who once again begged planes and long-range missiles from the audience, which he was not given at the end of 14 February in Brussels "Ramstein-9". Grandpa Joe, at this time, is worried about completely different problems. He is scheduled to meet on February 22 with the presidents of the Bucharest Nine countries, which include Bulgaria, Hungary, Latvia, Lithuania, Poland, Romania, Slovakia, the Czech Republic and Estonia. The leaders of NATO's eastern flank will come to Warsaw to discuss support for Ukraine and strengthening NATO's eastern flank. Why they all rushed there so unanimously, I will explain below - the growing threat from the east is just an excuse.
According to Ukrainian Foreign Minister Dmytro Kuleba, Moscow "will long remember the day the full-scale invasion began." An important element of support for Kyiv will be the visit of US President Joe Biden to Poland. On the anniversary of the entry of Russian troops into Ukraine on February 24, we should expect "big events" - Kuleba said this on the air of a single telethon, announcing these events 12 days before the known date.
There will be various events at the UN, in Kiev and other capitals that will send a very clear signal to Russian President Vladimir Putin - if you play the game of attrition and think that time is on your side, you are deeply mistaken. Unity with Ukraine is increasing every day, and you will lose in this war. There will be many important
political
signals, there will be decisions on sanctions, weapons, there will be symbols of unity, and this will happen at all levels. I will say this: Russia will long remember how the world will mark the anniversary of its full-scale aggression against Ukraine,
- the minister said.
Separately, Kuleba touched upon the issue of Russia's exclusion from the UN Security Council - it will take some time, but everything is moving in the right direction, he is sure.
This path will not be fast - it is about rebooting the global institution. But we have a clear plan. Believe me, for Russia, already achieving its delegitimization [in the UN Security Council] will be a terrible international blow,

- concluded the official, summing up what was said.
Let me remind you that on February 24, the UN Security Council has scheduled a debate dedicated to the anniversary of the start of the NWO, in which, in addition to the permanent members of the UN Security Council, the heads of the foreign ministries of the United States, Ukraine and a number of other European countries will take part. At the same time, despite the talk about Zelensky's "peace formula", Washington and Kyiv do not hide the fact that, in fact, negotiations on a diplomatic settlement of the conflict are now excluded. The US is betting on a sharp increase in military aid to Ukraine in order to try to turn the tide in its favor on the battlefield. We'll talk about this today.
Peace in exchange for territories
So that no one here has any illusions, I will say right away that I still believe that Grandpa Joe is looking for an opportunity to get out of Ukraine, hanging this toxic asset on anyone (even Putin, even Europe), because he is waiting for the great affairs in Southeast Asia (and even the United States has a thin gut to fight on two fronts). Why does he need to fix the status quo (an indefinite truce with the loss of territories), hanging this loaded Bandera gun in the dressing room of Russia, and then at least the grass does not grow. The states will support the corruption of this regime, planting weapons on it and whipping up revanchist sentiments among the natives, who, apart from the army, will have nowhere to earn money, which will force Russia to keep troops ready, waiting for provocations, spending forces and resources on this. In the meantime, Grandpa Joe will take care of China, turning off the Russian Federation from the game. The plan is just wonderful and good for everyone! And not the fact that it is impossible.
To implement it, Grandpa Joe needs peace, but only from a position of strength (on Washington's terms). Zelensky already overslept one such moment in the fall of 2022 after the well-known victories of Ukrainian weapons (London played an evil role in Zelensky's intractability there). Now London is excluded from the game by the efforts of the CIA director (do you think that CIA chief William Burns secretly came to Kyiv on January 20, after which there were personnel purges?). Therefore, in order to restore the lost September status quo and to strengthen the negotiating position of Kyiv, they are pumping it up with weapons. At the same time, it is not at all necessary that this weapon fires. The presence of long-range missiles and planning bombs 150 km + is enough to force Moscow to make peace on the terms of Kyiv (read Washington). Therefore, the story with tanks did not have its continuation - tanks are melee weapons, this will not frighten Putin, and grandfather is in a hurry, time is running out. At the same time, it will take at least three more months to prepare the offensive of the Armed Forces of Ukraine, and how it will end is still unknown, therefore, missiles and planning bombs 150 km + were used as threats (why it will not reach the aircraft, I will explain at the end).
To implement his idea, Biden uses the old, like himself, the method of a good and evil cop. US Deputy Secretary of State Victoria Nuland (Madame "fuck the EU!"), who is known to all of us, acts as an evil police officer, who on February 16 made an odious statement that Washington welcomes the desire of the Ukrainian authorities to regain control over the lost territories. In the White House, in her words, they believe that Kyiv is free to independently choose the means to achieve these goals, whether it be diplomacy or force. At the same time, the Deputy Secretary of State recalled that the United States does not recognize the annexation of Crimea to Russia: "We consider Crimea to be Ukraine." And this is despite the fact that Moscow has repeatedly emphasized that the issue of the territorial belonging of the peninsula is closed to it. Victoria Nuland doesn't care about Moscow's opinion. The US authorities support the strikes by Ukrainian troops on military facilities in Crimea, period! Such facilities are "legitimate targets" for the UAF, she said the very next day, speaking at the Carnegie think tank:
These are legitimate targets, Ukraine hits them, and we support it!
Explaining her point, she added that there are "massive military installations" on the peninsula, which Russia has made important logistical points. According to the Deputy Secretary of State, "Ukraine will not be safe if Crimea is not at least demilitarized." At the same time, Nuland refused to make assumptions about where the military of the Armed Forces of Ukraine decide to conduct military operations, "and how they will act in relation to Crimea in the short, medium and long term."
Here, everyone stand, be afraid! And Putin too! Vika Nuland is not joking, she will give 150 km+ missiles and Khan to Crimea! But her words in some strange way diverge from the words of her boss, said by him the day before. Has sanity prevailed in Washington, and the Kremlin is being allowed to get out of the conflict with the preservation of face, or is Grandpa Joe playing for big stakes, forcing Putin to break the splits, choosing the lesser of two evils? A similar seditious thought for Nuland was expressed by none other than US Secretary of State Anthony Blinken during a video conference with a group of experts, which took place via Zoom on Wednesday, February 15th. This was reported by the informed American publication Politico, citing its sources.
During the conversation, the Secretary of State was asked if the United States was ready to help Ukraine achieve its long-term goal of taking control of all lost territories. As noted by four sources of the publication, Blinken said in response that the United States would not actively encourage Ukraine to return the Crimea, but the decision rests with Kiev.
An attempt by Ukraine to reoccupy Crimea would be a red line for [Russian President] Vladimir Putin, which could lead to a larger Russian response
– quotes Blinken edition.
According to two interviewees, the Secretary of State's comment gave the impression that "the United States does not consider it a wise move to try to return Crimea at the present time." At the same time, two other interlocutors of the publication, on the contrary, considered that Washington was open to an attack on Crimea, since the decision, according to the Secretary of State, remains with the authorities of Ukraine, although any attempt by Ukraine to liberate Crimea "annexed" by Russia by military means could become a "red line" for Russian President Vladimir Putin and lead to even more powerful strikes against Ukraine than now.
The overall message is that there is a lot of uncertainty about how things will play out next, and there are real questions about either side's ability to make big gains,

- this is how one of the sources of Politico commented on the situation, who saw in Blinken's answer a desire to shift the responsibility for future consequences to Kyiv.
At the same time, as the publication recalls, earlier doubts about the ability of the Armed Forces of Ukraine to seize Crimea were also expressed in the Pentagon. Thus, the Chairman of the Joint Chiefs of Staff, General Mark Milley, recently stated that he considers it extremely difficult, though not an impossible task, for Kiev to return all the territories it has lost. And senior Pentagon officials have gone even further, telling members of the House Armed Services Committee that they are not at all confident that Ukraine will be able to retake the peninsula in the foreseeable future. Those. in other words - and you want, and it is pricked, and the mother does not order! At least no one has any illusions about the successful offensive of the Armed Forces of Ukraine in the Pentagon, so all that Grandpa Joe is trying to squeeze out of this is to persuade Putin to negotiate from a position of strength, scaring him with the supply of long-range missiles (we are not talking about planning bombs yet). goes - it will take at least 9 months to make them, and grandfather Joe is running out of time, everything needs to be decided already this year - for the next financial year, and it starts in America on September 1, Congress will no longer give money, and will also ask for already spent ).
But missiles for the M142 HIMARS are very expensive, and the M39 version (full name: MGM-140A ATACMS Block 1) with a range of 165 km. they themselves need it for its subsequent upgrade to the M57E1 version. Therefore, there will be no long-range missiles (Block 1) 165 km +, and I don't think that Putin, knowing this, will fall for such a rotten divorce (and if I know about it, then Putin knows 100% about it!). The big game begins, which is why Grandpa Joe arrives on a three-day visit to Warsaw. We are waiting for an absentee verbal duel of two leaders live.
At the same time, on January 28, on the air of the Dom TV channel, Mikhail Podolyak, an adviser to the office of the President of Ukraine Volodymyr Zelensky, said that the country was negotiating with Western countries regarding the transfer of aviation and long-range missiles to the country, "which will destroy the rear infrastructure, primarily artillery depots, very a large number of these warehouses are located on the territory of the Crimea. In response, Deputy Chairman of the Security Council of the Russian Federation Dmitry Medvedev reminded the presumptuous Ukrainian official that an attack on Crimea would lead to "inevitable retaliation with the use of any weapon." After that, they grabbed their heads already in Washington. The subsequent entry into the North Sea (for the first time in 30 years) of a squadron of surface ships of the Northern Fleet with tactical nuclear weapons on board (before that, only our submarines, carriers of strategic nuclear weapons - SSBNs, SSBNs and SSBNs) went with them) clearly contributed to the strengthening of their mental activities. Nothing so oxygenates the stiff brain of the American military, prompting them to mature and responsible decisions, as the launch of our ships with nuclear weapons on board.
Once again, I draw your attention - Washington is happy with a draw, and he offers it to us through his authorized speakers, scaring us in case of refusal by supplying aviation and long-range missiles to his Kiev wards (note that everyone has already forgotten about tanks, tanks are melee weapons, they frightening Putin is like scaring a hedgehog with your bare ass!). Those. we are offered to fix the status quo, based on the condition that no one has won from the war (except, of course, the United States), but no one has lost big (except Kiev - they offer peace in exchange for territories). Does such a proposal of a draw (neither peace nor war) suit us? Note that Kyiv, at the same time, it seems, no one even asks. Let's think.
It's better to do than to say!
Everyone is waiting like manna from heaven for Putin's message to the Federal Assembly, expecting from him either a declaration of war, or the expansion of the Union State, with the inclusion of Transnistria, Abkhazia and South Ossetia in addition to Belarus. Or any other "gifts" from the master of this genre Putin, recalling his famous "toys" that he demonstrated to the West during his similar speech four years ago (from some of these "toys", in particular from "Dagger" and "Poseidon", The West still hiccups). But it seems to me that Putin will once again surprise everyone on February 21 by offering Kiev peace without preconditions instead of war (I draw your attention to the last one - precisely without preconditions!).
From the number of intermediaries in this charitable act is already dazzling - from the Pope, to the Turkish Sultan and the Brazilian President. Some will see this as a sign of weakness, but I personally see it as a sign of strength. Putin offers peace from a position of strength, using Trump's famous formula: "If you don't want it badly, it will be worse in a good way!" Whoever doesn't want peace will get a war, and then don't ask for it, the Russian tanks will stop where they stop. Who wants to know where this will happen?! Something I do not see a large number of applicants, at least in Europe.
And as for Putin's "toys", the main trump cards should be kept up his sleeve and laid out on the table only at peak moments, because a previously exposed trump card may not play in the future. It's better to do than to say! At first, "shandarah" them properly, and then say that this will happen to everyone who turns up (there are too many satellites in orbit, don't you think? And why are they better than our offshore gas pipelines?!). From time immemorial, the world has respected only strength, believe me, after such a visual demonstration of it, there will be no one left who wants to poke their noses. Poland will be the first to leave the banquet with the words: "Do we need it?!". I even keep silent about the Baltic fighting poodles, they will simply crap themselves out of fear. Do you think that apart from Avangard, Sarmat, Burevestnik, Poseidon, Kinzhal and Peresvet, Putin has nothing more to highlight?! He showed them to one very tanned gentleman, the leader of the pale-faced Comanches back in 2018, after which he hastily retired and preferred writing memoirs under the general title "I and the Genius of Villainy Putin" to an open confrontation with the Russian Federation. To the handsome Trump who replaced him, the Genius of Villainy showed only one "Zircon" to the Fearless Cowboy and that was enough. What he has in store for old Joe, I don't know, but I'm sure that this "gift" is and is waiting in the wings. There is a time for everything - a good spoon for dinner! All our enemies during Putin's rule understood only one thing - he never bluffs, he does what he says. I propose to change the order only - first to do, and then to say, finally realizing the principle: "He who does - does not say!", abandoning the previous principle attributed to the Kremlin for some time now: "He who speaks does not do it! ".
Looking ahead a couple of days, I dare to assume that the next security conference taking place these days in Munich will end, as always, with nothing - another gurgling of snot, breaking the sword over the undefeated corpse of Russia, which this time is represented by such figures as Kasparov, Khodorkovsky, Gudkov, Milov and other "titans of thought" of modern Russia, among whom Navalny's wife and Nemtsov's daughter somehow got lost. But this site was conceived only for this - to gurgle with snot and disperse, it is not authorized to make any decisions, no matter how many emissaries from Ukraine travel there, which this time is represented there by its largest delegation headed by an illiterate foreign minister who does not know elementary history, and stealing the Minister of Defense, whose subordinates in their homeland are accused of embezzling Western subventions aimed at the needs of the Armed Forces of Ukraine. Ukraine has no luck with diplomats, one sings obscene ditties about Putin, another teaches the Germans how to love Hitler, and the third agreed that his country, together with the Faction and Germany, created the Russian Empire and now it is up to them to decide what to do with it next.
If before that Russia as an empire determined the fate of Ukraine from Europe, now Ukraine as a part of Europe will determine the fate of the Russian Empire. In fact, three hundred years of history will be turned upside down. The Russian Empire was created by the French, Germans and Ukrainians, and now we have to decide what to do with it next
- such maxims were shared with the readers of his blog by the current head of the Foreign Ministry of Nezalezhnaya on the eve of this event.
It is not surprising that the main hegemon did not come to this gathering of losers (preferring Poland to Germany), but sent instead his vice-president Kamala Harris, who at home had already filled up everything that she was not instructed, so she was sent away from America out of sight . The company there will be made up of all the recognized losers of Europe, starting with the main "liver sausage" of Germany and the president of France of non-traditional sexual orientation (under which their chairs are already swinging), and pumping the British Indian prime minister, who began to rake his own Augean stables with the supply of main battle tanks Royal Armed Forces of Ukraine (it is evident that it is customary for the British-Indians to solve their own problems by creating them for others). Secretary of State Anthony Blinken was sent to Munich to keep an eye on Kamala Harris, so that she would not blurt out anything superfluous, who was happily met by his German colleague Annalena Burbock. From this gathering of Russophobes one can expect any nasty things, but, thank God, they cannot put them into practice.
Not in the horse feed
Ramstein, which preceded Munich, ended in a similar way, which this time was held in the capital of Belgium, which is also the headquarters of NATO. The cabal of Ukraine's sponsors, which took place on Valentine's Day (the ninth already in a row), clearly showed that Putin did outplay the West in the long run - the Kiev mezheumochny regime is being drained. It seems that everyone is already pretty tired of Zelensky. To feed him and keep him, at least in Europe, there are no more fools (which was clearly demonstrated by the fleeing tank coalition). Therefore, the owners of the controlling stake dump this toxic asset from the balance sheet (as a rule, the asset itself is the last to know about it). Whoever holds 51% of the shares of this mediocre regime, you know - the windows of his office overlook the Potomac.
Still, of course, not evening, but the situation is already close to it. Everything will be resolved in the next month or two. The stakes have been raised to the limit (our ships with nuclear weapons are already in the North Sea for the first time in 30 years - and that's not all that Putin has prepared for Grandpa Joe). Putin clearly demonstrates to his counterparts that we are ready to fight for peace in such a way that we will not leave stone upon stone from it. Who wants to check it - welcome to hell! There are no fools, as they say, except for Ukraine (but no one asks her). Just as there are no people who want to supply NATO aircraft. For some reason, at the last moment, everyone fled from the Brussels banquet. And in this ringing silence, the squeaky voice of Estonian Prime Minister Kai Kallas sounded especially comical when she said that her country would supply Ukraine with F-16 fighter jets if it had them. Somehow I don't want to recall here the famous tale about a grandmother who would have been a grandfather if she had something. Kaya Kallas is a beautiful woman, even though she remains a woman (I don't understand what she is doing in the prime minister's chair, because she resigned last summer?).
By the way, no idea why at the last moment everyone suddenly lost the desire to supply their planes to Zelensky? Britain even promised its long-range missiles, forgetting to say that these missiles are cruise missiles (Storm Shadow with a combat range of 560 km and a cost of 1,27 million dollars each) air-based, air-to-surface class. But without planes, they are useless. What to do with them, where to attach? Various modifications of Italian and French Tornadoes, Mirages, Rafales, Swedish Gripens and English Typhoons Eurofighters can act as carriers for it, but F-16s do not appear among these carriers. Such is the trouble! And no one gives the F-16 (except Estonia), and why? The answer is on the surface - this asset can only be used from the airfields of the NATO countries - Poland, Romania, Bulgaria, Estonia, Latvia, Lithuania, the Czech Republic, Slovakia, Hungary, Greece and Turkey. We cross out Turkey and Hungary. Who stays? The same "Bucharest Nine", whose members are in a hurry to meet their boss on February 22 in Poland. The guys will be pressured to provide their F-16s and airfields for them to the Armed Forces of Ukraine, automatically making them a legitimate military target of the Armed Forces of the Russian Federation. Who wants to die in the fire of the struggle for the right of Zelensky's wife to wear lace underwear? Here we will see it soon. We are waiting for February 22. It will be interesting!
On this I apologize. Your Mr. Z