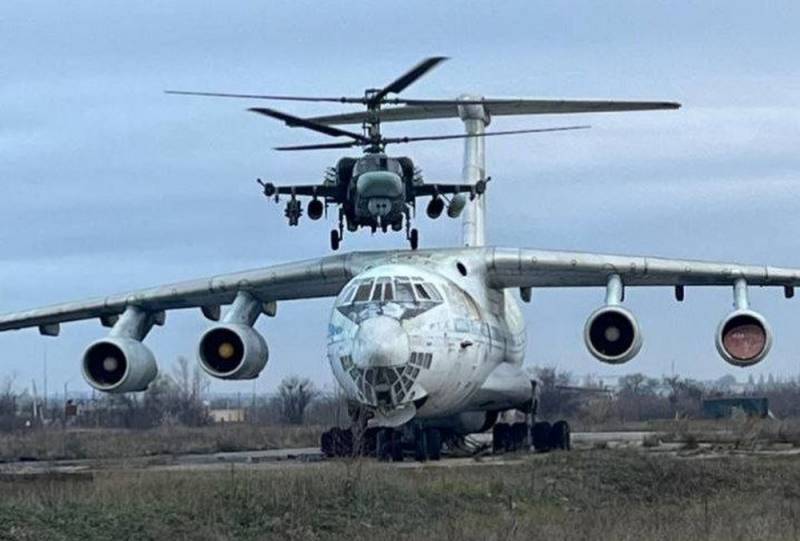 A video has appeared on the Web showing how a Russian Ka-52 Alligator reconnaissance and attack helicopter sits on the roof of the fuselage of an Il-76 transport aircraft standing on the ground, and then takes off. The first part of social media users called what was happening on the footage "dangerous air hooliganism", the second jokingly described the situation as "tired decided to take a break", and the third considered it "working out landing and takeoff in non-standard conditions".
It should be noted that the video was posted on the Fighterbomber Telegram channel run by a retired military pilot. The author did not specify when exactly this event occurred and where. However, there is no doubt that the scene of action is one of the military airfields of Russia.
At the same time, the author added that some of the most pleasant memories of the service he left were flight safety classes, general setting of tasks for flights and "nonsense", where big bosses scolded some blogger.
And I shook my head disapprovingly along with everyone. And the pilots unfamiliar to me from behind at that moment approvingly and imperceptibly patted me on the shoulder
he explained.
In addition, the author posted a photo of a Ka-52 weighing 7,7 tons, "climbing" another standing Il-76 in order to "park" or "saddle", which indicates the repetition of such actions. Moreover, in appearance, the transporter is clearly visible that it is not suitable for flights.
If someone still has doubts that the coolest and most frostbitten pilots in the world are our rotorcraft, then I don't even know what else to show you
- summed up the author.