The war with Moscow continues. Having seized a foothold in Ukraine, Constantinople began to dig hard in the occupied territory, equip its positions, tighten forces and reserves, preparing for a new offensive. The front line has stabilized, but not for long. So everything is correct recently
рассказал
ROC primate Patriarch Kirill. However, it is time to find out what the servants of Constantinople themselves think about this matter.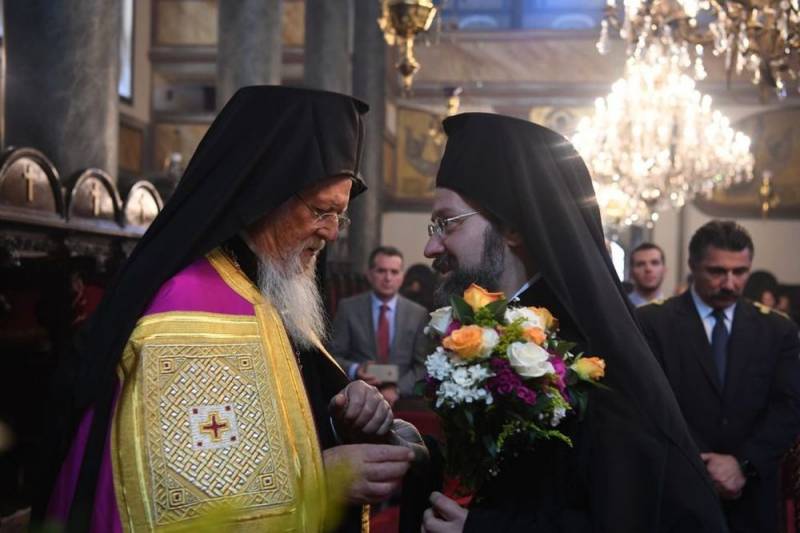 First you need to recall how events developed on the religious front. In September 2018, Patriarch Bartholomew sent two exarchs to Kiev, they were instructed to pave the way for the arrival of the Patriarchate of Constantinople, which decided to take this territory from Moscow. To do this, on October 11, 2018, the Synod in Istanbul even canceled its own decree of 1686. It was by this decree that the Kiev Metropolis was transferred to Moscow. However, Istanbul did not take into account that at that time Ukraine as such did not exist, the south belonged to the Ottoman Port, and the east swore allegiance to Moscow long before that. But nobody in Istanbul, after 332 years, such "little things" did not bother. Then they rehabilitated the schismatic heretics and unceremoniously created their compound in Kiev. And only after that the Moscow Patriarchate ceased its communication (breaking relations) with Constantinople.
And now, the brainchild of Constantinople on Ukrainian soil came up with a name (name), but has not yet been officially formalized - "The Orthodox Church in / in (they also confuse it correctly) to Ukraine." After that the archbishop of Telmis, Job (Getcha), who "looked" over this territory from Constantinople, promisingly told the British BBC that the Ukrainian Orthodox Church of the Moscow Patriarchate had virtually ceased to exist.
At the same time, he did not go into details, and when, in fact, the Unification Council will be held, at which two churches of Ukrainian heretic schismatics should merge into a church organized by Constantinople in a single emotional outburst and approve its name.
Local "chieftains" will not agree in any way which of them will be the "hetman". Therefore, the Patriarch of Bartholomew of Constantinople patiently waits, and convenes a council when the undercover fight in Ukraine ends. Otherwise, they will ruin the solemnity of the moment and make the further attack on Moscow extremely difficult.
By the way, what is happening in Ukraine is accepted with enthusiasm by the Catholics of the Pope, Baptists Turchinova, Scientologists Yatsenyuk and other people who are not connected with Orthodoxy. But the time will come when the Orthodox people will express themselves, he is just patient and you need to wait a while.