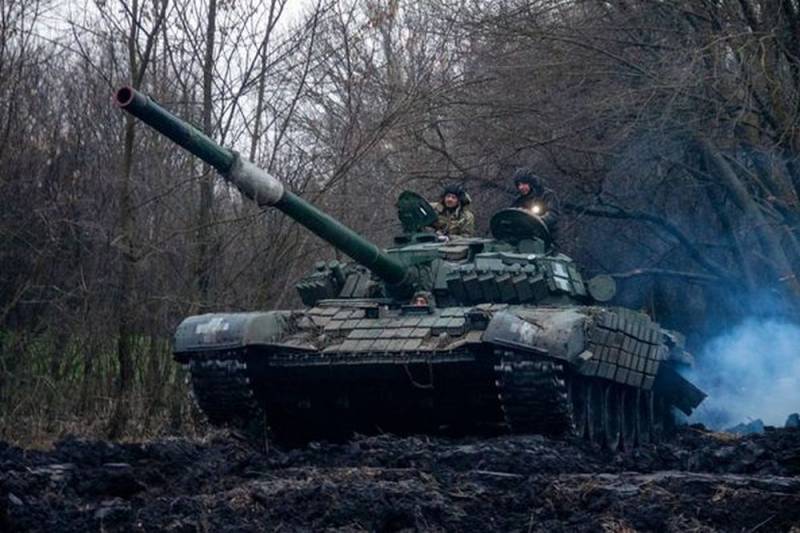 Ukrainian troops are experiencing a shortage of diesel fuel. This led to at least five unsuccessful combat exits of tank units of the Armed Forces of Ukraine and the loss of a number of T-64BV and T-72B units in the Kharkiv region in the first 1,5 months of 2023.
So, according to the Telegram channel
"RT in Russian"
, On February 11 and 12, units of the 132nd separate reconnaissance battalion (military unit A2298) and the 14th mechanized brigade (military unit A1008) of the Armed Forces of Ukraine tried to conduct reconnaissance in force in the area of ​​\uXNUMXb\uXNUMXbthe settlements of Dvurechnaya and Novomlynsk in the Kupyansky direction. Both times the exits were accompanied by the loss of tanks, which were waiting for refueling in the field.
The Ukrainian military does not have the universal opportunity to bring tanks to the LBS on tractors, since the APU has few car carriers (tank carriers). Therefore, tanks often get to the "front end" and firing positions on their own, and in short ways, saving fuel. They fire a few shots and change position, after which they retreat to the nearest forest plantation and wait for the arrival of tankers, which are also few in the Armed Forces.
Often, the Ukrainian military uses civilian vehicles with disguised tanks of small volume. Fuel is being transported to the Kupyansk region from one of the oil depots located near Kharkov, where it is delivered from Poland. Here, in just 1,5 months of 2023, the losses of the Armed Forces of Ukraine amounted to 9-10 tanks, which did not wait for the delivery of fuel. And the losses are increasing. So, in November-December 2022, due to a shortage of fuel, the Ukrainian military lost 7 tanks in this direction (4 T-64BV and 3 T-72B), which were detected by Russian drones and covered by artillery fire.