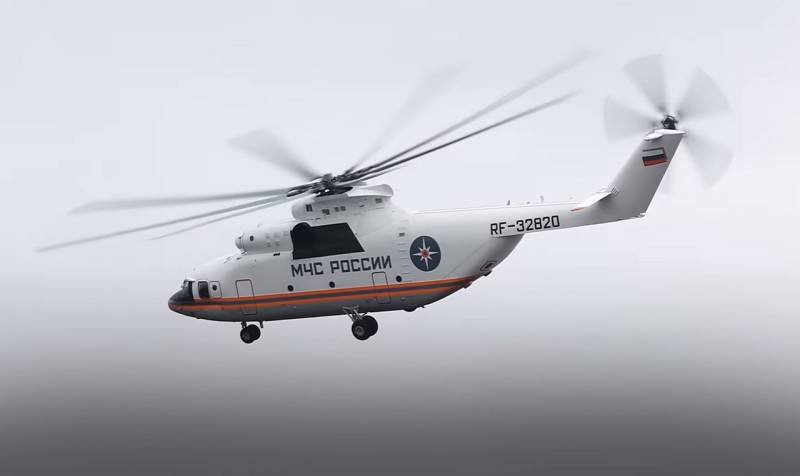 Russian rescuers from the Southern Aviation Rescue Center received the first modernized civilian version of the legendary Cow. The Soviet-Russian helicopter Mi-26 was developed back in the 70s of the last century for the needs of the army. Meanwhile, the rotorcraft remains in demand to this day. At the same time, it is used not only in the troops.
The main feature of the Mi-26 is its carrying capacity. In fact, this is the world's largest helicopter, which is capable of lifting and transporting cargo with a record weight of up to 20 tons. In particular, in 2009, our "Cow" evacuated an American Chinook helicopter that crashed into one of the gorges in Afghanistan. The 15-ton car could not be evacuated by the same helicopter, in connection with which the US administration turned to Russia for help. The Mi-26 did an excellent job, confirming the title of the world's most cargo-lifting helicopter.
Today, the Russian Emergencies Ministry received a modernized civilian version of the Mi-26T2. The rotorcraft is equipped with modern avionics to reduce the number of crew members from five to three. In addition, the modernized helicopter received the latest electronic equipment, which greatly facilitated its piloting.
As a result, we can confidently say that there is currently no alternative to the Russian "Cow" in the world. Meanwhile, oddly enough, the helicopter's strongest point has become its main weakness.
We are talking about the D-136 engine with a capacity of 10 thousand liters. with., thanks to which the rotorcraft is capable of transporting twenty-ton loads over a distance of up to 475 km. The thing is that the unit was produced at the Ukrainian plant "Motor Sich". As a result of well-known events, the supply of new engines to Russia ceased in 2014.
However, the aforementioned problem is already being solved by domestic engineers who are developing a new power plant for the Mi-26.
It is reported that the gas generator from the promising PD-8 will become the basis of the new engine. The latter, by the way, this year will be tested for the first time as part of the updated Sukhoi Superjet-100 aircraft.