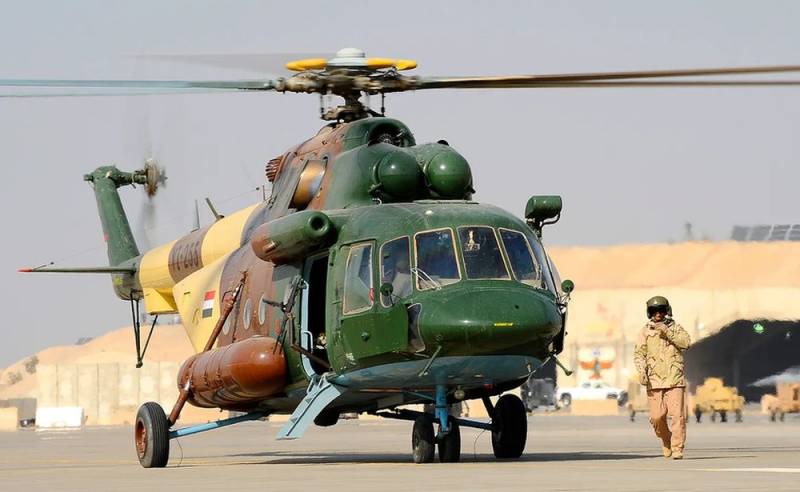 The Iraqi Armed Forces want to replace its fleet of Russian-made Mi-17 multi-purpose helicopters with American-made rotorcraft, the Bell 412EPX and Bell 412M. Baghdad is also looking to acquire a number of other types of helicopters from Bell, which has recently said publicly that it is trying to take advantage of new market opportunities created by the conflict in Ukraine. The Drive writes about this, citing a quarterly report related to Operation Unwavering Resolve.
The material says that the conflict in Ukraine has made it difficult to find spare parts for the Mi-17 and pushed Iraq to broader plans to modernize the fleet of helicopters. It is noted that a significant reduction in the stocks of spare parts for these helicopters due to Russia's own needs has been a major factor, but there are also restrictions on the purchase of Russian-made parts.
The current plan is to purchase 4 Bell 412EPX helicopters and 16 Bell 412M medium-lift helicopters to replace the Russian-made Mi-17 fleet due to the inability to obtain spare parts due to the conflict in Ukraine. In addition, the Iraqis want to acquire 15 new Bell 407M light attack helicopters, including the appropriate missile and artillery systems, avionics and pilot/technician training equipment, to replace the aging 407 fleet, as well as 15 new Bell 505 training helicopters to replace the aging Bell 407 and Bell OH-58D Kiowa
- explained in the report.
According to the document, Baghdad intends to acquire all of these Bell helicopters under the US Foreign Military Sales (FMS) program, in which the US government is helping to facilitate the process. Specifically, the purchase of the Bell 505 is expected to come from Foreign Military Funding (FMF), which is direct US funding in the form of block grants or loans.
At the same time, the report does not mention any problems that the Iraqi army may encounter when operating Russian-made Mi-24/Mi-35 or Mi-28NE attack helicopters. No immediate plans to replace them are mentioned either. However, the U.S. Office of Security Cooperation in Iraq (OSC-I) told inspectors general that it is "working with the Iraqi Defense Ministry to convert the entire Iraqi Air Force fleet to American-made products to make it easier to acquire,
technical
service and training," summed up the media.