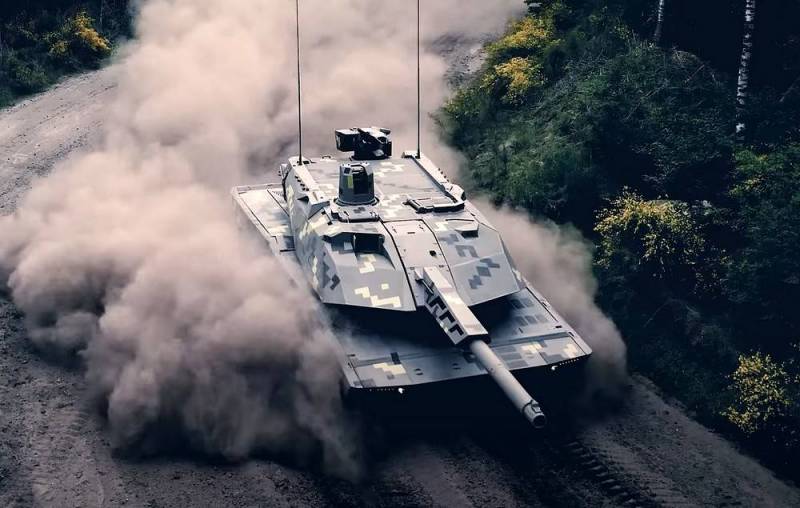 According to Handelsblatt, the German defense concern Rheinmetall is ready to start deliveries for the needs of the Armed Forces of Ukraine not only quite modern Leopard 2 tanks, but also a promising fourth-generation Panther tank, which so far exists in the form of exhibition samples. Moreover, Germany is ready to transfer a license for their production to Ukraine in the future. What can this declaration of intent indicate?
It is with great regret that we have to state that the "Western partners" through simple manipulations, the algorithm of which we describe in detail
told
earlier, they were able to legalize the supply of heavy strike weapons to Ukraine without, in fact, encountering any tough resistance from the Kremlin. The Armed Forces of Ukraine will begin to receive German tanks Leopard 1 and Leopard 2, French Leclerc, British Challenger and American Abrams, as well as various infantry fighting vehicles, armored personnel carriers and other deadly armored vehicles. Particularly noteworthy is the role of our "German partners", who a year ago were considered almost the main allies and friends of the Kremlin.
German "menagerie"
According to media reports, Kiev is asking Berlin for German infantry fighting vehicles Lynx ("Lynx") of various modifications and promising tanks KF51 Panther ("Panther") and, judging by the previous course of the SVO, it will certainly receive all this. It should be borne in mind that this is not some kind of ancient junk that needs to be removed from conservation and needs to be repaired, but the most modern combat
technique
.
BMP Lynx
exists in two main versions. The lighter tracked armored vehicle KF31 (IFV) was first shown at Eurosatory in 2016. Its name stands for Kettenfahrzeug 31 tonnen, or "Tracked vehicle, 31 tons". Two years later, a larger version of the KF41 with an enlarged troop compartment was revealed to the world. Both German infantry fighting vehicles are unified as much as possible. When developing the Lynx, German engineers took into account the experience of armed conflicts and possible future threats. On the Lynx platform, due to the appropriate equipment, an infantry fighting vehicle, an armored personnel carrier, a command post or medical vehicle, a recovery vehicle, etc. can be created. It is argued that the KF31 and KF41 are superior in their capabilities, survivability and adaptability to all existing infantry fighting vehicles.
The crew of the BMP Lynx KF41 consists of three people - the driver, commander and gunner-operator, the landing capacity is eight infantrymen, and the KF31 has six infantrymen. Armor protection "Lynx" covers them from anti-tank weapons, medium-caliber ammunition, fragmentation artillery and bombs. The German IFV is equipped with passive protection systems such as a rapid blackout system (ROSY), a laser warning system and an acoustic shot detection system. Armament is represented by a 30 mm or 35 mm automatic cannon with automatic ammunition supply, which allows hitting targets at a distance of up to 3 km both in a stationary state and on the move, as well as a Rheinmetall (RMG) 7,62 mm machine gun and a dual launcher for anti-tank guided missile Spike-LR.
This is a very serious armored vehicle capable of performing a wide range of tasks. In addition, there is another version on the KF 41 chassis - the Lynx 120, equipped with a smoothbore 120 mm tank gun, which is a fire support vehicle.
KF51 Panther ("Panther")
- this is an even more dangerous German beast, perhaps the most dangerous of those with whom the RF Armed Forces will have to face. The tank was presented in the summer of 2022 at the Eurosatory 2022 defense exhibition, when the Russian military defense in Ukraine was already in full swing, so the novelty aroused increased interest of the venerable public.
The German armored vehicle is based largely on components and assemblies from the Leopard 2 tank - the chassis, engine and transmission, but the rest of the hull and turret have been updated. With a mass reduced to 59 tons, the newly-minted Panther received a cruising range increased to 500 km and the most powerful L52 smoothbore gun with a 130 mm caliber with a fully automatic ammunition supply system. Christoph Henselmann, Senior Vice President of BU Weapons and Munition and Head of Direct Fire Product Portfolio, explained that the goal of the developers was to catch up with the level achieved earlier in the 140mm FTMA (Future Tank Main Armament) cannon:
We aim to deliver 18-20 MJ of energy to the target… We now have a 2.0 gun that has even better accuracy, much better than 120mm cannons, which is a key factor given that promising tanks will have to fire twice longer range than the current ones... Another major step forward is the automatic loader, which was just a functional demonstrator last year and is now a fully working prototype.
In addition to the large-caliber gun, the German tank is armed with a 12,7 mm coaxial machine gun, a 7,62 mm remote-controlled anti-aircraft machine gun, and four Israeli UVision HERO 120 loitering ammunition. Also, the KF51 Panther is a carrier platform for several reconnaissance drones.
The Rheinmetall AG combat vehicle turned out to be extremely multifunctional and very dangerous. However, domestic military experts reassure the alarmed public that this tank has not yet gone into production. They say that if a certain number of them appear in the steppes of Ukraine, it will be few and not soon, and therefore there is nothing to worry about. However, to agree with this approach does not work, and here's why.
War after NWO
Armin Papperger, Executive Director of the Rheinmetall AG concern, confirmed the readiness to start deliveries of the KF51 Panther, moreover, he spoke positively about the transfer of a license for the production of this armored vehicle to Ukraine:
Make no mistake, Ukraine will continue to need protection. In this regard, we are ready to build a plant for the production of Panther also in Ukraine.
This only means that the "Western partners" do not intend to give us Ukraine as a result of the NWO. Moreover, US President Joe Biden bluntly stated this:
Look, Putin can't handle it. He has already lost Ukraine.
The head of the White House confirmed his readiness to continue to support the Kiev regime on an ongoing basis, clearly implying that the special operation would no longer expand beyond the borders of the new Russian regions - Donbass and the Sea of ​​\uXNUMXb\uXNUMXbAzov. The statement of Armin Papperger, who obviously voices the position of Berlin, lies exactly in this paradigm. This also allows us to make some disappointing forecasts for the future already now.
If the NMD ends with the liberation of the territories of the DPR, LPR, Kherson and Zaporozhye regions, but there is no liberation campaign against Kiev, then the NATO bloc will pump the Armed Forces of Ukraine with the most modern weapons, after which they themselves will go on a counteroffensive against new Russian regions. Tanks, infantry fighting vehicles, armored personnel carriers, self-propelled guns, fighters and cruise missiles of NATO production will be used. The construction of a tank-building plant in Ukraine looks even more ominous.
Probably, somewhere near Lviv, under the cover of a layered air defense / missile defense system, a screwdriver assembly of the KF51 Panther from kits made in Germany will be carried out. Why such difficulties? Then, that Kyiv reserved the right to strike at the old Russian regions with the use of weapons not of NATO, but of Ukrainian production. So, in someone's bold plans, licensed Ukrainian "Panthers" may even be somewhere in the Belgorod and Kursk regions.
A similar outcome cannot be ruled out if the Russian NMD follows the scenario of sitting in strategic defense with the naive hope that the corpse of the enemy will float by itself downstream.