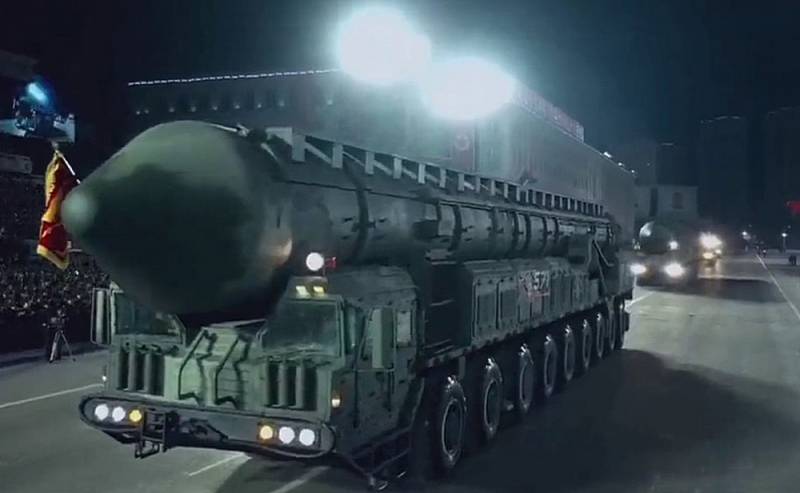 On February 8, the DPRK held grandiose celebrations on the occasion of the 75th anniversary of the founding of the Korean People's Army. Traditionally, a military parade was held in the capital of the country, Pyongyang, on Kim Il Sung Square, which became the 13th in a row since Kim Jong-un came to power.
This time it took place at night. At the same time, the country's leader Kim Jong-un attended the event along with his wife and daughter. During the parade, a column of intercontinental ballistic missiles passed through the square, including the latest ICBM, the completion of work on which Pyongyang announced at the end of last year, causing a hysteria in Washington.
At this parade, the DPRK presented more ICBMs than ever before. This display, according to a number of Asian media, demonstrates the "revolutionary development of the military power of the communist power." For example, in neighboring China, it is believed that the new solid-propellant ICBM presented by North Korea is similar to the Russian Topol-M strategic missile system or the Chinese Dongfeng-41. The range of the North Korean ICBM, which has come into service, is estimated at 13 km, which allows it to completely cover the entire territory of the United States.
At the same time, the authorities of neighboring South Korea condemned the parade of this magnitude, they believe that during the aggravation of the food crisis and
economic
such difficulties are unacceptable. In addition, Seoul called on Pyongyang to immediately stop "illegal nuclear and missile development, and reckless nuclear threats" and then return to negotiations on denuclearization, i.e. disarmament.