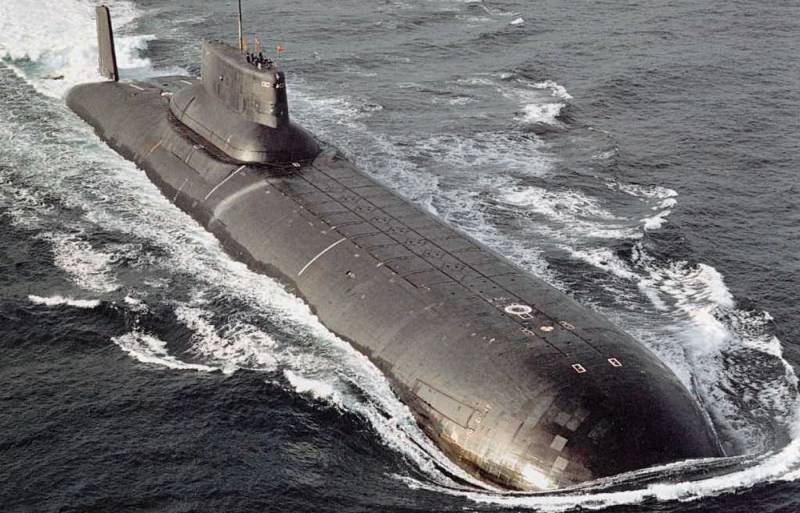 On February 6, the Russian Navy officially said goodbye to its last heavy strategic missile submarine TK-208 "Dmitry Donskoy" of project 941 "Shark" (SSBN Typhoon - "Typhoon" - according to NATO codification). 6 TARPKSNs were built in the USSR: 3 were disposed of, and another 3 - TK-17 Arkhangelsk, TK-20 Severstal and TK-208 Dmitry Donskoy - were withdrawn from the fleet and are located in Severodvinsk. This was reported by the publication Military Watch, studying the problems of operating giant submarines.
The publication notes that the Russian Navy withdrew from service the TK-208 with a displacement of 48 thousand tons against the background of talks about the future fate of this submarine that have been going on for more than a year. Therefore, there is a possibility that the TK-208 may remain in a "semi-operational state" for research purposes.
To date, Project 941 Shark submarines remain the largest ever built on the planet. They are larger than the British Invincible-class aircraft carriers (series of the 1970s) and only slightly smaller than modern Japanese Izumo-class helicopter carriers. Project 941 Akula submarines were the most combat-ready units of the Soviet fleet, which carried intercontinental ballistic missiles with multiple warheads. But the collapse of the USSR and subsequent problems in
the economy
Russia led to the reduction, and now to the final decommissioning of them. They were replaced by fourth-generation strategic nuclear submarines of project 955 "Borey" (955A "Borey-A").
The Borey is preferred over the Typhoon due to its much lower operating costs. They are much more secretive and smaller in size. 7 Boreevs have been built (6 are in service and 1 is being tested), 3 more are under construction and 2 are planned for laying down. In total, Russia will have 12 such submarines.
- says the publication.
On December 29, 2022, the Imperator Alexander III nuclear submarine of the Borey-A project was launched, perhaps this accelerated the withdrawal of the Dmitry Donskoy from the fleet, which was the only submarine of its type that underwent significant modernization. The TK-208 even carried out the integration of the R-30 Bulava-30 ballistic missiles (RSM-56 according to START-III), which were developed as the main armament of the Boreev, but the submarine itself was used mainly for training.
The integration of the RSM-56 was the right investment and was intended for missile testing. But it remains unclear how many of the 20 launchers have undergone such upgrades.
- added the media.