Discussion of the topic of Russian-Ukrainian relations on various television channels is often too emotional and ends not only with verbal skirmishes, but also brawls. Social
political
the talk show "60 Minutes" on the Russia-1 TV channel, during which the sick "Ukrainian question" was also discussed, was not without scandal.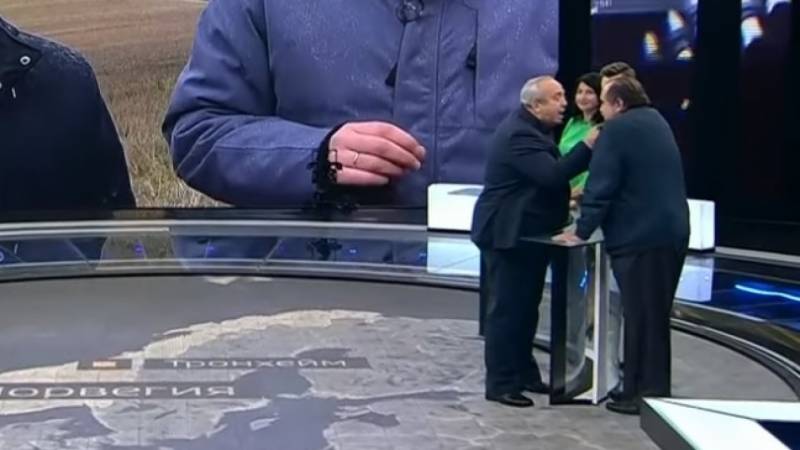 A heated discussion erupted between the famous Russian senator, a member of the Federation Council Committee on Defense and Security, Franz Klintsevich, and the Ukrainian "political scientist" Alexander Okhrimenko. Klintsevich tried to explain to his interlocutor that in the Donbass, and indeed in Ukraine, there are no Russian troops. Okhrimenko, rudely interrupting Klintsevich, argued the opposite.
Declare war on Russia - and then you will see the troops and understand what Russia is
- declared the senator.
In the course of the dispute, at the 24th minute of the transfer, Klintsevich accused Okhrimenko of rudeness (the leading Olga Skabeeva supported him in this matter). Then he went up to him and pulled his beard twice, accompanying his gesture with these words:
I can also feel the liver
After the scandal, Ohrimenko said he did not intend to sue Klintsevich and was not even going to demand an apology.
No, what are you ... No, it's funny. I understand that a person could not restrain himself. I understand. The only thing I can do is sympathize, no more
- he told reporters RIA "
News
».
However, one can only sympathize with the Ukrainian "expert" himself: something is wrong with his vision if he sees Russian troops where they are not there.
The plot begins at 23: 40 minute.