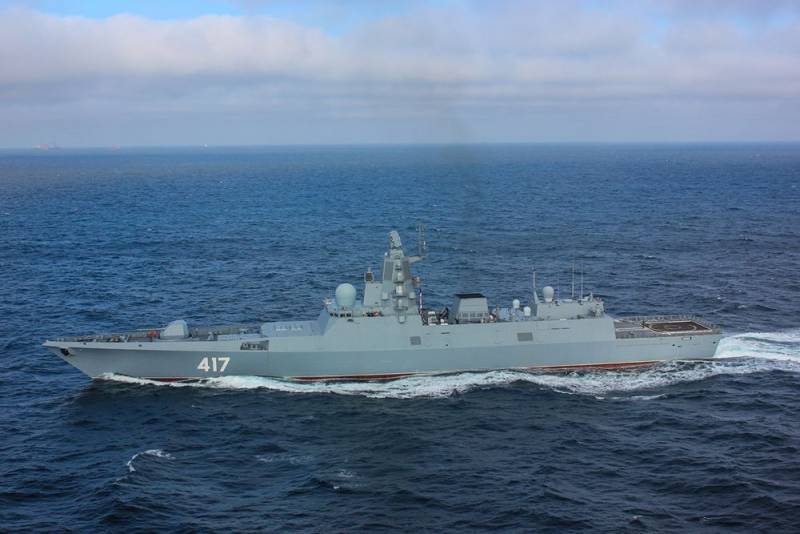 In the near future, the Russian fleet will receive a new sea-based missile defense system with a range of 400 km, which will immeasurably increase the power of air defense not only for ships. This was reported by Military Watch, citing its sources and analyzing the prospects for the Russian Navy.
The publication notes that project 1 multi-purpose frigates of the 22350st rank with URO of the far sea zone of the Admiral Gorshkov type are now the most combat-ready combat surface units of the Russian fleet. These frigates will certainly receive the mentioned missiles. At the same time, the Poliment-Redut anti-aircraft missile systems with vertical launchers mounted on frigates are expected to be integrated into larger ships with a large number of missiles in the future.
The Russians are currently deploying surface-to-air missiles with a maximum range of 150 km, which means that new missiles with a range of 400 km will allow ships to control areas seven times larger.
- says the publication.
Experts suggest that the new missiles are derived from the 40N6 missile, which was developed to increase the range of ground-based S-400 air defense systems, or close to the 9M82MD, developed for the army's S-300V4 air defense system. Both SAMs were designed in such a way that, due to their flight and other characteristics, they could hit even low-flying aircraft that were over the horizon. Moreover, 40N6 is valued not only for its flight range, but also for its extreme speed exceeding Mach 14, which allows it to hit most of the existing ballistic missiles in the world.
Tests have shown that even missiles flying at speeds over Mach 8 can be reliably hit. The integration of the naval version of the missile defense system will allow Russian ships to potentially make a significant contribution to strategic air defense / missile defense, similar to how American, Japanese and South Korean destroyers with AEGIS using SM-3 and SM-6 missiles have long been doing. Unlike these three AEGIS operators, Russia has typically deployed its air/missile defenses from land-based mobile launchers rather than from ships. Thus, integration into ships could provide new deployment options that would complement the S-400 and S-500 systems deployed on land.
The naval version of the S-400 and its missile have been developed for more than 10 years, and it was originally planned that heavy nuclear missile cruisers of the Kirov type of project 1144 Orlan would be the first to receive them. But they will be received by frigates of the Admiral Gorshkov type, which are already armed with Zircon hypersonic missiles, which combine high maneuverability with a speed of Mach 9 and a range of 1000 km.
The combination of the analogue of the 40N6 missile with the Tsikron missile will provide Russian ships with additional offensive and defensive capabilities that very few classes of ships in the world can challenge
- summed up the media.