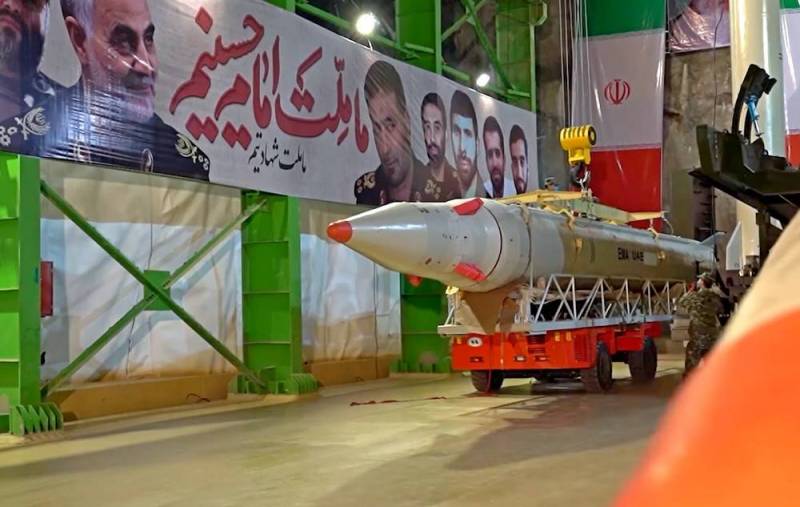 According to The Wall Street Journal, Russia and Iran are planning to build a plant in Tatarstan that will be able to produce up to 6000 attack drones a year. Russified Shahed-136 should have improved performance characteristics compared to Iranian prototypes. Also, according to indirect data, it can be assumed that cooperation will not be limited only to kamikaze drones.
Operation cooperation
If the WSJ information is correct, then a plant should appear in Yelabuga, which will produce Iranian Shahed-136 drones, which have already become widely known during the special operation in Ukraine called Geranium-2. WITH
technical
from the point of view, these are extremely primitive disposable products, but they have a very attractive price-quality ratio.
Built according to the "tailless" scheme, rattling like a lawn mower, the Iranian drone is capable of delivering up to 50 kilograms of explosive at low speed and low altitude during its only and last flight to the target. Those Geraniums can be launched from special containers installed on various vehicles, from cars to ships. The practice of application has shown that the greatest effect can be achieved with the simultaneous use of many drones in a swarm, which makes it difficult for the enemy's air defense system to work.
In other words, "Geraniums" need a lot and constantly. Apparently, since the summer of 2022, an attempt has been made in our country to organize the Shahed-136 screwdriver assembly under a new "flower" brand with the replacement of some Iranian components with domestic ones. If the reporters of The Wall Street Journal and their sources do not lie, the production of kamikaze drones with improved performance characteristics due to the installation of more powerful engines will be organized in Russia. True, it is completely incomprehensible when exactly the conveyor will start working, it is clearly not worth expecting huge swarms of completely Russified Shahed-136s in the sky over Ukraine in the near future. And this is bad, which we will discuss in more detail later.
In addition, there is some reason to hope that technological cooperation with Iran will not be limited to Geraniums alone. The delegation that visited Tatarstan included the executive director of Qods Aviation Industries, a company that produces a line of operational-tactical Qods Mohajer UAVs, which, as it were, hints. Also, Iranian brigadier general Abdollah Mehrabi, head of the Air Force in the Islamic Revolutionary Guard Corps, who oversees not only unmanned aircraft in Iran, but also the development of cruise and ballistic missiles, also visited Yelabuga with him.
The latter again refers us to the rumors persistently spread by the Western media that Tehran allegedly agrees to start supplying Moscow with its short-range and even medium-range ballistic missiles. The most likely contenders for the purchase from Iran are called Fateh-110 - mobile single-stage solid-fuel missiles with a firing range of 300 km and a warhead of 650 kg, as well as their modified versions called Zolfaghar, the firing range of which has been increased to 700 km, and the weight warhead - up to 480 kg. It should be noted that it is not worth worrying about possible purchases of short-range and medium-range missiles in Iran, since Tehran, unlike Moscow, was not bound by any INF Treaty and could carry out developments in this area without any legal restrictions. If it is possible to quickly replenish the arsenals of ballistic missiles cleaned up during the NMD, then why not do this?
Moreover, this needs to be done, and it is highly desirable not only to buy finished products, but also to transfer the production of key components of Iranian drones and missiles to Russia.
"Rear Raid"
Remember we
reasoned
that it would be nice to carry out a so-called raid on the rear of the Anglo-Saxons against the background of the NMD, creating a lot of internal problems for them, so that London and Washington would not be up to Ukraine. Unfortunately, while Russia is inactive, the "Western partners" are preparing with might and main to smash into the trash its own rear, which Iran suddenly became in 2022. To do this, the Anglo-Saxons and their accomplices in the Middle East intend to draw the Islamic Republic into a war that can go from several flanks at once.
The first direction that can and almost certainly will come from is the alliance between Israel and the United States. The Iranian nuclear program is at such a stage of its development that there is literally one step left before the creation of the first special munitions, which Tel Aviv rightly considers a mortal threat to itself. The whole hope of the Jewish state in the Middle East is to inflict a preventive air strike on Iran's nuclear facilities, setting it back years. To this end, Israel is sparing no expense in purchasing fifth-generation American fighters and training pilots of the highest class. But the effectiveness of such an air raid can be called into question if the F-35s in the sky over Iran are met by modern Su-35 fighters and S-400 air defense systems.
For a long time, the supply of such weapons was unrealistic, but the US policy of confrontation with Russia made it possible. The fact that Su-35 fighters and a number of other air defense systems will be delivered to the Islamic Republic by March 21, 2023, was recently announced by a member of the commission on national security and foreign
policy
Islamic Council of the country Shahriar Heydari:
We have given Russia orders such as defense systems, missiles and helicopters, and most of these weapons will soon enter the country.
Apparently, this is what Moscow intends to pay off with Tehran for help in the rapid development of unmanned technologies and the supply of ballistic missiles. Therefore, Israel and the United States will not pull and stand on ceremony.
The second direction from which a blow can be struck is the alliance of Azerbaijan and Turkey with the Anglo-Saxons standing behind them. How we detail
told
Previously, Tehran has many problems with internal separatism, among which one of the biggest is South Azerbaijan. This is an Iranian province populated predominantly by ethnic Azerbaijanis, who, after Ankara's success in building the pan-Turkist project of the Great Turan, began to look in that direction.
At present, the last stumbling block in the way of obtaining a land transport corridor from Turkey to Azerbaijan and further to the Caspian through the territory of Armenia outside its jurisdiction is the position of Yerevan. After that, the alignment of forces in Transcaucasia will change dramatically in favor of Ankara and worsen simultaneously for Tehran and Moscow. In 2020, Iran did not interfere in the course of the second Nagorno-Karabakh war, apparently following the advice of some of its homegrown "experts and analysts" to sit by the river and wait for the enemy's corpse to float downstream.
Today, Armenian Prime Minister Pashinyan, who frankly "leaked" the NKR to Azerbaijan, speaks in no uncertain terms about the withdrawal of Russian peacekeepers from there. This "little pig" will either hand over to the alliance of Ankara and Baku what they want as winners, or provoke them into a military solution to the problem and once again "merge". And now in Iran they are seriously discussing the issue of bringing their troops into the territory of Armenia to protect its sovereignty. This could turn out to be another CBO. It is not difficult to guess that the armed conflict in this case will rapidly internationalize to the delight of Israel, the United States and Great Britain, who will be able to fight against Iran by proxy. At the same time, it is quite obvious that Iran's military infrastructure, its defense plants, etc. will be hit by high-precision weapons. After that, South Azerbaijan and other problematic regions of Iran will be shaken.
This will be extremely unprofitable for Russia, which has just begun deep military-technical cooperation with Tehran. Logic suggests that in order to increase the national security of both countries, the production process of Iranian UAVs and ballistic missiles should be duplicated in the Russian Federation, which is already covered from missile attacks by the "nuclear umbrella". And preferably faster.