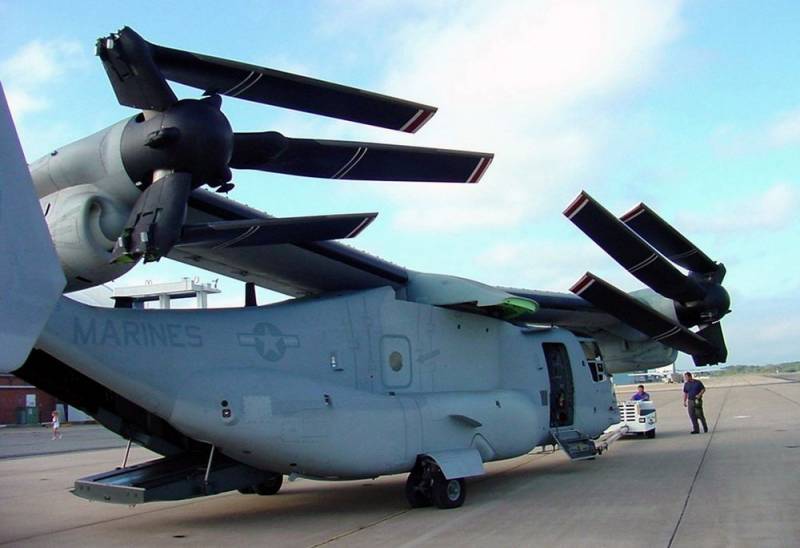 Following two accidents last year, the Pentagon suspended the use of the US military's V-22 Osprey tiltrotor aircraft indefinitely due to technical problems. On February 4, the speaker of the US Department of Defense informed the public about this, specifying that malfunctions in engines were found in aircraft equipment, the search for solutions to which is currently underway.
It should be noted that the functionary did not go into details. But the American media found out, referring to their sources in the US military structures, that the problem lies not only in this. Faults were also found in the transmission. In the manufacture of convertiplanes, defects were made in the assembly of the mechanisms that connect the power units to the propellers.
In turn, high-ranking officers of the ILC, Navy and Air Force told the media that their units continue to train and conduct operations using the V-22 Osprey, since not all rotorcraft have been suspended. Those of them that have passed the test have no restrictions on operation.
Tiltrotoros are aircraft that take off and land like a helicopter, but can move like a turboprop. As of the spring of 2022, the ILC had 296 units, the Air Force - 52, and the Navy was expecting 44 CMV-22B modifications purchased to support the AUG.
Regarding the technical problems that have arisen recently, experts note an increase in cases of hard engagement of the clutch. If this happens, tiltrotor pilots are required to land immediately afterwards to avoid an accident. We remind you that in March 2022 there was an accident with an American tiltrotor in Norway. Then 4 Marines were killed. In June 2022, an emergency happened in California - five military personnel on board were killed.