There are no forces anymore to observe what is happening now, and the last 5 years, in Ukraine. Maybe someone in Russia will be pleased with this news, the country of evergreen tomatoes during this time has already bothered all Russians so much that, apart from gloating and hatred, it doesn't cause anything, but, as a citizen, this is unfinished, believe me, it's not easier, but only worse.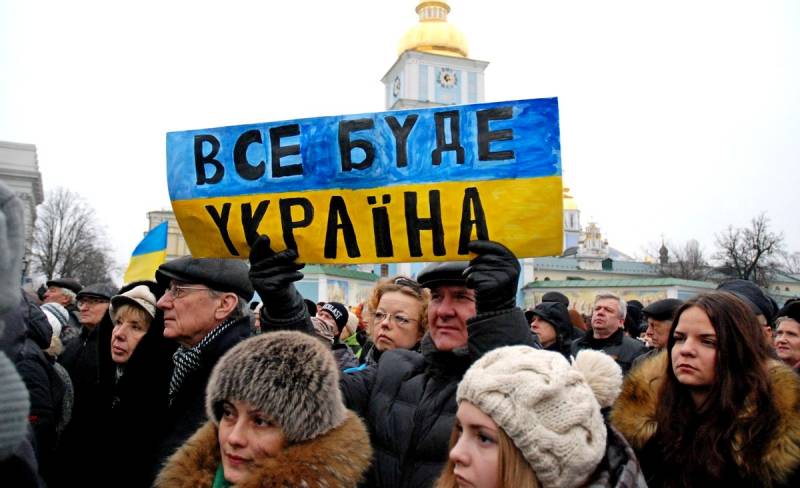 According to the latest IMF data (as of October 2018), Ukraine is recognized as the poorest country in Europe. Luxembourg is recognized as the richest country (100 thousand dollars per capita). For the last place among European countries, a serious struggle broke out between Ukraine and Moldova, where Ukraine managed to win a dubious victory, taking 134th place in the overall standings with 2656 dollars. per capita, moving Moldova to the 133th place with 2694 dollars on this indicator. per person But even here, Ukrainian officials found reason to rejoice, saying that in this struggle they managed to circumvent (in terms of GDP per capita) such an industrial giant as Papua New Guinea. And this, undoubtedly, is the next peremog of the pan-and-leg! That is precisely what Maidan stood for! For this and for lace shorts! True, not everyone was lucky with lace shorts, but on the other hand, gas prices were raised by everyone on November 1. But that, such ... IMF intrigues. With whom pan-and-headed experts immediately began to argue that, they say, the rating was not compiled correctly, that it was necessary, they say, to take into account the purchasing power parity of the population (PPP), according to which everything is fine with us, unlike Moldova, which means that it to be the last. And it would not be bad to divide not by 44 million people, but by 30, taking into account Crimeans and Donetsk residents who had left due to illness, as well as those who disappeared into the vast expanses of the Russian Federation and the EU. But these were all poultices for the dead, because the Ukrainians already perceive all the charms of a new life, and with any calls to "eat less" and work more, you won't spend them. On the contrary, it causes only a dull and deaf hatred of the regime, which seized power through an armed coup in the country and now drinks blood from its citizens.
The average salary in Ukraine, according to the same IMF report, also turned out to be the lowest in Europe - 325 dollars. per person, in Moldova this figure is 50 dollars more. But even here everything is not fair, because in Ukraine not everyone is lucky enough to find a job. Show me where the construction is going, while I see only dismantling! Only revolutionary sailors and morons in balaclavas are demanded for raider seizures of property and intimidation of a population displeased with the regime. The fate of the rest is selling organs or fleeing until it's too late from a ship going to the bottom (10 million have already been draped over this time).
In general, reckoning Ukraine among developing countries is not entirely correct, because developing countries have a GDP growth rate of more than 7%, therefore they are developing, and in Ukraine, according to IMF forecasts, in 2019 GDP growth will be only 2,7 % What kind of developing country is there? Rather, degrading or stagnant. With such dynamics that does not cover interest on loans, we will never get out of the debt hole, we will work for our creditors all our life and will bequeath to the children. Only developed countries can afford such low rates of GDP growth, because their initial comparative base is much higher, its growth even by 1% is tens and hundreds of billions of dollars, and we, after the arrival of morons in power, already fell below the plinth, halving its GDP (from 180 billion dollars under Yanek, to 88 under Rabbit, now barely exceeded 100).
Meanwhile, according to experts from the investment company Dragon Capital, the fortune of the 100 richest people in Ukraine over the past year has grown 12 times faster than the country's GDP. At the same time, a hundred oligarchs concentrated in their hands 37,5 billion dollars, which is half of the state debt of Ukraine. This is written on a blog by the head of the parliamentary committee on health, MP from the BPP Olga Bogomolets, who appeared on the Maidan as a doctor of the Maydan and now reaping the laurels of the "winner" with them: "Poor condition
economics
, war, tariff increases and inflation - turn Ukrainians into beggars, and meanwhile, oligarchs close to the regime are fabulously enriched ... " I would like to ask Olga - and at the same time you are a member of the faction of the country's main oligarch (BPP is a block of Petro Poroshenko), how does it all get on with you in one head? But Olga does not stop there and continues to burn further with a verb. According to her, the situation in Ukraine is much worse than it was under Yanek, because then everyone knew that the regime was criminal, and today the oligarchs themselves have become the most ardent "patriots." "And now, under the banner of reform, patriotism, and under the Ukrainian flags, they plunder the country with impunity and destroy any resistance to their ugly system. There is no more democratic opposition that can advance social, economic and
political
requirements for power, because the oligarchs occupied this niche, distorting and discrediting our values ​​with which the Ukrainians stood and died on the Maidan. " According to her, today the government has usurped a monopoly on patriotism, and everyone who has the courage to oppose, they write in national traitors. The deputy also notes the complete collapse of social policy, the destruction of the remains of justice in the country, the impoverishment of the population. It's hard to argue with her about this, but she doesn't leave the Poroshenko faction. On the face of a clear split personality. The rhetorical question - why did they overthrow Janek, hangs in the air. While we warned - do not do this!
At the same time, it's not even an oligarch, but a hired manager gaining the position of head of Naftogaz Ukrainy, one Andrei Kobolev, who can't do anything without paying anything, takes $ 7,9 million abroad, received as a bonus for winning a lawsuit against Gazprom in Stockholm, without even bothering with explanations: "I transferred money to my mother in America. She lives there from 2006 or 2008, for more than ten years, for sure. If I lose the appeal of 8 billion hryvnia against me, then what will happen to my property here? " It is significant at the same time that he doesn't even remember from what year and where his mother lives, the main thing is that the NABU (National Anti-Corruption Bureau of Ukraine) and the Prosecutor General's Office opened a series of criminal cases against him in Ukraine and the money must be saved urgently. His friend and colleague on money sharing The chief commercial director of this charitable organization, a certain Yuri Vitrenko, on September 20 sent 1,9 million euros and 2,9 million dollars to the account of his wife Irina Shafranova-Vitrenko in Liechtenstein. USA. Everything is fine! And what not?! The only difference is that one deprived person converted his share into US dollars, and the second broke it into a dual-currency basket. And this is far from all that they were going to share, because the Naftogaz Supervisory Board decided to distribute about $ 37 million to the company's employees. as prizes for winning the trial of Russian Gazprom. Do they earn money at Naftogaz? Even Gazprom top managers can only dream of such income! The money will be distributed among 41 employees. Kobolev and Vitrenko received 13,9 lyam greens for two (7,9 + 6 million, respectively), the remaining 39 employees indirectly involved in the win accounted for 25,6 million dollars, which will be paid over 3 years. But according to unofficial information, the very same Kobolev and Vitrenko should get the lion's share again, the rest are just dummies.
The piquancy of the situation is added by the fact that gentlemen, Naftogaz top managers share the money won but not yet received from Gazprom, because on June 13 of this year, the Svea County Appeal Court (Sweden) granted the petition of Gazprom and suspended the execution of the decision of the Arbitration Institute of the Stockholm Chamber of Commerce on February 28, 2018 on a dispute with NAK Naftogaz under a gas transit contract. As a result, the decision of the Arbitration Tribunal to pay 4,63 yards of greenery to Naftogaz was suspended, which does not prevent Gazprom from demanding Naftogaz pay off 2,018 yards of greenery according to the 1st court decision, plus the same free 600 thousand dollars a day that continue drip from December 22, 2017.
Let me remind you that on February 28 of this year, the Stockholm arbitration court satisfied Naftogaz's claims against Gazprom for compensation of $ 4,63 billion for transit volumes that were not delivered to it. But given the previously lost lawsuit, when the court ordered Naftogaz to return $ 22 billion to Gazprom by its verdict of December 2017, 2,018. for received and unpaid Russian gas, including penalties in the amount of 0,03% of the amount for each late payment day (and this, for a second, 600 thousand dollars a day!), this amount decreased to 2,56 billion dollars (and continues decrease by 600 thousand dollars for each delayed payment day). But Gazprom was no better off from this until he challenged the decision in the Court of Appeal. Now the ball is on the Ukrainian side, but she prefers to withdraw money from earnings not yet received, which speaks only of her "confidence" in the overall victory. It is significant at the same time that gentlemen, top managers share 1% of $ 4,63 billion, and not 2,56 actually won (and who will cover losses from lost 2,018 yards ?! Question!).
Is it any wonder that against the background of all these achievements of the "revolution of dignity", the Ministry of Finance enters the external borrowing market and places two issues of Eurobonds worth almost $ 2 billion at record high interest rates. Experts note that the cost of this placement for Ukraine is the highest in the world in recent months among developing countries (EM). Here is what Andrei Blinov writes on this occasion: "Ukraine placed two issues of Eurobonds totaling about $ 2 billion. Contrary to skeptical expectations, demand was strong enough, the bid book pulled under $ 5 billion, that is, two and a half times more than offered. The yield on 5-year securities was 9%, 10-year securities - 9,75% per annum. " (from). This is written by Andrei, and I'll add from myself, these are just crazy "scrap" percentages! The placement volume of the 5-year tranche of Ukraine's Eurobonds amounted to $ 750 million, the 10-year tranche - $ 1,25 billion. Let me remind you that exactly a year ago, in September last year, Ukraine already placed its 15-year Eurobonds for $ 3 billion with a yield significantly lower - 7,37%. This was Ukraine's first entry into the foreign borrowing market since 2013. As you can see, now the situation has worsened. International financial vultures smelled of quick prey and reached for the smell of blood.
Just 2 months ago, on August 23, just before Independence Day, the Ministry of Finance was already entering the foreign private borrowing market with bonds with a face value of $ 725 million at a record high effective rate of 9,2% per annum. This was an emergency placement, which was a private closed nature, the purpose of which was to hold out until the receipt of the long-awaited money from the IMF. Then the Ministry of Finance placed 6-month dollar Eurobonds with a face value of $ 725 million maturing in February 2019 on the European market. Everything was done secretly, no road show was held, since the format of private borrowing implies their non-public nature. The organizer of the placement was Goldman Sachs. Such borrowing applies to bridge loans. Bridge loan, intermediate or auxiliary loan (from the English bridge - bridge and loan - loan) - a short-term loan issued by the bank to the borrower for a period of up to 1 year at a high interest rate to cover its current liabilities. Such a loan serves as a temporary measure and may not meet the real needs of the borrower, but is attracted in anticipation of basic financing, from which the bridge loan is then repaid. The last time Ukraine took bridge loans under Yanek in 2010 and 2013 - $ 2 billion and $ 750 million, respectively. Then, the Russian state-owned banks VTB and Sberbank were involved in attracting 6-month and 3-month financing for the Ukrainian budget. In 2010, Ukraine took a loan on the eve of the placement of sovereign Eurobonds and the receipt of the first tranche of a new IMF loan, in 2013 - on the eve of a new issue of Eurobonds of $ 3 billion, which Russia fully redeemed, and now is suing Ukraine for this debt. Russia is already aware of what is fraught with lending money to Ukraine; other lenders will learn a bit later. But this is the history of the issue, as you see, the situation is only getting worse at the moment, since Ukraine has not received the expected tranche from the IMF and is now completely in the hands of its creditors. Step left, step right and you are dead! Financial. This is the fate of all financial drug addicts sitting on the needle of the IMF. Now you understand that the concentric circles around Ukraine are only narrowing.
But back to the latest events, I pass the floor again to Andrei Blinov: "There were no more expensive sovereign placements of the EM countries this year (see table): all investors understand how much money Ukraine needs before the three-year peak of payments on external debts. And cynically involved. As an attempt to place in August showed, an international investor is ready to buy only guaranteed Ukrainian Eurobonds for several years. Guaranteed by the IMF. And pay attention when sovereigns conducted the placements. Almost everything - in February-May of this year, when there was a relatively favorable window. Why Ukraine didn't stay in spring, ask the former Minister of Finance. " (from)
Further, Andrey gives a table of the placement by developing countries of their Eurobonds for the current year, I think you can easily figure it out yourself, just pay attention to the percentages at which Russia placed its securities, only Poland has less, and Ukraine, which even Ghana in this component and Ecuador can not compete. As the saying goes, "know-how":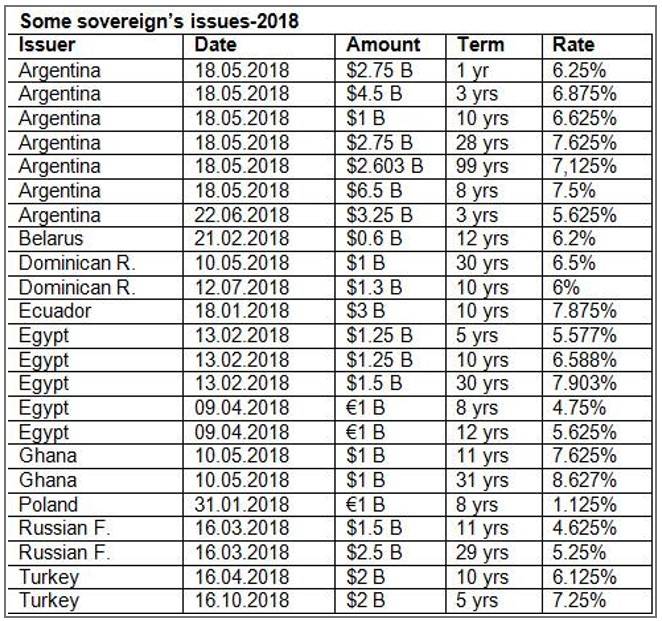 The funniest and saddest thing is that all such a world has already passed, it is only Ukrainians, due to the characteristics of their national character and poor knowledge of history, wander along this road with thoughts of their own exceptionalism and uniqueness. All this already happened, guys, read history, or at least world literature. There it is already described. You are wandering the rake of others! Nowhere, in any country in the world where the IMF came, did he achieve its prosperity, on the contrary, he achieved the exact opposite by hooking loans on the needle, he made credit-dependent drug addicts from recipient countries, ruining their economies and buying up assets for nothing debt repayment account. Do not believe? Look at Argentina - the three defaults of 1982, 2001 and 2014. All took away for debts and allowed around the world! Now they are interrupting from loan to loan, barely making ends meet. There is no future! Why do you think it will be different with you?
Do not believe me, read the "Confession of the Economic Killer" by John Perkins, where the author, describing the events of the 60-70s of the last century, shows the whole predatory essence of the kind uncle Sam, who is then with the hands of the pocket World Bank, using Latin American countries as an example fulfilled by the IMF) at first he hoisted the ruling oligarchic regimes of a number of Latin American countries on cheap loans, and then, taking advantage of the impossibility of servicing and repaying them, forced them to curtail their own industrial production , limit the support of national companies and actually turned them into agricultural and raw materials appendages of the United States. And he killed those who tried to resist it. Read what happened to the President of Ecuador, Jaime Roldos Aguilera (died in a plane crash under strange circumstances in 1981) and the leader of Panama, Brigadier General Omar Torrijos (also a plane crash and also under strange circumstances 2 months later), they only had to try to get out of the hood The IMF is trying to ease the debt burden of its countries. None of our leaders want to repeat their fate (although some will have to!).
Find, as they say, 10 differences with the events taking place in Ukraine right now - a corrupt elite based on a powerful power block, the good IMF uncle, who at first gives loans at interest rates on his own terms, and then twists his hands because of the impossibility of repaying and servicing them . This is what we are observing now, and this situation will continue with small hitches until 2021. And after 2021, we get the output - a looted country, an economy that was killed on the floor, lenders bought natural resources and wealth (land and bowels) for nothing, and a poor population (20 million no more, the rest will run away), ready to work for pennies and even sell your organs. The bifurcation point is 2021. It was after him that a loan repayment program with a progressive interest, tied to GDP growth, signed by Madame Yaresko, an unforgettable US citizen, was included. You probably already forgot about her? But she did not forget about you, she is ruining another country on the instructions of the CIA (Puerto Rico, which is also on the verge of default). Now it becomes clear to you where we are going? Now do you understand the danger and criminality of the actions of our pro-government idiots? Now you understand that they are not idiots at all? That is why they are sitting there because they can be manipulated. They are all under external management, and the IMF loan noose only contributes to this. It is ridiculous that under the slogans of the fight against corruption, the structures that plant it are fighting it. For the IMF, corruption is a nutritious broth in which it breeds these ghouls, whose task is to sell their own countries, along with all the guts, for a fraction of the price.
That's why these freaks also steal, as if for the last time, as if not in themselves, as if they had gathered "to jerk", grab the last, and after that even though the grass doesn't grow, let those who get this broken trough go even further (even Putin, even Timoshenko), and they will drink beer and write memoirs in the Washington and Liechtenstein regions, as they cleverly turned it all over. Well, this, of course, if they survive ... And survive "not only everything." Both Putin and Tymoshenko will worry about this. But first, their owners, who do not need chatty memoir writers, will be worried.