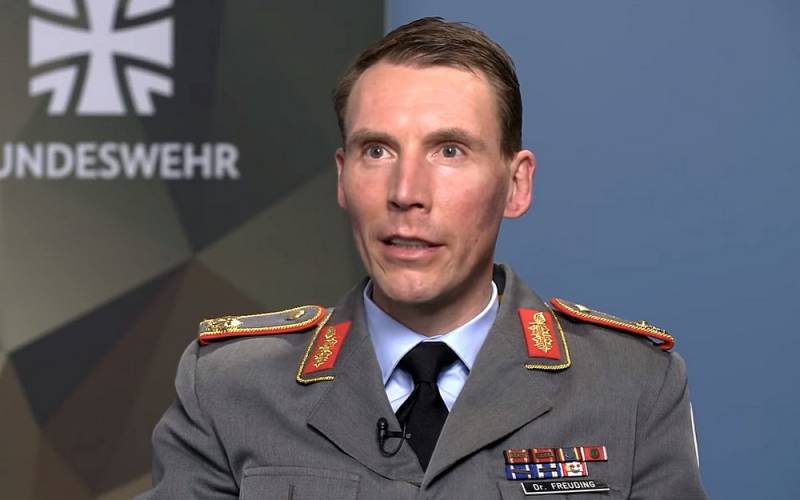 Brigadier General Christian Freuding, head of the special headquarters of the German Defense Ministry for Ukraine, assessed the situation in the theater of operations for the German magazine Stern. In his opinion, at present "there are no signs of preparations for a large-scale offensive by either side on the battlefield." But this does not mean that nothing happens there: artillery duels and reconnaissance operations are actively conducted.
The focus is now clearly focused on Bakhmut. However, this comes not only from military logic, but also has a great symbolic meaning for the Ukrainians, as they repeatedly spoke to the German general during his recent visit to Kyiv.
It is clear that both sides want to go on the offensive in the next few weeks, at least where they have local superiority. We see that preparations are underway on the Russian side: although its mobilization is in principle slow, we see that ammunition stocks are being replenished. We see that from warehouses in Russia, attempts are being made to replenish the military
technique
… It's a race to see who's more ready
Freiding said.
He "does not yet know" exactly where the Russian attack will be launched, but the general is sure that this will happen "in the east of Ukraine." Everything that is happening now in Belarus is "mainly exercises". Neither military nor
политическая
the situation does not allow us to conclude that offensive actions can really be expected from Belarus.
After the "on-duty" Western media claims that Russia is facing logistical problems in its effort to resupply its troops and is "not quite ready" to expand the front, General Freiding notes:
In the midst of last year's Russian offensive in the Donbas (May, June, July), we observed that Russian artillery ammunition was used up to 60 rounds per day. Later this was drastically reduced. But current operations indicate that the Russians are still using about 000 artillery shells a day.
Since this consumption of basic ammunition is stably maintained, the Bundeswehr general states: Russian operations can certainly be sufficiently resourced to continue at least "until the end of 2023." Regarding the data on how many main battle tanks are available to Russian troops in the NMD zone, Freiding said that "this is not discussed publicly", and also tried to avoid answering whether the main battle tanks now being delivered to Kyiv from the West are enough:
It also depends on how well the Ukrainians will be able to use them, for which their training has begun in Germany.
- he said. And he immediately turned his attention to the need for the Bundeswehr to quickly fill in the "security gaps" caused by the supply of tanks to Ukraine:
Until now, the production of a single battle tank has been more or less productive and high-tech. If we made an order now, by today's standards, it would take from 24 to 36 months. This cycle must now be shortened and the secretary of defense is in talks with industry on this.
General Freiding said.