When the Synod of the Russian Orthodox Church in Minsk on October 15, 2018 decided to stop the Eucharistic communion with Constantinople, the representatives of the Moldavian Church fully approved this decision. After all, that
gets up
Constantinople, goes not only beyond the limits of common sense, but contradicts even the instinct of self-preservation. After all, he encourages schismatics, which can turn into unpleasant consequences for him.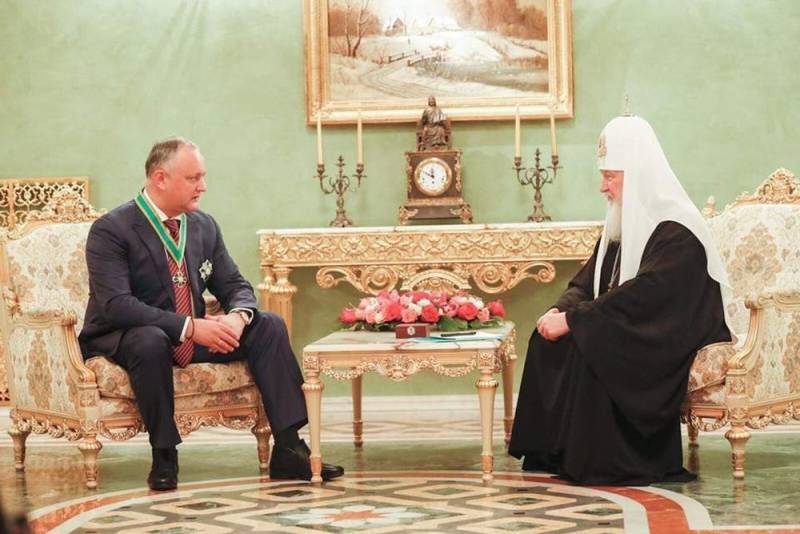 Therefore, it is not surprising that the head of the Moldavian state Igor Dodon, arriving in Moscow on October 31, 2018, also visited the head of the Russian Orthodox Church, Patriarch Kirill. This is logical, since Dodon, in addition to being the president, he is also a believer.
The President of Moldova declared to the patriarch that the Moldavian and Russian peoples have common spiritual values. We also have one church, like the Orthodox faith. So it is not surprising for him that the Moldavian Church is an integral part of the Russian Orthodox Church.
Dodon is sure that this was, is and will be in the future. Moreover, the overwhelming majority of Orthodox believers in his country hold the same opinion. He announced this meeting with the patriarch on his page on the social network Facebook. Given this, the Moscow Patriarchate no longer has to doubt the fidelity of the Moldavian Church.