The identity of the person suspected of organizing the explosion at the entrance to the building of the FSB Directorate in Arkhangelsk became known. It turned out to be a 17-year-old boy, who himself died at the scene.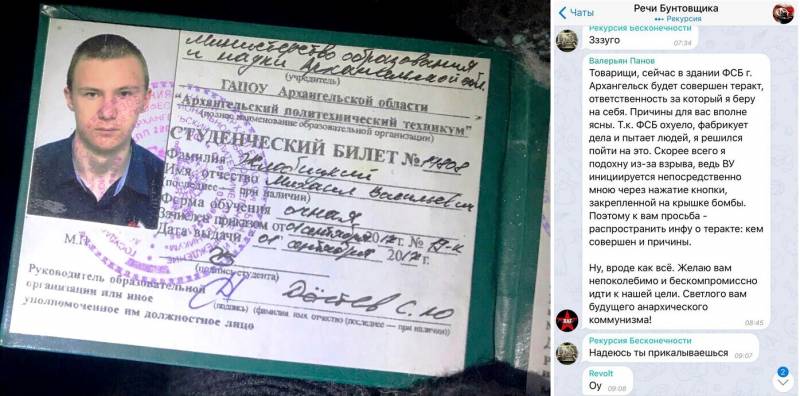 The young man, apparently, delivered a makeshift explosive device to the control building and brought it into action. He died from injuries sustained during the explosion, and two employees of the Federal Security Service were also injured.
Meanwhile, information appeared on social networks that a certain "Valeryan Panov" in the groups of anarchists warned that he could arrange a terrorist attack in Arkhangelsk near the FSB building. Soon, the identity of the demolitionist was identified on a student ID - it turned out to be a 17-year-old student of the Arkhangelsk Polytechnic College, who really considered himself anarchist leftists.
It is interesting that 18-year-old Vladislav Roslyakov studied at the Polytechnic College, who staged a monstrous murder of 20 people in Kerch - he shot his fellow practitioners and several teachers from a shotgun.
Meanwhile, not so long ago, in August 2018, 8-year-old Arthur Panov from the Lugansk Region was sentenced to 18 years in prison in Rostov-on-Don, who tried to organize a series of terrorist attacks in the Don capital and in Moscow.
What is missing for young people who have not seen life at all, if at the age of 17-18 they take up arms and turn them against their own fellow citizens, carry out terrorist acts on the streets of Russian cities and shootings in colleges?