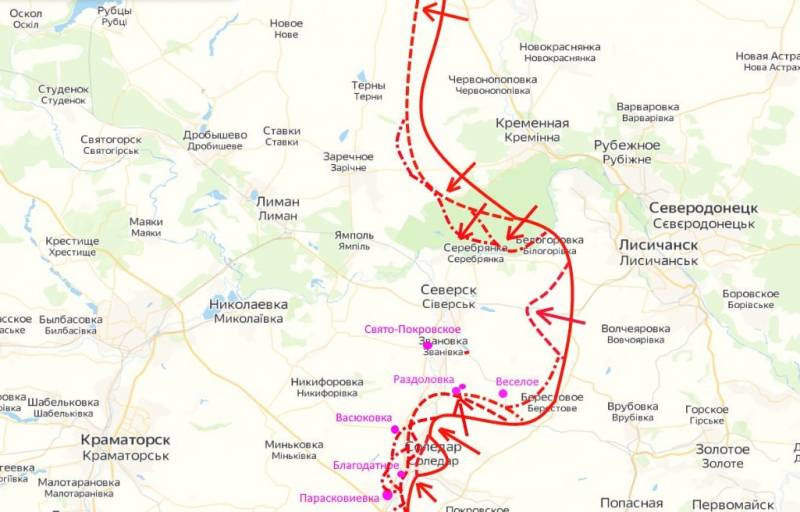 Units of the Russian PMC "Wagner" are approaching Seversk. This was reported by journalist and military expert Yuriy Podolyaka. According to him, the day before, Russian volunteers occupied a company stronghold of the Ukrainian army near the village of Vasyukovka.
According to Yuriy Podolyaka, this success made it possible to expand the bridgehead on the left bank of the Bakhmutovka River one kilometer in depth and 4 kilometers along the front.
At the same time, heavy fighting continues in the Artemovsk direction. After the capture of Blagodatny, Russian attack aircraft approached the village of Paraskovievka from three sides. Now there are fights for this village. If it is taken, Russian units will be able to cut the road to Slavyansk.
Meanwhile, Ukrainian soldiers claim that the highway from Konstantinovka to Artemivsk has been taken under fire control by Russian artillery units. It is noted that now the city can only be reached by one road through the village of Khromovo.
According to the Ukrainian fighters, in the near future their garrison here will face a difficult choice: either to flee or to fight in an environment without any hope of help.
We add that the battle for Artemovsk has been going on for six months. During this time, units of Russian volunteers destroyed the most combat-ready units of the Armed Forces of Ukraine here, depriving the Ukrainian military command of the possibility of a counteroffensive in other parts of the line of contact.
Despite this, the command of the Armed Forces of Ukraine has not yet abandoned the defense of Artemovsk.