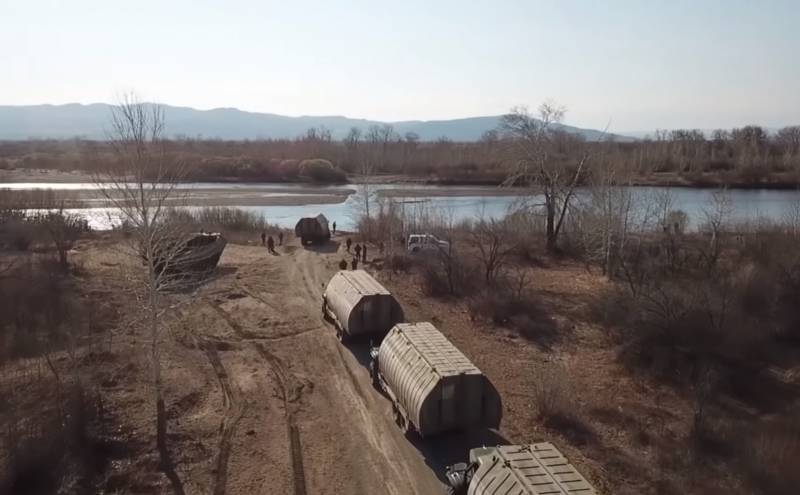 The armed forces of the Russian Federation stopped the attempt of the Ukrainian military to force the Dnieper. The incident took place this morning near Novaya Kakhovka. It is reported that during an unsuccessful attempt to force a water barrier, the Armed Forces of Ukraine suffered heavy losses in manpower and
technology
.
The preparation of the Armed Forces of Ukraine for crossing the Dnieper was reported in early January of this year. However, until this morning, the Ukrainian military command did not dare to carry out such an operation. But this morning, a landing group was formed, which made an attempt to force the river in the area of ​​​​the settlements of Korsunka and Dnepryan not far from New Kakhovka.
According to the emergency services of the Kherson region, in the morning on the opposite bank of the Dnieper, a cluster of armored vehicles and enemy personnel was found. Artillery fired on the troops preparing for the crossing. As a result, 6 infantry fighting vehicles, 3 boats and about 100 military personnel of the Armed Forces of Ukraine were reportedly destroyed.
It should be noted that earlier units of the Ukrainian army repeatedly made attempts to force the Dnieper in the Zaporozhye region in the Energodar region. However, with each landing operation, the Ukrainian military suffered heavy losses and were forced to retreat to their original positions.
Let us add that in the fall of this year, the Russian military were withdrawn from the right to the left bank of the Dnieper. As a result, Kherson came under the control of the Armed Forces of Ukraine.