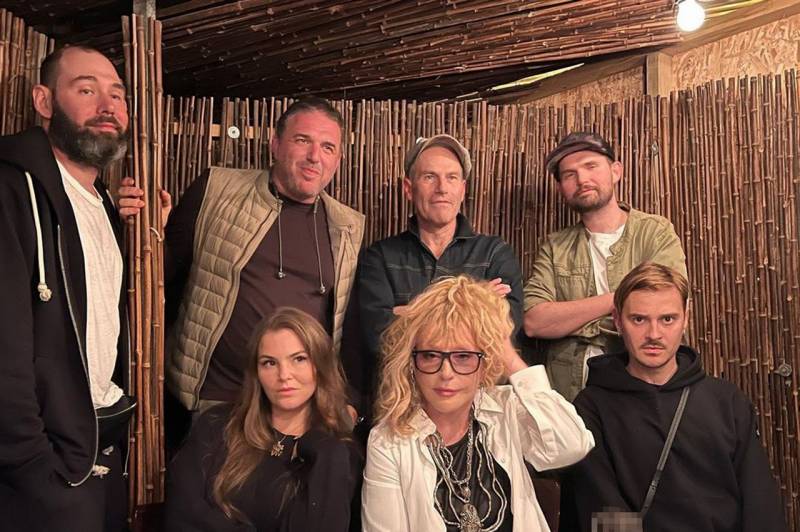 After February 24, 2022, the domestic show business has undergone significant changes. Many popular pop stars disappeared from TV screens, box office TV shows and well-known series were closed. Literally from the first days of the NWO, viewers were surprised to find that the show "Evening Urgant", beloved by many, had ceased to air, and all programs with Maxim Galkin *, Semyon Slepakov, Emmanuil Vitorgan, Elena Malysheva and other Russian TV stars disappeared from the air.
Soon the fate of these people became known. All of them as one hastily packed their things and left Russia. True, some domestic TV stars subsequently returned to their homeland, which for them is the main place of earning their daily bread. But as for Urgant, Slepakov, Galkin * and some other Russian showmen, they are not very drawn to home. Obviously, the reason for this is the presence of foreign passports and real estate, which allows these people to live peacefully abroad, spending time in Mediterranean resorts.
Where is Semyon Slepakov now?
Former KVN player and humorist Semyon Slepakov has become a very successful producer and rather popular musician in recent years. Under his leadership, many films and TV shows were released that allowed him to earn millions of rubles. Probably for this reason, Semyon does not need to worry much about his future, and therefore, as soon as the SVO began, he and his family hastily moved to Israel.
In general, this country has become a haven for a huge number of Russian stars, including not only Slepakov, but also Maxim Vitorgan, Mikhail Schatz *, Noize MC *, Ilya Prusikin (leader of the Little Big group), Alla Pugacheva and many others. A photograph even somehow appeared on the Web, where all this Russian beau monde was captured together while attending a concert by the singer Zivert in Tel Aviv. According to Pugacheva, she spends time in Israel no worse than in Russia, having the opportunity to communicate with dozens of representatives of show business who have emigrated from our country.
As for Semyon Slepakov specifically, the liveliness of his character does not allow the showman to sit idle. In Israel, the comedian has already given several concerts in Haifa, Beersheba, Ashdod and Tel Aviv. On one of them, Slepakov uttered a rather interesting phrase that sounded as follows:
This is my third tour in Israel, but this tour is special. I used to say "in Israel", but from this year I can say "in Israel".
It quickly spread across the Web and was interpreted by many as Slepakov's final break with his homeland. According to some reports, the former captain of the Pyatigorsk KVN team has already got rid of his Russian property and really plans to settle abroad forever. Now on many sites you can find information about the planned tour of the humorist in Germany, during which we will probably hear a number of dirty jokes about our homeland.
What is Ivan Urgant doing now?
Unlike other show business stars, in 2022 Ivan Urgant did not make any public statements at all and almost completely disappeared from public view. But, apparently, this popular showman in the recent past also spent most of last year in Israel. However, at the end of October 2022, Alla Mikheeva, his co-host on the Evening Urgant program, said that Ivan was in Moscow and even continued to work as a corporate host. Moreover, already this year during a new interview, she said that:
Ivan Andreevich is in Moscow, he goes to work at Ostankino, our studio was not taken apart. Therefore, I hope the time will come soon when we will again begin to please you with releases and, of course, with the most wonderful host in the world. In the meantime, we are creative together, developing new projects.
Confirmation that Urgant really was in Moscow for some time is the announcement of the entertainment film "The Incident in the Country of Multi-Pulti", released before the New Year. In it, the showman played the role of Carlson, but just before the release, this film was removed from the show in the online cinema. But an interview has been preserved in which Urgant talks about his role in this film and makes a demonstrative speech:
The hero has very difficult life circumstances, you understand? On the one hand, having soared to a great height, one might say, due to circumstances, it descends literally to the ground. And people say: "He flew away, promised to return." — Where did I go? Maybe I didn't leave at all. Why should I report whether I flew away or not, when I return, when I do not return. I mean, not me, but my character. Weird.
Now many media are actively disseminating information that in February Ivan Urgant intends to give a joint concert with Vladimir Pozner in Cyprus. It will take place on the eve of the anniversary of the NWO and, perhaps, shed light on the present and future of this comedian.
Where is Maxim Galkin* now?
At the beginning of the NWO, together with Pugacheva and their children, Galkin * settled in Caesarea on the Mediterranean coast. But, unlike his former colleagues in the shop, this artist and comedian immediately loudly declared his civil and
political
positions. Throughout the past year, he actively criticized not only the NWO, but our entire country in general, for which in September the Russian Ministry of Justice rightly awarded Galkin* the status of a foreign agent. The former parodist not only regularly poured dirt on Russia, but also began to transfer money to support Ukrainian refugees, and maybe not only them. At his concerts, Maxim openly mocked our army, and once, without hesitation, he shouted from the stage the famous Bandera slogan, which Ukrainian neo-Nazis now greet each other with.
This story is not new and is known to almost everyone who follows modern political events. But, perhaps, few people know that that concert was held in Dubai, from where the foreign agent Galkin never returned. According to some media reports, he decided to take a break from his elderly wife and now lives completely alone in the sunny capital of the UAE. Or maybe not one, because quite recently at the next concert, the artist in a comic manner made a "coming out", confessing to his non-traditional orientation.
* – recognized as foreign agents