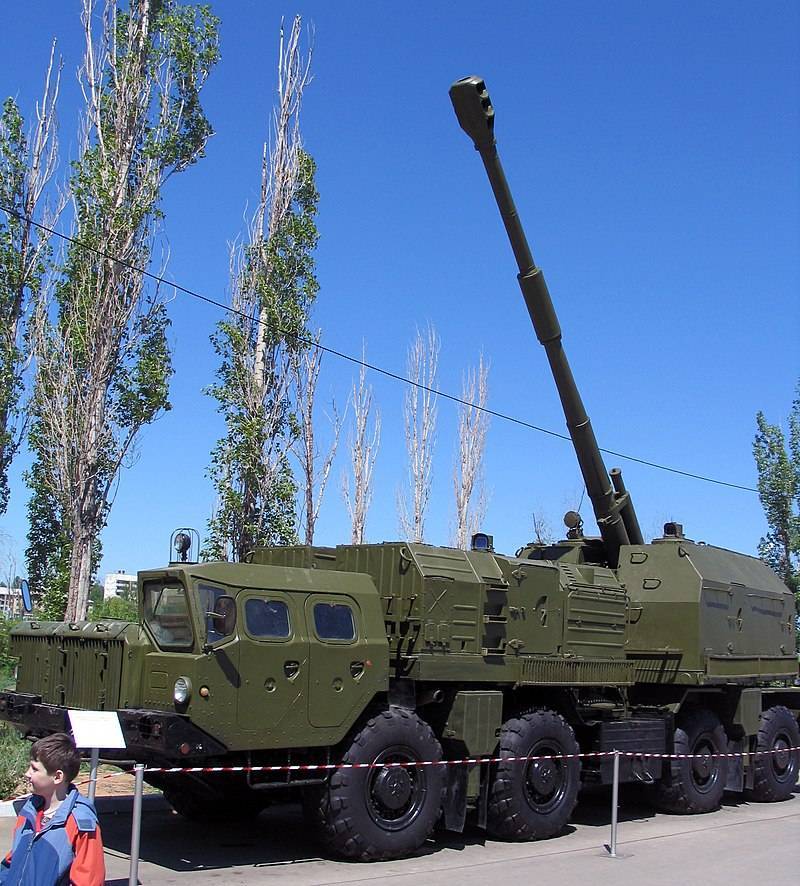 The next package of Western military assistance to Ukraine contains not only a large number of tanks, infantry fighting vehicles and armored personnel carriers, but also various powerful self-propelled guns and howitzers. It is not surprising, since the special operation at this, Donbass, stage has long turned into a positional war, where the main role belongs to large-caliber artillery. How can Russia respond to this?
Wheel self-propelled guns
As we have already noted in
article
about wheeled tanks, the realities of the SVO look like this: a tank or self-propelled artillery system (self-propelled artillery mount) leaves for a position, fires 1-2 shots, and then hastily hides so as not to become a victim of a counter-battery fight. It is also extremely problematic to assemble a powerful artillery battery somewhere in one place of the RF Armed Forces and continuously demolish enemy fortifications, since the Armed Forces of Ukraine, thanks to the NATO satellite constellation, all
see
from above and can hit such significant military targets with pinpoint strikes from the HIMARS MLRS.
For effective counter-battery combat in such conditions, a competent combination of constant aerial reconnaissance with the help of UAVs, reliable secure communications and highly mobile large-caliber artillery is required. The new military assistance package for the Armed Forces of Ukraine includes 19 French Caesar self-propelled guns, 26-30 Czech Dana-M2 self-propelled guns and 12 Swedish Archer self-propelled guns. The most dangerous for the RF Armed Forces are the Archers, which should be discussed in more detail.
It should be borne in mind that self-propelled howitzers on a wheeled chassis, as cheaper and highly mobile versions of tracked self-propelled guns, are used in many countries of the world. France has its own CAESAR 155-mm self-propelled guns, the Czech Republic has a 152-mm Dana self-propelled gun, Israel has a 155-mm ATMOS 2000 self-propelled gun, Serbia has a 155-mm NORA B-52 self-propelled howitzer, China has a 155-mm self-propelled artillery installation SH1, USA - self-propelled guns with a 155-mm gun M776 Brutus, in South Africa - self-propelled guns G6 "Rhino" with a caliber of 155 mm. One of the most advanced is the Swedish-made FH77 BW L52 "Archer" self-propelled guns, which in the amount of 12 units will soon fall into the hands of the Ukrainian military.
This self-propelled guns was developed by Stockholm to replace towed howitzers in order to increase the mobility and maneuverability of Swedish artillery units. The result was very impressive. The self-propelled gun was originally created to move through the most difficult terrain at speeds up to 70 km / h, for which the chassis of a Volvo A30D car with a 6x6 wheel arrangement, which has a 340 horsepower diesel engine, was used. The self-propelled guns are capable of moving on complete impassability and snow up to a meter deep, it is protected from an explosion when hitting a mine. The crew of the Archer is housed in an armored cockpit that provides ballistic protection and is equipped with a system of protection against weapons of mass destruction (chemical, biological and nuclear), as well as a number of means to reduce visibility. The armor protects it from small arms fire and shell fragments.
Firing from the 155mm howitzer is fully automated. Loading, stowage and firing are carried out from inside the armored cabin, providing maximum protection to its crew at all times, which consists of the ACS commander, gun operator and driver. If necessary, even one person can fire. The installation's ammunition load is 21 rounds, and the firing range reaches 40 km with conventional 155-mm ammunition and up to 60 km with Excalibur-type high-precision guided munitions. Archer is able to shoot within 30 seconds after stopping the movement, and how long will it take him to resume it after completing the task.
As you can see, the Swedish self-propelled guns have very serious performance characteristics and can create a lot of problems for the RF Armed Forces, especially when using precision-guided munitions. How could our military-industrial complex respond to such a challenge?
Don't we need Russian "Coast"?
In our country, there are two promising self-propelled guns on a wheelbase, which can be considered competitors to the Swedish "Archer".
First
- this is a 152-mm self-propelled gun
2S43 "Malva"
, built on the basis of the BAZ-6010-027 all-terrain vehicle chassis with an 8 × 8 wheel formula, a load capacity of up to 19,5 tons and a maximum speed of up to 80 km / h, which can be developed by a 470-horsepower engine. From the side, the self-propelled guns resemble the Bastion DBK, but its weapons are not anti-ship missiles, but the 152-mm 2A64 rifled howitzer, borrowed from the self-propelled guns 2S19 Msta-S. Ammunition is designed for 30 shots, which can be fired at a speed of 7 per minute. The maximum firing range of a conventional projectile is 24,5 km. The ACS calculation is represented by 5 crew members.
The main advantage of "Malva" over "Msta-S" is considered to be its lower weight, greater speed and maneuverability, as well as lower cost during production and subsequent operation. The disadvantages are also obvious: a qualitatively lower security of the crew compared to a tracked self-propelled guns. This wheeled howitzer is positioned not as a replacement, but as an addition to the Msta-S.
The second
- This is a wheeled version of the tracked self-propelled guns 2S35 "Coalition-SV" called
2S35-1 "Coalition-SV-KSh"
. The Coalition-SV was created on the basis of the T-90 tank and is capable of firing 152-mm projectiles at a speed of 10 to 16 rounds per minute at a maximum distance of 70-80 km with high-precision projectiles and up to 40 km with conventional ones. In the wheeled version, the gun is mounted on a reinforced KAMAZ-6560 truck chassis. The fighting compartment is uninhabited, the crew is accommodated in an armored cabin. The ACS deployment time is 1,5 minutes. On the basis of "Coalition-SV-KSh" it is planned to create an artillery complex for the Coast Guard of the Russian Navy.
Such promising self-propelled guns will be able to compete with Western models of artillery, which are increasingly falling into the hands of the Armed Forces of Ukraine. However, our fleet is armed with such large-caliber artillery mounts that could help the Ground Forces of the RF Armed Forces to crush enemy positions right now.
Self-propelled coastal 130 mm
artillery complex A-222 "Bereg"
was developed in the USSR to destroy surface ships of small and medium displacement with speed characteristics up to 100 knots, with a detection radius of up to 35 kilometers and a range of up to 22 kilometers. He was supposed to act in conjunction with coastal missile systems, which have their own "blind" zones. The complex can operate both on sea and on land targets.
MAK "Bereg" uses the ship's gun mount AK-130, also known as "ZIF-94", and some elements from the 152 mm self-propelled howitzer type 2S-19 "Msta". The crew consists of six people: commander, gunner and four loaders. The BR-136 fire control system with optoelectronic and radar channels for detecting and conducting detected targets allows you to track up to 4 targets, provide firing with any self-propelled guns at 2 objects, after firing at one of the targets, instantly organize firing at the next accompanied by an object, both single shots and a burst of 4 to 12 shots per minute. Such a good mobile tool for artillery suppression of enemy positions.