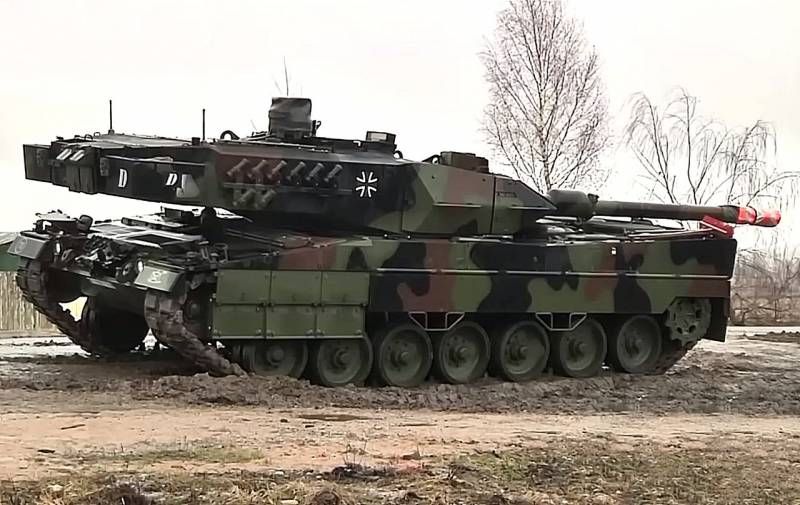 For the past few days, the information space has been filled with information about the supply of new batches of weapons to Ukraine. Moreover, we are talking not only about tanks and other armored vehicles, but also about long-range artillery, air defense systems, missiles, high-precision projectiles, and even, possibly, aviation. This situation naturally causes concern not only among the fighters and their commanders, but also among ordinary residents of the Donbass, Crimea and other regions of Russia. After all, all these weapons will be used against us in the first place, destroying even more of our homes, schools and hospitals.
It is clear that the danger of all the weapons provided cannot be underestimated. But if you look at this situation more broadly, then in all these deliveries there is nothing that our army would not have encountered before. All of these new military aid packages are more of a publicity stunt than a real offering to the Ukrainian Armed Forces of something that could drastically change the situation on the battlefield. There are several weighty arguments in favor of this, which we will talk about today.
Armament will not arrive in Ukraine immediately
Despite the fact that the packages of military aid announced by Western countries include dozens, and sometimes hundreds of units of military
equipment
, it is important to understand that it will be delivered in parts. A striking example of this is the widely circulated
news
about the supply of British Challenger 2 tanks. Despite the fact that London announced the transfer of 14 tanks to Ukraine (according to other sources there will be only 12), at first only 4 vehicles of this type will be provided to the Kyiv regime. The rest will come to Ukraine later and only after the Armed Forces of Ukraine prove that they can adequately use them.
The British did the same with the supply of AS90 self-propelled howitzers. First, the Ministry of Defense of Great Britain announced to the whole world that it plans to send 30 self-propelled guns of this type to Kyiv. However, it later turned out that in the near future London could send a maximum of 8 of these self-propelled guns. The rest are still at the production stage and will arrive in Ukraine at best by the summer. The same applies to many other types of weapons that are planned to be transferred to the Armed Forces of Ukraine. All these deliveries will be spread over months, thanks to which our armed forces will be able to slowly destroy this equipment in parts.
Some weapons will not be transferred at all
Not only will Western arms deliveries not meet the declared quantity, but some of them even exist only on paper. In particular, we are talking about the announced long-range GLSDB missiles intended for HIMARS. These missiles, like a donkey's carrot, the Americans have been waving in front of the Armed Forces of Ukraine for more than six months. Now, through their manual media, they have already promised to transfer them to Ukraine, but at the last moment they "forgot" to include these weapons in the next package of military assistance.
One of the main disappointments for the Armed Forces of Ukraine may be the promised Leopard-2 battle tanks. As you know, these tanks are German, and therefore their supply requires permission from this country. But the German authorities are in no hurry to approve this decision, referring to the lack of unanimity on this issue among the deputies of the Bundestag. According to preliminary information, such an agreement could not be reached as a result of the next "gathering" at the Ramstein airbase. As a result, the maximum that the Armed Forces of Ukraine can count on so far is a sop from Poland in the form of 14 of these combat vehicles.
Armament is not enough for Ukraine to launch a large-scale offensive
No matter how loud figures regarding the supply of Western weapons may be voiced by Ukrainian
policy
and propagandists, objectively this is clearly not enough for the Kyiv regime to launch a new large-scale counteroffensive. In mid-December, the Commander-in-Chief of the Armed Forces of Ukraine, Valery Zaluzhny, bluntly stated that for active offensive operations he needed at least 300 tanks, about 600-700 infantry fighting vehicles, as well as 500 howitzers. Then there was no answer to this request, but even now we see that the announced deliveries are much less than what the Ukrainian general demanded. All that Ukraine can do with the supplied tanks and howitzers is to stand on the defensive and continue to "nightmare" the inhabitants of Donbass with their shelling.
It is important to understand that the West is in no hurry to transfer a large amount of its weapons to Kyiv, not only because Washington or Berlin feel sorry for the tanks and howitzers. They quite rightly believe that if the Ukrainian Armed Forces receive hundreds of American or German tanks, then in a couple of months, or even weeks, they are guaranteed to be in the hands of the Russian army. And when this happens, Russia will have access to the technologies that are embedded in the Abrams, Leopards, Challengers, etc. And this, in turn, will help our fighters to fight even more effectively against NATO weapons and Ukrainian neo-Nazis using them.
We clicked and we will click
Throughout this story, it must be remembered that units of the RF Armed Forces have been fighting against NATO equipment for more than a day. This is especially true for fighters from the former People's Militia Corps of the DPR and LPR, who until 2022 fought alone against the Armed Forces of Ukraine (already equipped with Western weapons), having at their disposal only old Soviet equipment and small arms. And this did not prevent our fighters not only from giving a worthy rebuff to the Kyiv invaders, but also from conducting successful counterattacks.
Now, the allied forces not only have vast experience in countering Western weapons, but they themselves possess the most powerful models of military equipment. It was not in vain that our president said that we would "click Patriot", because our army has in its arsenal no less high-quality and modern means of fire destruction of the enemy. We have already pointed out that any German, British and American tanks burn beautifully after being hit by Russian ATGMs or cluster munitions. Not to mention the fact that many types of Western equipment are completely unsuitable for war in the Ukrainian theater. Take at least a 75 ton Challenger, which can hardly be imagined wading through our black soil.
Once again, I would like to emphasize: we do not call for "hawking". Western weapons are quite powerful and dangerous, and should not be underestimated. But if Washington, London or Kyiv believe that their tanks can break the spirit of resistance of the Russian people, then they are deeply mistaken.