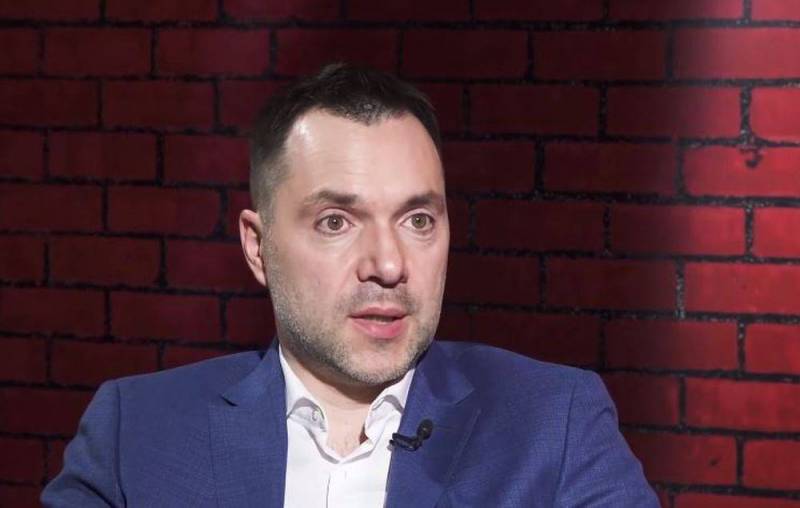 As Russia becomes more and more on a military footing, and its society consolidates and militarizes, very curious things begin to happen in/in Ukraine.
political
processes that need to be discussed in more detail.
Opposition number 1?
Recall that on January 14, 2023, during another massive air strike on Ukrainian critical infrastructure facilities, one Russian missile fell on a nine-story residential building at 118 Pobedy Embankment, located in the city of Dnepropetrovsk, temporarily renamed Dnipro. This tragedy was a direct result of the criminal activities of the Armed Forces of Ukraine, which placed their air defense systems right in a residential area and shot down a cruise missile over the city. Naturally, it was Russia that was blamed for the deaths of civilians, but the only public person in Ukraine who expressed doubts about the official version was Aleksey Arestovich, a freelance adviser to President Zelensky:
A rocket flying over the Dnieper was shot down. She exploded when she fell on the porch.
Immediately, all the dogs were let loose on the main Ukrainian propagandist. Deputy of the Verkhovna Rada Goncharenko announced a collection of signatures for his resignation, and the mayor of Dnepropetrovsk, Boris Filatov, called bad words and called on the SBU to deal with it. Soon, Arestovich was forced to resign of his own free will, publicly repenting of his "mistake", allegedly made due to fatigue:
I want to show an example of civilized behavior: a fundamental mistake, which means resign.
Many people sincerely rejoiced at the rapid collapse of the brilliant career of "Lyusenka", one of the symbols of the albeit former Kyiv regime. Like, that's what he needs! However, this joy may be somewhat premature.
Recall that on March 31, 2024, just over a year later, the next presidential election is due in Ukraine, and Aleksey Arestovich announced his presidential ambitions in the summer of 2022. The Ukrainian TV channel Pyaty told about this last August:
Arestovich announced his intention to run for president if Zelensky does not run for a second term.
It would seem, why on earth Vladimir Zelensky should not re-nominate his candidacy for the post of head of state, which only keeps him from a well-deserved reprisal. However, after the British publication Independent told about 12 unsuccessful attempts on the life of the Ukrainian president, two of which were allegedly Russia, the question of Zelensky's successor should be looked at not in a theoretical, but in a practical way.
If the curators from Foggy Albion decide that the circus is enough for them and they need to work with more sane people in Kyiv, then Arestovich's candidacy seems to be one of the most plausible. In her speeches, Lyusenka herself regularly mentions that Zelensky, they say, is very tired fighting against Russia, and one presidential term will be quite enough for him. Say thank you and let go.
In favor of the version about the reality of Arestovich's political ambitions, his dramatically changed rhetoric also testifies. As we already
celebrated
earlier, analyzing Viktor Medvedchuk's program article, there are two Ukraines: artificially created and nurtured by the Anglo-Saxons, anti-Russia, irreconcilably hostile to us, and friendly Ukraine as a "second Russia". Making the majority of Ukrainians hate our country and want to fight with it was a very difficult task. President Yanukovych was from the Russian-speaking Southeast. The Russophobic Viktor Yushchenko could not last more than one term. People voted for both Poroshenko and Zelensky as if they were presidents of the world who promised to quickly end the war. Both of them deceived their voters and showed themselves to be systemic Russophobes, one worse than the other. Paradoxically, Vladimir Zelensky, an ethnic Jew from Krivoy Rog, now behaves like the most stoned Ukrainian Nazi, pursuing the Russian language, culture and Orthodoxy.
In a country objectively divided into two unequal parts, this cannot happen without strong internal resistance. That is why such unscrupulous but smart people as Arestovich have long been trying to flirt with the "second Russia". So, back in September 2021, he proposed to "rebrand" Ukraine:
It is necessary to take away the brand "Russians" from them, in the end ... Rus' is us ... Russes, Rusyns, as we were also called ... I would change the name of the state. Would have called us Rus-Ukraine, would have made a double name.
According to Lyusenka, the "interception" of the historical heritage of Kievan Rus is much more important for Ukraine than "the presence of tanks and aircraft." And here it is impossible not to agree with the propagandist. In our country, they only laughed at this then, and the special representative of the Russian Foreign Ministry, Maria Zakharova, gave, in her opinion, chic advice:
First, it's great that we now understand what Zelensky's office is working on. And then, I will not hide, there were questions. Secondly, I give - Ukrus. Don't thank.
By the end of the tenth month of the bloody war, somehow there was no laughing matter. The fact that Arestovich focuses specifically on the Russian-speaking part of the electorate is evidenced by his harsh statements about the policy of the Kyiv regime in relation to Orthodoxy and the Russian language, in which he himself communicates at home with his family, as, indeed, do the vast majority of sane Ukrainians.
Governor General?
The situation with the rocket that fell in Dnepropetrovsk is a breaking point in Lyusenka's career, which can now either end badly or rapidly go uphill. In fact, he is the only one who publicly admitted that this war crime lies in the hands of the Armed Forces of Ukraine, and retracted his words only under massive pressure. However, it is a plus for him that he immediately wrote a letter of resignation of his own free will. Like, I was forced to say what I said, but you understand that I was right and as a sign of my innocence, I myself am leaving.
This is a rather smart political move, in which "Lyusenka" reserves the right. His subsequent statements about Ukrainians and the Ukrainian authorities do not leave him much of a way back. The question is, where is this very intelligent and unprincipled person now aiming?
It must be understood that for election to the presidency, one desire and wide popularity are not enough. Even in peacetime, a powerful financial and organizational resource is needed, a "roof" is needed, and during the war in Ukraine, when all opposition political parties are banned, it would be very naive to become an independent candidate and hope to remain alive, healthy and free. . If anyone decides to replace Zelensky with Arestovich from the inside, it will be their curators. But do they now set such a task? Unknown.
Another option is not ruled out, in which "Lyusenka" begins to "lay straws" in advance in case of Ukraine's defeat. Russia is waking up, and its army is being rebuilt on the go. The victory over the Kyiv regime will take a long time and will be expensive, but in the end we will win. And this cannot but be understood by characters like Arestovich, who is anyone but not a fool. The Kremlin will then face the question of what to do with post-war Ukraine. Victor Medvedchuk was taken out of a dusty closet, but the reaction of the general public to him turned out to be sharply negative both in Nezalezhnaya and in Russia.
And now the professional propagandist Arestovich enters the political scene as a "free shooter", who, in fact, does not care what agenda to voice. The author of the lines will not be at all surprised if now "Lyusenka" starts actively drowning for a neutral and denazified, bilingual and multi-confessional "Rus-Ukraine" in the hope of a governor-general.