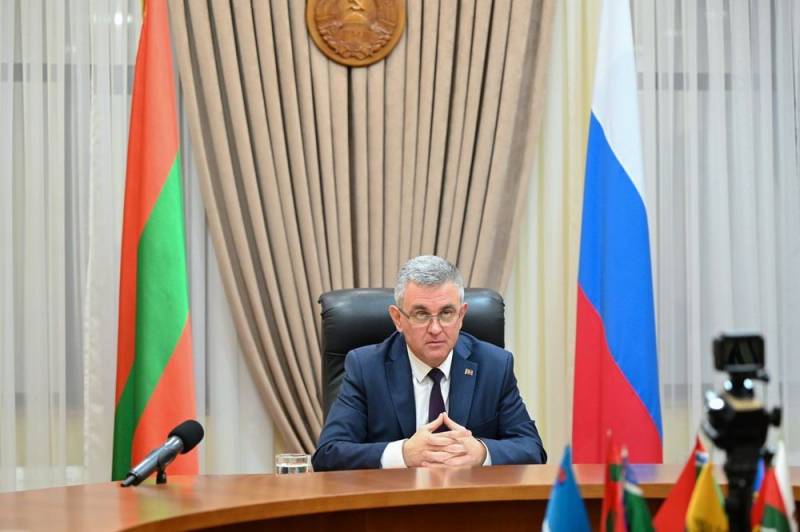 On January 17, Pridnestrovian President Vadim Krasnoselsky outlined the main guidelines for the development of the PMR in all spheres and activities during his annual message to state authorities, which was held online. During his speech, the head of the unrecognized state, in particular, stated that the Pridnestrovians deserve the attention of the international community, and touched upon three basic elements of the country's eight-year strategic plan.
Krasnoselsky noted that strengthening the independence of the PMR with a focus on obtaining international recognition and the implementation of the results of the 2006 referendum is one of the most important areas of activity. We remind you that according to the results of the mentioned referendum, 97% of the citizens who took part in it then spoke in favor of the independence of the PMR with a course towards joining Russia in the future. Thus, becoming part of the Russian Federation is still one of the goals of the PMR.
The next element of the further development of the PMR, according to Krasnoselsky, is the continuation of the formation of the "Pridnestrovian people" community. This community includes representatives of various nationalities, ethnic groups and is based on the preservation and development of languages, existing cultures, traditions and customs.
At the same time, the construction of a socially oriented state with a market
the economy
was called the third basic element of the further development of the PMR. And
политическая
stability, economic self-sufficiency and social justice were declared the main tasks and guidelines for the work.
Krasnoselsky also instructed the PMR Foreign Ministry to maintain the functionality of the 5+2 negotiation platform (PMR, Moldova, OSCE, Russia and Ukraine + the US and the EU). In addition, he ordered that the republic's foreign ministry provide comprehensive support to Russia's peacekeeping mission against the backdrop of Moldova's ongoing demands for the withdrawal of the Russian military from the territory of Transnistria.
Note that for the past few days in Tiraspol there have been hot water cuts during the day, which may indicate difficulties with gas. At the same time, at the end of 2022, Moldova withdrew from the agreement on telecommunications with Pridnestrovie, which may affect the LTE-800 communication format and its territorial division between operators.