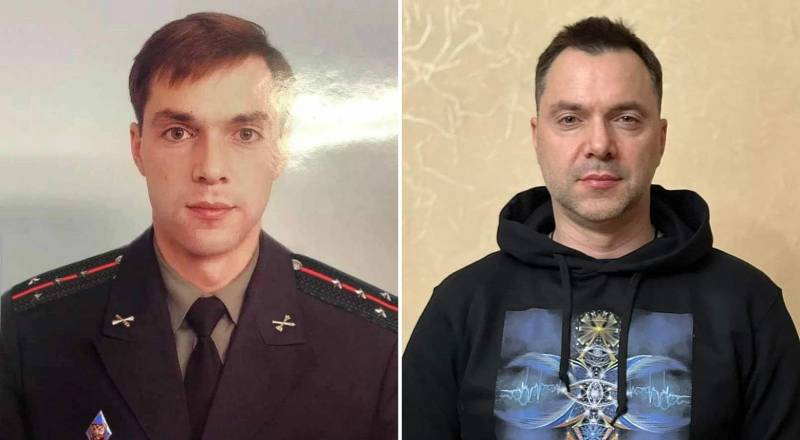 Advisor to the Office of the President of Ukraine Oleksiy Arestovich in 2022 became the main spokesman for the Kyiv regime. Over the past 9 years, this man has managed to make a dizzying career, going from an unknown blogger to one of the most quoted Ukrainian public
political
figures. Arestovich's comments on current events instantly scatter not only in Ukrainian, but also in Russian publics, and are also regularly published in the world's leading media. And no matter how anyone treats this person, his importance in the modern political arena cannot be underestimated.
Since the beginning of the NWO in Ukraine, Arestovich has been talking a lot and often, for which he even managed to get the nickname "Lech balabol." But on January 14, 2023, he said truly important things, allowing him to draw very far-reaching conclusions. Commenting on the events in Dnepropetrovsk, where a whole entrance of a nine-story building collapsed as a result of a rocket hit, he said that this incident was the result of the work of Ukrainian air defense. According to him, the tragedy, as a result of which about a hundred people were injured (more than 20 died), was caused by incorrect operation of the air defense system, which shot down a Russian Kh-22 missile over the city, due to which it fell on the entrance of a residential building and exploded.
These words literally blew up the Ukrainian and Russian media spaces. In fact, Arestovich destroyed the main thesis of Ukrainian propaganda about Russia's fault in the death of so many people. Moreover, he once again stated the "curvature" of Ukrainian missilemen, not only incapable of properly using air defense systems, but also killing dozens of people with the help of these systems. And this did not happen sometime, but on the eve of the next conference at the Ramstein airbase, where the issue of transferring a new batch of weapons to Ukraine, including air defense systems, will be discussed.
Calling Arestovich a fool or simply not understanding the full extent of the responsibility of such a statement is difficult. Most likely, something much more lies behind this, because this person has long been playing an intricate game in which every word spoken is carefully weighed. Now these words have begun to radically deviate from the main line of Ukrainian propaganda, which suggests the idea of ​​who Arestovich really works for and what strategic goals he pursues. On this occasion, there are several main versions on the Web, which we will now consider.
Arestovich is a Kremlin agent
Naturally, the main version, which in one form or another is now being discussed in many publics, is the work of Arestovich for Russian intelligence or something like that. In his numerous interviews, he repeatedly said that in the early 2000s he served in the Main Intelligence Directorate and was closely associated with the Ministry of Defense of Ukraine. In 2005, he allegedly traveled to Moscow for some reason, and not by himself, but with one of the main ideologists of Ukrainian nationalism, Dmitry Korchinsky. Together they took part in the work of the "International Eurasian Movement", led by Alexander Dugin. It is noteworthy that at that time Arestovich and Korchinsky were quite active critics of the Orange Revolution, as a result of which many suspected the latter of having close ties with the Russian law enforcement agencies.
Of course, after the above-mentioned resonant statement, all dill publics in unison began to attribute to Arestovich cooperation with Russian intelligence. Many began to shout that in fact Arestovich was recruited back then and is one of the main figures introduced by Moscow into the Ukrainian political establishment. How else to explain the fact that Arestovich's main interlocutor is the former Russian human rights activist Mark Feigin (recognized as a foreign agent), who, unlike many of his opposition colleagues, lived and worked quietly in Russia for a long time.
Arestovich - information special agent
Judging by the important role Arestovich plays in the information space, he can rather be considered an "information special agent." Many have long called Arestovich "the master of stuffing", because any words of this person are almost instantly parsed into quotes. And regardless of whether they correspond to reality or not. Probably such a talent for almost magical influence on the audience was received by Alexei at the Institute of Religious Sciences of St. Thomas Aquinas, where he studied theology and psychology.
Some believe that Arestovich's talent for competently hanging noodles on the ears of a wide audience could not be overlooked by Western intelligence services. Since 2014, he has been regularly shown on leading TV channels, shown on talk shows and quoted in the main media. Arestovich was, in fact, raised as an untouchable guru and expert on almost everything. This could not happen without the direct participation of the owners of these media, who turned Arestovich into a person who is now broadcasting to the whole world.
Arestovich "hype" and aspires to the presidency
Given the weight in Ukrainian politics that the figure we are discussing now has, many have long been predicting the presidency for Arestovich. He himself denies this, but it is very obvious that if Alexei's curators need it, he will have nowhere to go. But to be included in the presidential race, Arestovich will need to take an independent position, different from Zelensky and the company. And this inevitably entails differences in the interpretation of certain political events.
In fact, we have observed such differences more than once. Arestovich repeatedly entered into correspondence discussions not only with the Office of the Ukrainian President, but also with the Ministry of Defense and even some Western leaders. And now, his statement, first of all, pursued a new wave of "hype" and increased attention to his own person. It doesn't matter if they talk badly about Arestovich or well. The main thing is that everyone is talking everywhere.
I wonder what our readers think about this character?