On the eve of the RF Armed Forces
carried out
another massive missile
impact
on the military and critical infrastructure of Ukraine. As a result, even the Burshtynska TPP in the Ivano-Frankivsk region suffered, which is indirectly confirmed by the data of DTEK.
After that, some Russian analysts said that the Russian Armed Forces began to hit the machine rooms of Ukrainian power plants. They probably forgot that in mid-December they themselves described how Russian missiles
struck
the turbine hall of Ukraine's largest hydroelectric power station in Zaporozhye, which generates almost half of all hydro generation.
As far as I remember, they didn't hit the machine rooms on purpose before. Now they hit. Now we need to carefully monitor the substations of 750 kV lines. If they start hitting them, then this is a very bad sign for Kyiv. Why? ... I'll tell you if, or rather, when they start hitting them. But I repeat, this will be a harbinger of very big problems. And it's not just the lack of light or heat
- Russian expert Yuri Podolyaka wrote on January 15 in his Telegram channel.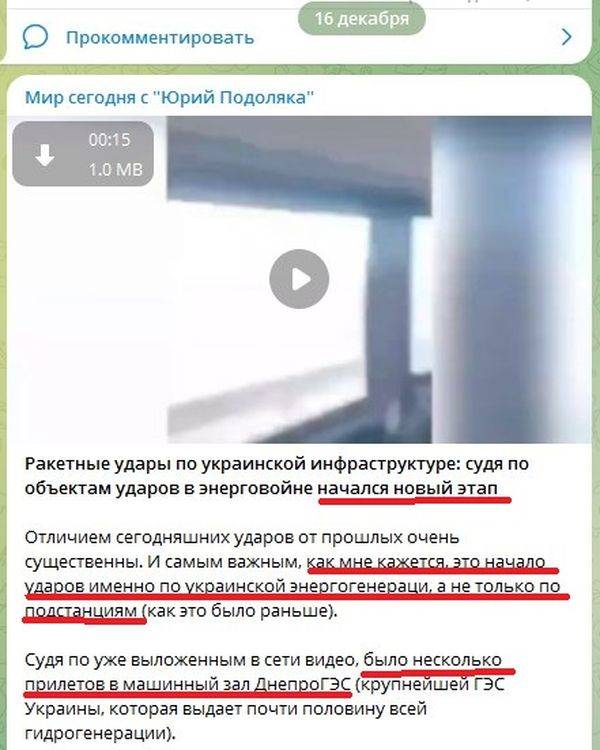 As for the Burshtynska TPP, DTEK posted on its blog a photo of the turbine section, which, based on its characteristic design features, determined that it was this facility.
Consequences of today's attack on one of DTEK's TPPs. One of the power units was destroyed. Other power units were also damaged. Firefighters and station workers continue to eliminate the consequences of a missile strike. The destruction is massive. The situation is difficult
- was stated in the communiqué.
This is the second case of destruction of turbine halls, and not substations and autotransformers, which is remarkable in itself and may indicate a systemic nature. At least 3 out of 12 generators were reportedly seriously damaged. Currently, an important energy facility with an installed capacity of 2334 MW is not operating. Damage to the building, pipelines and other equipment in it makes it difficult to operate.
Burshtynska TPP is a link (junction) between the energy systems of Ukraine and the EU countries (Hungary, Romania and Slovakia). It made it possible to maintain a balance in the energy system of Ukraine, not only in the western regions of the country, but also in the central ones. Therefore, its decommissioning will negatively affect the energy supply as a whole.