Energy giant Gazprom reports that the construction of the Turkish Stream and Power of Siberia gas pipelines is nearing its logical conclusion. That is, by the end of construction and the commissioning of highways into commercial operation.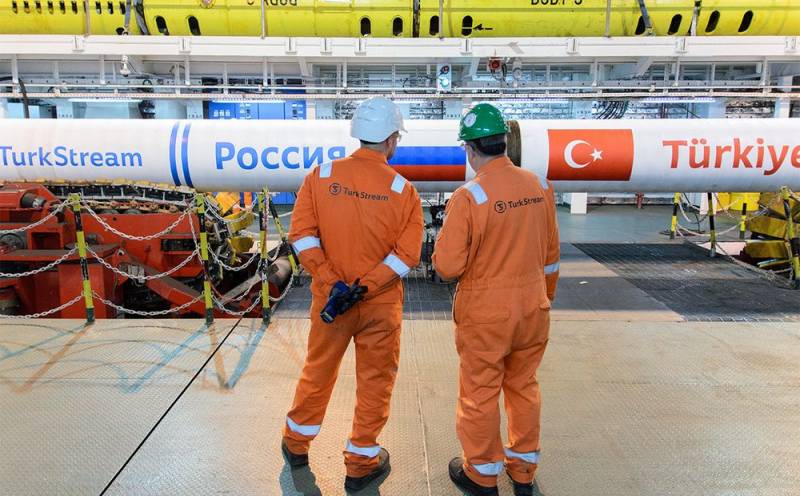 At the moment, 95% of the offshore section of the Turkish Stream gas pipeline has been built. And 1775 km. pipes are already laid on two threads. The construction of coastal infrastructure facilities in Russia was completed. Near Anapa (Krasnodar Territory), adjustment work is already underway, which will be completed before the end of 2018.
It should be noted that Gazprom has been building the Turkish Stream offshore section since May 2017. Its length along the bottom of the Black Sea from Russia to the Turkish coast is 930 km. As for the territory of Turkey itself, there is a construction of a specialized gas reception terminal near the village of Kıyıköy. So the completion of this gigantic construction project called "Turkish Stream" should take place on schedule. And both of his threads, with a capacity of 15,75 billion cubic meters. m. each, will be commissioned, as planned, by the end of 2019. The first line will give gas to Turkey, and the second - to the countries of Southern Europe (there will still be a land section 180 km long. to the border with the European Union).
In addition, Gazprom informed that 2064 km have already been laid. pipes of the "Power of Siberia" highway, which runs from Yakutia to the Chinese border. By the way, this is 95,5% of its length. Moreover, 90% ready underwater crossing over the river. Amur. It consists of two threads that are laid in two tunnels. At the same time, the construction of the Ataman compressor station on the Chinese border continues. At the same time, Beijing does not hide the fact that they are looking forward to the completion of the construction of the "Power of Siberia". After all, China really needs gas.
Work is underway at the facilities of the Amur Gas Processing Plant under construction. And this industrial enterprise is extremely necessary for Russia. Since the gas produced in the fields of Eastern Siberia will be processed there.
So Gazprom is not only concerned about exports. A lot of work is being done for Russian gas consumers. For instance,
completed
gas pipeline and installation of equipment at the compressor stations "Khosheutovo", "Volnoe", "Kharabali", which distribute gas, is completed. It is simply necessary for a normal gas supply to the northern regions of the Astrakhan region.