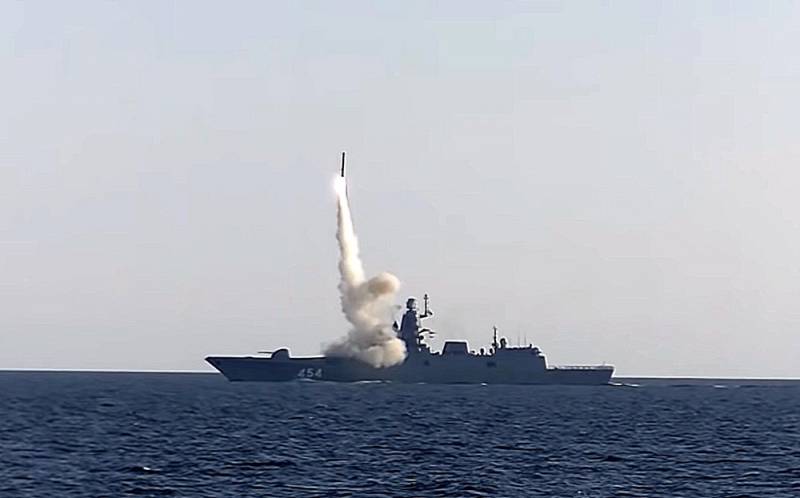 A number of Western publications consider the new Russian weapon carried by the frigate Admiral Gorshkov a nightmare for the air defense of NATO countries. Equipping the warship with Zircon hypersonic missiles and its demonstrative voyage across the Atlantic and Indian Oceans is regarded by European and American media as a security threat.
With great regret in their publications, Western analysts state the fact that it is impossible to intercept Russian Zircon missiles by existing air defense systems. At the same time, they note that in the development of hypersonic weapons, Moscow is several years ahead of the United States.
In particular, the Frankfurter Rundshau newspaper notes that, in addition to the new Zircons, the Russian Federation has the Kinzhal and Avangard hypersonic missiles. At the same time, the country's army already has experience in the successful use of these weapons in real combat conditions. According to the publication, the frigate "Admiral Gorshkov" was sent on a military campaign in order to demonstrate the power of the Russian Navy. But analysts have expressed doubts about the ability of a single ship to withstand the US Navy.
A single ship with hypersonic missiles is no match for the US Navy. Putin's strategy may be to deploy a Zircon frigate off the coast of the United States
writes a German newspaper.
Note that the Admiral Gorshkov frigate is only the first warship armed with the latest hypersonic missiles. Submarines of Project 885M Yasen will also be equipped with Zircons, the first of which is to enter service in 2026.