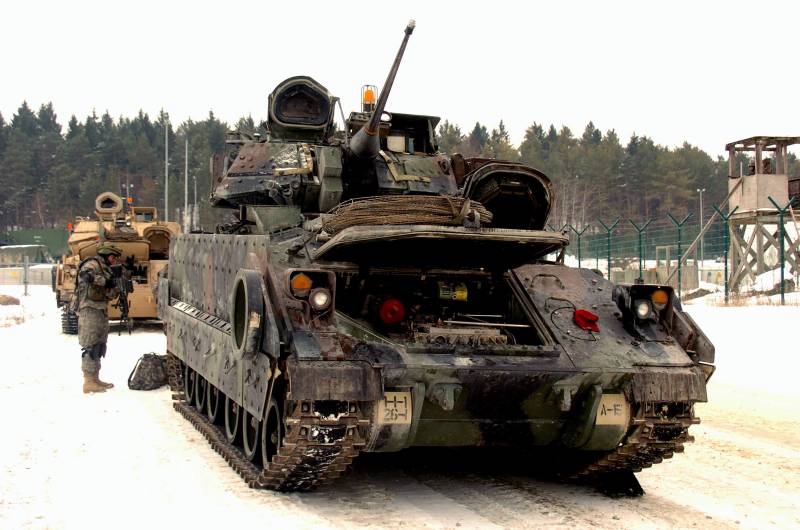 The hopes of the Kyiv regime to receive modern armored vehicles from Western sponsors are not justified yet. In the announced military aid package, about 50 Bradley infantry fighting vehicles in the 1991 modification will go to Ukraine.
The M2A2 ODS (Operation Desert Storm) version was created on the basis of the US troops received during the Iraqi campaign in 1991. This Bradley differs slightly from the M2A2 variant, which began deliveries to the US Army in 1988. Vehicle protection and armament remained unchanged during the revision. Modernization touched mainly on the electronic filling of the BMP.
The main innovation was the equipping of Bradley with a combat information and control system. Based on intelligence received from satellites, this system displays the combat situation on the display and indicates the location of both friendly and enemy forces with reference to the terrain.
On the M2A2 ODS modification, a completely updated GPS-based navigation system with the ability to digitally navigate the terrain was installed. In 1991, a laser range finder and a thermal imaging observation device were added to the equipment of the BMP. The vehicle's passive protection system only works effectively against first-generation ATGMs. For American soldiers, the most important innovation was probably the MRE food ration warmer.
According to open sources, about 2500 Bradley M2A2s in various versions are in service with the US Army, and another 2000 vehicles are in storage. In Europe, the only country that has a modification of the ODS in service is Croatia.