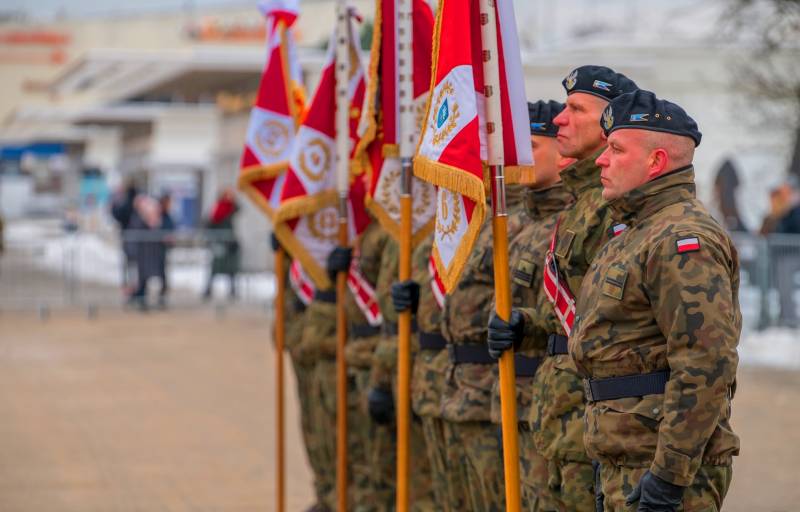 The Polish press continues to discuss the state of the national armed forces in the context of the difficult geopolitical situation in Europe.
In particular, the portal Forsal.pl cites data from a sociological survey of the population, according to which about half of the Poles oppose the idea of ​​returning compulsory conscription to military service. There were 43% of them. At the same time, 34% were in favor, and 23% could not decide on their opinion.
It is worth noting that the same resource spoke about the plans of the Polish authorities to build up the armed forces to 250 nominally, not counting 000 fighters for territorial defense.
It is worth noting that the immediate plans of official Warsaw are no less ambitious: this year it is planned to call up to 200 thousand people "for military training", which many considered covert mobilization. Tax evaders face serious prison sentences, and social networks are filled with videos with hundreds of Polish cars traveling to neighboring countries.
Comments from readers of the resource:
And you call only those who spoke in favor of
– mockingly remarks No skąd.
It's the 21st century, it's time to end slavery and the humiliation of people in the form of forced military service
- calls the reader Szyderca mimo zabanowania.
Of course, the Poles do not want to join the army of their own free will, but they will be driven there by force ... because soon they will be sent to war
- ironically emphasizes Ten co wie.
Policy
, members of their families and other persons not subject to conscription were probably in favor. Such sofa heroes would not have survived there
user fhr responded.
What will a smart person choose? Your own life or 2 years in prison? After all, then 98 percent of people are guaranteed to get out of prison, but maybe 2 percent of the force will get out of the trench. Not a single volunteer or conscript has ever seen even lice and a trench rat up close.

- reflects the reader, who left the response without a signature.
With the current demographics, any war is tantamount to collapse for this country? Another thing is that the government decides

Dax explained.
My friend was dragged into the army in 1997 by force. Three times I visited the training ground, and 2 times I even managed to shoot. The rest of the time he sat in the barracks and drank cheap wine every day. The military has no money for training
Zrozumcie wreszcie pounced.
I fully support the call, maybe that's why in Poland there will be more men, and not older children, as it is now
– expressed the opinion of WegeOla.
And they will send them all to die for the interests of the Ukrainian oligarchs!
- says Dobry plan in response to the previous statement.