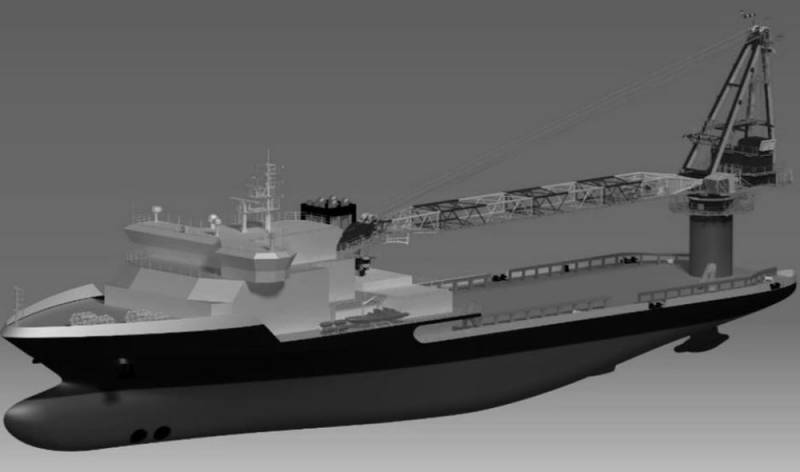 Russian design bureaus are currently working on improving the capabilities of the forces and means of the auxiliary fleet (logistics). New ships are needed for the logistics of the Russian Navy and Russian troops in the Arctic.
Groupings of the Northern and Pacific Fleets, located in difficult climatic zones, are especially in need of this. One of these developments is the promising universal transport project 23120C. The image of the ship planned for construction for the needs of the Russian Navy was published in the collection "Scientific Problems of Logistics Support of the Armed Forces of the Russian Federation" (Issue No. 4 (26) for 2022).
This universal transport is a further development of the multi-purpose marine support vessel of project 23120 (Elbrus type), designed for loading, storing, transporting and transferring dry cargo to the shore, surface ships, submarines and ships, as well as for towing and assistance to crews ships and ships in distress. The Russian Navy has two such vessels built at Severnaya Verf in St. Petersburg: the lead Elbrus has been part of the Northern Fleet since April 2018, and Vsevolod Bobrov has been part of the Black Sea Fleet since August 2021. Both vessels have ARC4 ice class and total displacement of 9-10 tons, depending on draft.
The review indicates that 23120C is a new subclass of marine transport vessels. It has increased the area of ​​the upper deck and the volume of cargo holds, as a result of which the carrying capacity has increased by 50%, or up to 3000 tons. Container transportation capacity increased to 116 units. Instead of two cranes, it has one, but more powerful one.