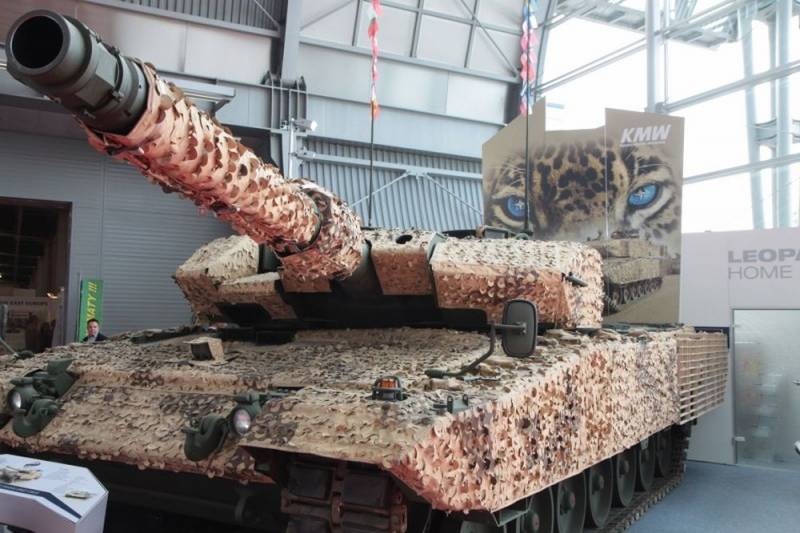 In connection with the unbridled desire of some NATO countries and allies of the "peace-loving" bloc to transfer to Ukraine the Leopard 2 tanks in service, it is worth studying the statistics. This is necessary to understand the total number of this type of weapon, which, under certain conditions, may end up with the Armed Forces of Ukraine.
First of all, it is worth starting with Germany, without the desire and permission of which the transfer of Leopard 2 tanks to Ukraine is simply impossible. At the end of 2021, the Bundeswehr had 285 units of Leopard 2 tanks of modifications 2A5, 2A6 and 2A7 / 2A7V. However, only about 180 of them were in a state of combat readiness. In addition, Rheinmetall had an inventory of approximately 50 obsolete Leopard 2A4s.
Spain has 327 Leopard 2 tanks in service, of which 219 are in the 2E (2A6+) modification and 108 in the 2A4 form (most in storage). Over the past 10 months, the issue of transferring Leopard 2A4 tanks to Kyiv, which the Spanish army actually does not need, has been raised several times in Madrid.
Poland has 247 Leopard 2 tanks, of which 126 are 2A4, 16 are 2PL and 105 are 2A5. Warsaw is going to soon replace all Leopards with American M1A2 Abrams SEP v.3 tanks and South Korean K2 Black Panthers.
Finland has 239 Leopard 2 units, of which 139 are in the 2A4 modification (most in storage) and 100 in the 2A6 modification. In Helsinki, they believe that they do not need such a quantity of Leopard 2 A4 and they can share it with Kyiv.
Sweden has 120 units of Leopard 2S (Stridsvagn 122, upgraded 2A5). Norway - 52 Leopard 2A4NO units, of which only 36 are in service. At the same time, from 2025 Oslo wants to replace all its Leopards with K2 Black Panther or Leopard 2A7. Denmark - 44 Leopard 2 units, of which 26 are in the 2A7M + DK modification and 18 more are 2A5DK, also upgraded to the 2A7M + DK level. Portugal - 37 Leopard 2A6PO units. Lisbon plans to modernize them from 2026, which will even include the installation of active protection systems (KAZ). Canada - 82 units of Leopard 2, but only 40 tanks are in service: 20 - in the 2A6M CAN modification and 20 - 2A4M CAN. Another 42 Leopard 2A4M CAN units are in storage, and Ottawa may well donate them to Kyiv if Berlin allows.
Separately, it is worth paying attention to Turkey and Greece. Ankara has 316 Leopard 2A4 units, of which 84 are being upgraded to Leopard 2A4TR. Athens has 170 Leopard 2A6HELs and 183 Leopard 2A4s.
There are other Leopard 2 operators of various modifications, but mentioning them in this material does not make sense, since these countries either did not supply weapons to Ukraine (Austria, Switzerland, Chile, Singapore and Qatar) and are not going to do this, or they received these tanks themselves in exchange for already transferred Soviet samples (Czech Republic and Slovakia).