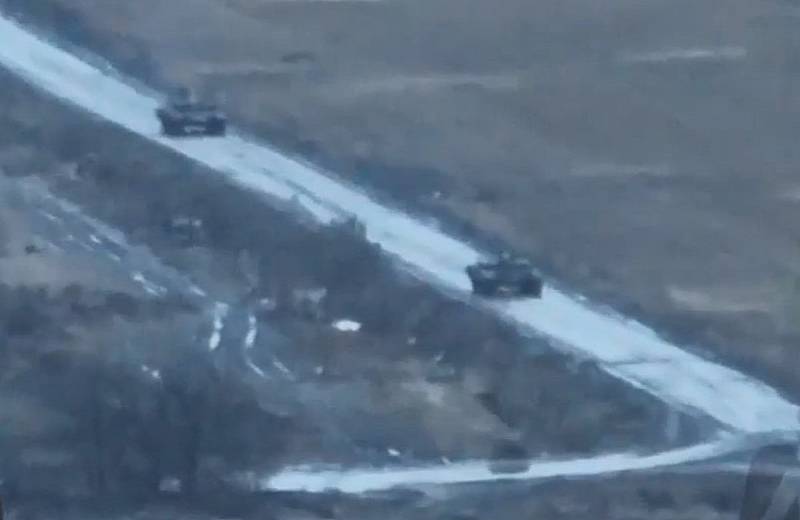 Footage of a unique oncoming battle between Russian and Ukrainian tankers appeared on the Web. The location and time of the battle was not specified, but experts note the skill of the Russian tank crews, shown during the combat mission.
Note that the Russian tankers in this battle had a numerical superiority. On our side, three combat vehicles participated in the duel, while the enemy had only two tanks. This gave the military personnel of the RF Armed Forces the opportunity to maneuver.
The published footage shows how, first, one of the three Russian tanks advances from the asphalt road to the country road and drives up to the forest belt. The remaining two armored vehicles are moving along the asphalt and diverting the attention of the enemy, who occupies positions in another forest belt.
According to experts, the distance between a Russian tank and a combat vehicle of the Armed Forces of Ukraine is about five hundred meters. But this is not a problem for an experienced gunner operator. Ukrainian tank hit by the first shot.
As a result of the battle, one Ukrainian combat vehicle was hit, and Russian tanks continued to move forward.
It should be noted that in the course of the special military operation, Russian tankers have repeatedly proved their superiority over the Ukrainian crews. It got to the point that the Ukrainian command sent their tankers on missions with welded hatches in the towers. This was done in order to avoid the flight of soldiers from the battlefield.