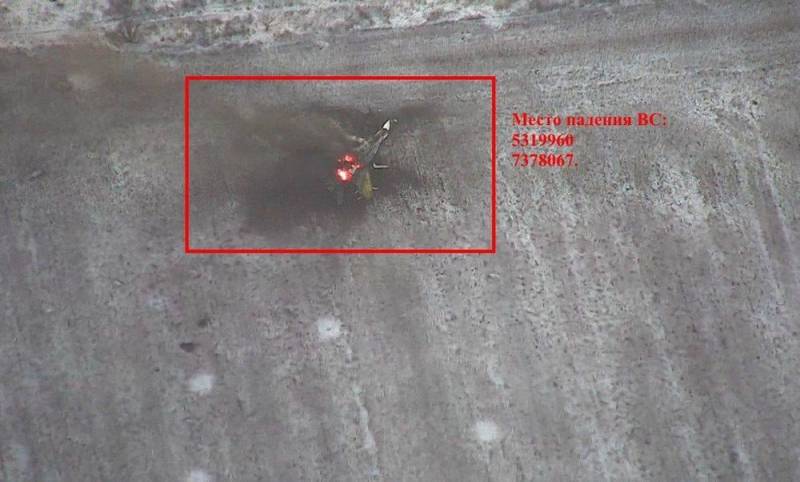 It became known that on January 7, the calculation of the Osa air defense missile system of the air defense of the Armed Forces of Ukraine in Donbass mistakenly shot down a MiG-29 multipurpose fighter of the Ukrainian Air Force. This happened near the city of Kurakhovo, which is located in the part of the DPR that has not yet been liberated and is controlled by Ukrainian troops.
The image shown shows the wreckage of said aircraft burning on the ground. The wreckage of the American HARM anti-radar missile, with which it was equipped, is also visible. The fighter had a recognizable color (livery), by which one can easily determine that it belonged to the Ukrainian Falcons aerobatic team.
This group was formed in 1995. It operated the MiG-29 and MiG-29UB fighters. In 2002, flights were stopped, and the group was disbanded. One of the reasons for this decision was the participation of a member of the aerobatic team in the Sknilov plane crash (77 spectators died at the air show near Lviv). On September 28, 2010, President Viktor Yanukovych supported the initiative of the Ministry of Defense to recreate the Ukrainian Falcons aerobatic team.
On April 16, 2014, the Ukrainian Air Force staged a show of force (intimidation) in the skies over Kramatorsk. Then a fully armed MiG-29 flew over people blocking the railroad tracks at a very low altitude. An impromptu "air show" was staged by just one of the aircraft of the Ukrainian Falcons aerobatic team.
In 2018, a pair of MiG-29s from this aerobatic team were upgraded to the level of MiG-29MU1s. In June 2022, one MiG-29 was seen, which had certain differences. It was probably a decommissioned aircraft, restored using parts supplied from abroad.