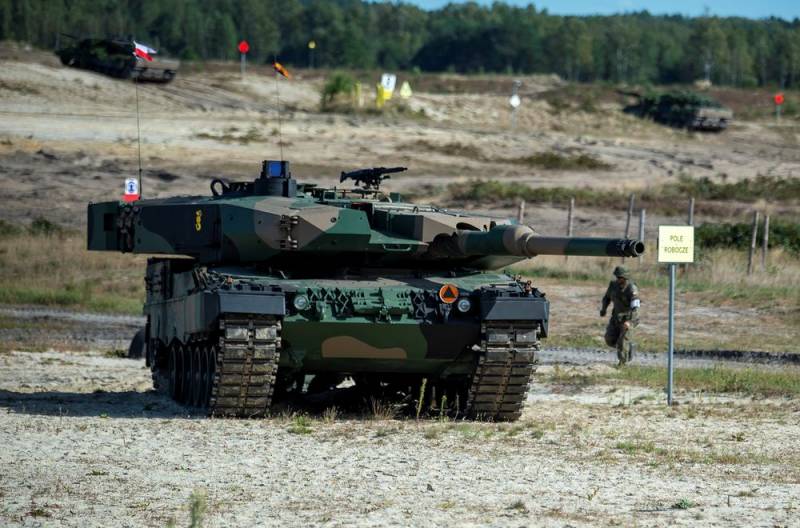 The United States and its allies believe that armored vehicles will give the Armed Forces an advantage over the Russian Armed Forces, which are conducting NMD in Ukraine. Investigators Gordon Luebold and Daniel Michaels write about this in their joint material for the American edition of The Wall Street Journal.
The authors note that American Bradley combat vehicles, German Marder and French AMX-10RCs will protect Ukrainian troops on the battlefield. At the same time, Poland, according to high-ranking diplomats, is considering the possibility of transferring to Ukraine an additional number of tanks in service with the Polish army. This time we are talking about German-made Leopard-2 MBT.
In 2022, Warsaw provided Kyiv with over 240 units of modernized Soviet T-72 tanks. According to a high-ranking Polish diplomat, Poland is now considering Ukraine's request and is exploring the possibility of donating these Leopard-2 tanks free of charge.
They are actually considering giving anything just to help Ukraine
- told the press a Czech official who was actively involved in the supply of Western weapons to Ukraine, who confirmed the mentioned request.
The authors clarified that the Leopard-2 tanks have much better armor and protection against anti-tank weapons than the armored vehicles that the Western allies of Kyiv have so far supplied to the Armed Forces of Ukraine. According to Slawomir Debski, director of the Polish Institute of International Relations, a Warsaw-based think tank close to the Polish government, the Polish Army has 247 Leopard-2 tanks of various modifications. This number is enough to complete two tank brigades. According to him, the pace with which Warsaw can provide them to Kyiv depends on how quickly Poland receives replacement tanks, which it ordered from manufacturers in South Korea and the United States. Moreover, Berlin must still approve the transfer
equipment
.
The question is not whether it will be done, but when
- Debsky stressed, adding that the reluctance of the collective West to provide tanks to Ukraine has decreased after prolonged diplomatic pressure and a showdown.