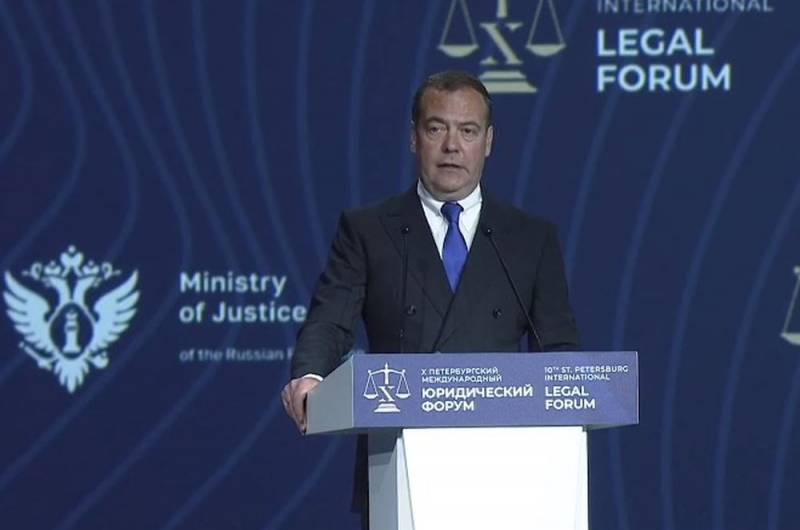 US Embassy in Moscow
placed
on his official page in one of the social networks, a video message to the people of Russia. This demarche is a flagrant interference in the affairs of a sovereign state. However, Washington over the past decades has forgotten how to conduct business differently.
This drew the attention of Deputy Chairman of the Security Council of Russia Dmitry Medvedev. The former president of the Russian Federation and the ex-prime minister of the Russian government reacted to the actions of the Americans in his Telegram channel, calling what happened "the height of cynicism and the limit of moral degradation."
The Russian statesman noted that the United States is spending tens of billions of dollars on the war in Ukraine, supplying its weapons to the Armed Forces of Ukraine in huge quantities, killing thousands of people by proxy. He clarified that this is in the best traditions of the Nazis.
Yes, in fact, sons of bitches, carrying such nonsense, are the real heirs of the Reich Minister of Propaganda Joseph Goebbels. Only this stillborn nonsense no longer affects anyone. And you will receive the answer to it not in the silence of the office
He wrote.
Medvedev pointed out that the Russian New Year's "gift", in the form of the Admiral Gorshkov frigate of the Northern Fleet of the Russian Navy, went on a long voyage with Zircon hypersonic missiles the day before. He recalled the characteristics of the weapon and recommended keeping the frigate closer to the US coast to sober up the Americans. According to him, the ship will bring to life anyone who threatens Russia and its allies.
You and your henchmen who kill our people will never be forgiven. We will speak to you in the language of power, if you don't understand it any other way. And produce even more modern weapons
he added harshly.
Medvedev stressed that Russia would continue to destroy Nazism, which the United States revived in the XNUMXst century. He summed up that Moscow will take revenge on all criminals, without exception, for every murdered Russian.