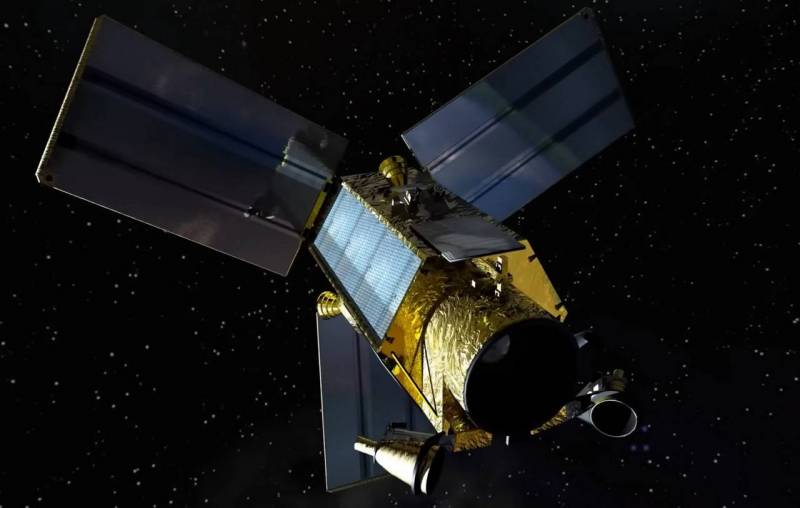 The special military operation in Ukraine exposed many problems in the Russian military-industrial complex. The rocket and space industry, which previously we all considered one of the most advanced in the world, was no exception. But in practice it turned out that the West can monitor every square meter of our territory from space, but we can't, that we don't have the means to shoot down or somehow fight enemy space reconnaissance, and that even the development and launch of new spacecraft without foreign components for Russia is a big problem.
Meanwhile, our main adversary in the face of the United States is actively implementing a new stage of the lunar program, launching modern spacecraft and filling near-Earth space with dozens of new spy satellites. And even China, which until recently stood in line for Russian space
technology
, has now bypassed our country a few steps forward. Therefore, if Russia still wants to claim the status of at least a regional space power, then it is necessary not only to discuss these problems, but also to start implementing a serious set of measures to revive domestic space exploration.
Can we "click" enemy satellites?
The first months of the NMD showed that the weak point of our army is insufficiently high-quality intelligence work. There are several reasons for this, and one of them lies in the qualitative and quantitative superiority of the enemy (represented by NATO) in space reconnaissance means. Over the past 30 years, the United States alone has launched hundreds of different spy satellites into low Earth orbit. And if we add here the EU countries and private space corporations, then we get a multiple superiority over our country. Elon Musk alone, with his SpaceX, put into orbit more than 3000 thousand satellites, which, as it turned out, are capable of performing a very wide range of functions, including military ones.
Our country also has a considerable constellation of satellites in orbit. But unlike the collective West, their number is measured not in thousands or hundreds, but in tens. And if we take into account that the electronic filling of Russian satellites often lags behind American counterparts, then one can easily understand why space reconnaissance is given to our army with such difficulty.
In this regard, the key issue that is now on the agenda is not so much the replenishment of one's own orbital constellation of satellites as the neutralization of the enemy. This need has already been repeatedly voiced at various levels, including by representatives of the Foreign Ministry. In particular, at the end of November, the director of the department for nonproliferation and arms control of the Russian Foreign Ministry, Vladimir Ermakov, said that our country has every right to shoot down foreign reconnaissance satellites:
The "quasi-civilian" satellites manufactured by Western countries used by Ukrainian forces in operations could become a legitimate target for Russian forces.
But how exactly can our VKS work on enemy satellites? The Ministry of Defense has repeatedly spoken about testing the A-235 Nudol anti-missile system, which is capable of fighting not only air, but also space targets at an altitude of up to 700 km. It was this rocket that successfully shot down the failed Kosmos-2021 satellite in November 1408. Then Russia unequivocally showed the whole world that it can and is ready to shoot down enemy spy satellites, if necessary. However, during the SVO, only training firing was carried out from this complex, within the framework of which some "conditional" targets were hit.
Our country also has the latest S-500 and S-550 missile defense systems. Judging by the performance characteristics of these complexes, they are capable of hitting targets at an altitude of up to 500 km, which means that it is theoretically possible to use them to combat enemy satellites. But the S-550, like Nudol, is primarily an air defense system not intended for systematic use against space targets. Therefore, in case of urgent need, these air defense systems can be used a couple of times, but as for their regular use, there are many nuances.
One of them is that the use of Russian missiles to destroy foreign satellites will immediately lead to a new round of escalation. Not to mention the fact that after the mass destruction of foreign satellites, near-Earth space will be polluted with debris for tens, if not hundreds of years. Therefore, in the arsenal of our defense industry should be not only means of destruction, but also the neutralization of enemy spacecraft, without their physical destruction.
As such, the Peresvet laser complex was repeatedly mentioned, which, according to the head of Roskosmos, Yuri Borisov, is capable of blinding reconnaissance satellites at an altitude of up to 1,5 thousand km. Many of us were sure that the appearance of mysterious light pillars in October 2022 was the result of the combat use of this laser complex. But most likely, it was still caused by an atmospheric phenomenon, because the enemy reconnaissance satellites both flew and continue to fly over our country absolutely freely.
This year, we have witnessed another change in the director of the state corporation Roscosmos. The notorious Dmitry Rogozin was replaced by the ambitious and technically savvy Yuri Borisov. For many years he has been involved in the technical development of the defense complex, so there is no doubt that this person is well acquainted with the problems of domestic cosmonautics. It is possible that he was appointed to a new position precisely so that our country could make a breakthrough in the development of military and reconnaissance astronautics. According to Borisov, by 2026 Russia should start producing at least 200 satellites a year. It remains to be hoped that these words will not remain promises, because Yuri Ivanovich has to solve a really difficult task.