The American command, represented by one of the most secret units of the Pentagon, the Office of Strategic Opportunity (SCO), has long been hatching plans for the massive use of drones (drones). They need "swarms" of UAVs for massive radio-electronic and fire suppression of air defense systems, and for striking at position areas of the offensive armament of a potential enemy.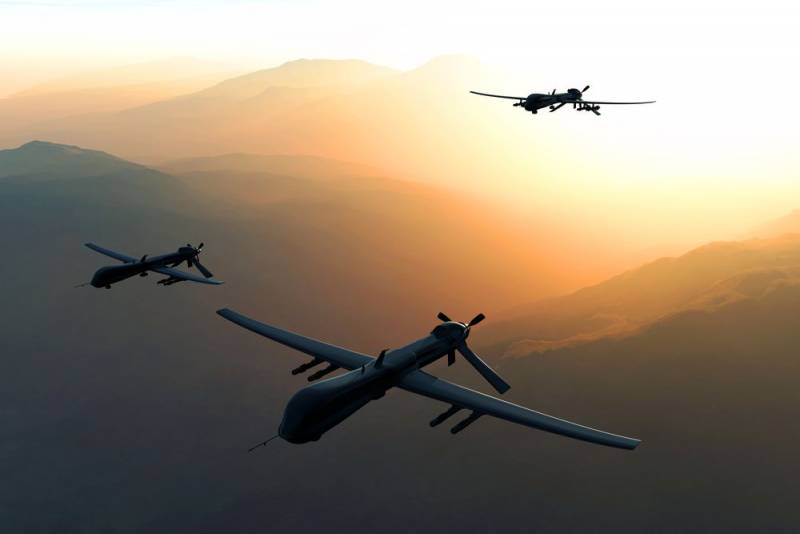 And Syria is the best suited for practicing tactics of such operations, checks
equipment
and equipment. At the same time, you don't have to get your hands dirty, although sometimes there is a "flare". But Washington has a whole "hotbed" of executive guys, from ISIS (banned in Russia), to various "moderate" terrorists that they have bred in this unfortunate country.
And there is nothing surprising that the jihadists changed the tactics of using UAVs, moving from single attacks to group raids. On January 6, 2018, a large group of drones, in the amount of thirteen pieces, simultaneously launched an attack on the Russian air forces air base Khmeimim in Syria. They went in battle order, however, not reaching the target, they met with counteraction of Russian electronic warfare equipment and their system was broken. After which they were taken some distance from the air base.
Further control of the drones, to continue the attack, was promptly undertaken by American military specialists, who were comfortably accommodated in the US reconnaissance aircraft Poseidon-8. They manually led the attack on Khmeimim, trying to direct drones into the "holes" identified in the defense of the air base. It is not in vain that for eight hours Poseidon-8 was in the sky above the Mediterranean Sea, not far from the coast of Syria. However, all the drones were shot down. This became known from the words of the Deputy Minister of Defense of Russia Alexander Fomin.