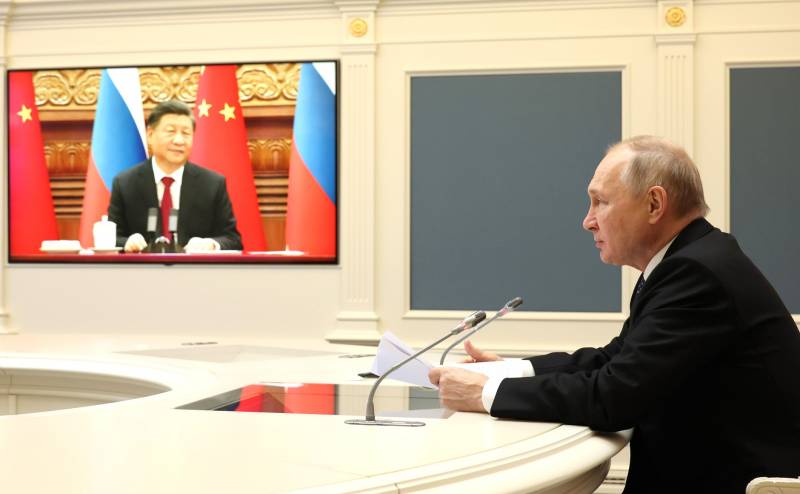 First of all, the Russian leader congratulated Xi Jinping on his re-election to the post of General Secretary of the Communist Party of China, noted the strengthening of the country's position on the world stage under his leadership, and wished him further success. Vladimir Putin thanked his colleague for the warm welcome extended to Dmitry Medvedev during his recent visit to Beijing.
The main topic of the conversation was the issues of economic cooperation between the two countries. The geopolitical situation made it possible to increase the volume of mutual trade between Moscow and Beijing.
Despite the unfavorable external situation and direct blackmail from some Western countries, Russia and China managed to ensure record high rates of mutual trade. At the end of the year, it increased by about 25%.
Vladimir Putin said.
The President of the Russian Federation noted the successful implementation of projects in the transport infrastructure, and also positively assessed the military and military
technical
cooperation between the two countries. The Russian leader confirmed the common position in the international arena in the current situation.
We share the same views on the causes, course and logic of the ongoing transformation of the global geopolitical landscape, in the face of unprecedented pressure and provocations from the West, we defend our principled positions and protect not only our own interests, but also all those who stand for a truly democratic world order and the rights of countries freely determine your own destiny
- said the Russian leader during the conversation.
Xi Jinping also agreed with this position. Noting the growth of trade to $170 billion in 11 months of this year, the Chinese leader expressed confidence in the successful continuation of joint work in all areas.
In the face of a difficult and far from unambiguous international situation, we are ready to build up strategic cooperation with Russia, provide each other with development opportunities, be global partners for the benefit of the peoples of our countries and in the interests of stability throughout the world.
- quotes the words of the Chinese leader the official portal of the Kremlin.
The heads of Russia and China agreed to meet personally in Moscow in the spring of 2023.