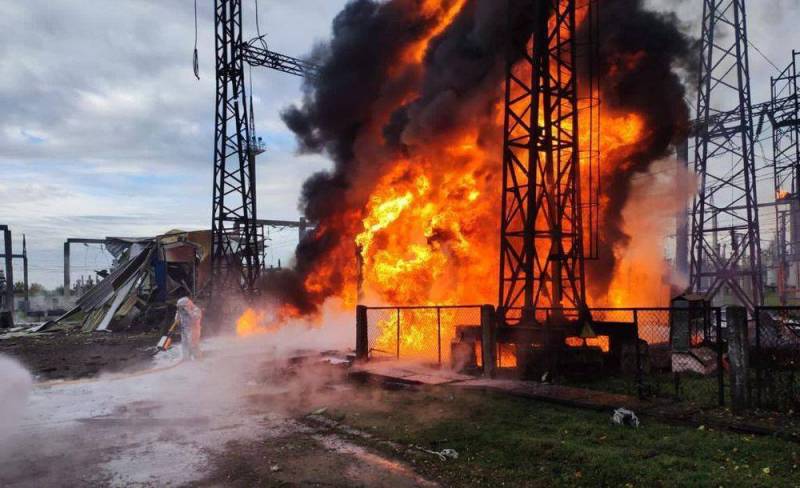 Currently, the United States and other Western allies of Ukraine are facing great difficulties in effectively restoring the country's energy after Russian missile strikes. This was reported by the American television channel CNN, giving details of what is happening.
The media drew attention to the fact that there is a shortage (shortage) of the necessary equipment on the planet. Therefore, Washington is negotiating with private companies to help supply Kyiv with everything it needs. The fact is that the key American elements of the power grid are poorly compatible with the Ukrainian network due to different frequencies. In the USA, the AC frequency is 60 hertz, and in Ukraine, as in all of Europe, it is 50 hertz, but there are other distinctive parameters.
It is still not very successful to produce a sufficient amount of equipment suitable for Ukraine. There are not many manufacturers in the world and there are difficulties in supply chains. The Ukrainian authorities are faced with a huge problem that needs to be somehow solved in order to
economy
countries could function, the media concludes, based on a statement by the head of the US State Department, Anthony Blinken, who promised to "work tirelessly" with the G7 on these difficulties.
A tough winter lies ahead for Ukrainians, and we will work tirelessly with the G7 and other partners to rebuild, replace and protect Ukraine's energy infrastructure.
- he wrote on his Twitter account (a social network blocked by the RKN in Russia).
CNN clarified that the U.S. will, in the short term, try to procure large gas-fired generators to maintain water and heating supplies during power outages in Ukraine. Washington is also likely to purchase suitable transformers or organize their production in Eastern Europe for subsequent transfer to Kyiv, summed up the media.