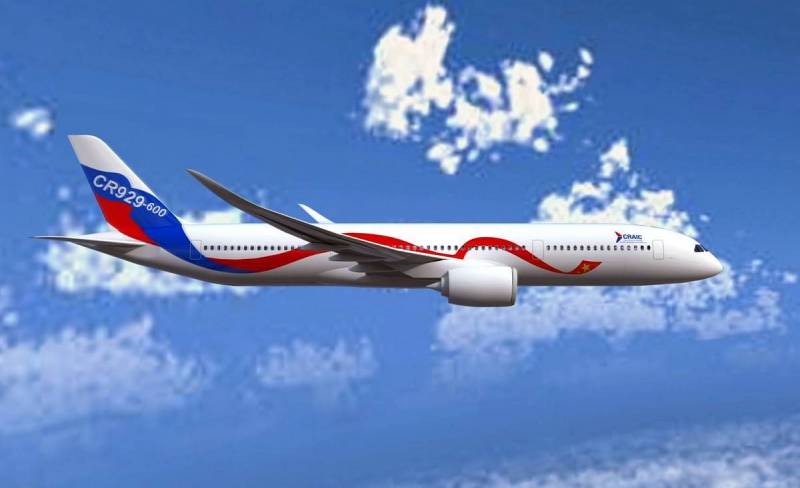 Work on a joint Russian-Chinese project of a wide-body long-haul aircraft CR929 for 250-300 passengers has been underway since 2014. However, only in September 2022 did the preliminary design stage begin. Moreover, China is considering applications for the participation of firms from other countries, which causes concern in Russia.
Deputy Prime Minister of the Government of the Russian Federation (since July 15, 2022), head of the Ministry of Industry and Trade of Russia Denis Manturov commented on what is happening during a conversation with
TASS
. The functionary said that negotiations with the Chinese side would take place in the first quarter of 2023, and then the timing and prospects would become clear to Moscow. But the Russian side in any case objects to the participation of third countries. Therefore, the Russian Federation may change the degree of its further participation in the mentioned project with the PRC.
We do not consider such a format for ourselves, given the current situation and all the risks that we understand very well. Therefore, in order not to encounter them, we may decide for ourselves from a partner within the framework of this project to move to the status of a supplier of aggregates, components
Manturov explained.
It should be noted that this is not the first negative signal from Moscow in recent times. In mid-June, Manturov said that in connection with Western sanctions against the Russian Federation due to the events in Ukraine, as well as possible restrictions against China due to Taiwan, the CR929 project would be revised and reformatted only for Russian and Chinese components. But already at the end of June, Deputy Prime Minister for Defense Industry Yuri Borisov spoke about a possible reduction in Russia's participation in the project with the PRC, pointing out that the activity is not being carried out in the direction that Russia is interested in. A few weeks later, Borisov was dismissed from the post of deputy chairman of the government and headed the state corporation Roscosmos.
We remind you that the Chinese media wrote then that the possibility of reducing the participation of the Russian Federation in the project is being considered, since Beijing is going to replace part of the Russian
of technologies
Western, inviting manufacturers from countries unfriendly to the Russian Federation to participate. In addition, the Chinese comrades do not want to share profits with Russian partners in the key Chinese market for the project.