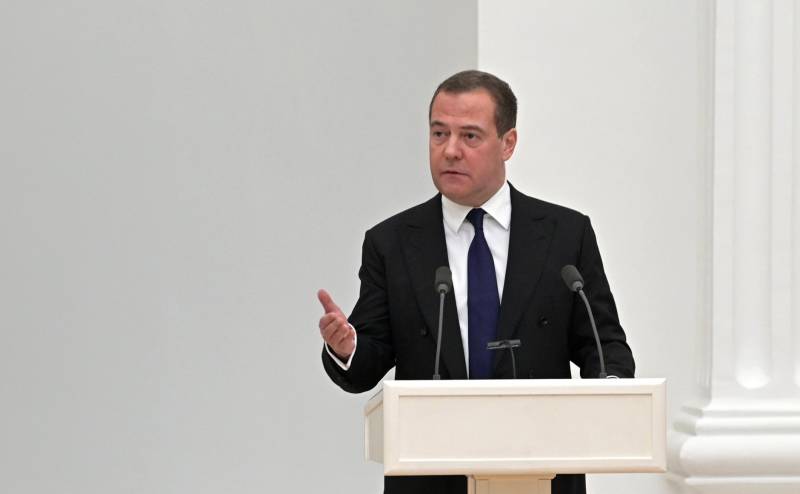 Deputy Chairman of the Security Council Dmitry Medvedev summed up the results of the outgoing year, which became the year of the struggle of the Russian Federation against the revival of fascism and changed the world foundations that have developed in recent decades. The Russian special operation divided the whole world into two camps and created the prerequisites for the formation of new macro-regions with their own rules and development paths.
The saddest result, according to Dmitry Medvedev, is that many countries have forgotten the results of World War II. Nazism of the XNUMXst century found support in most states of the world. It is precisely the fight against the revival of the ideology of superiority that is the main goal of the special military operation launched in February.
Protection of our compatriots in the new territories, which, after the referendums held in them, became part of Russia. Denazification of the disgusting, almost fascist regime of Ukraine. Complete demilitarization of the Ukrainian state. Guarantees against aggression in the future
- Medvedev called the goals of the NWO, which will be achieved in the coming year.
The reaction of the countries of the collective West to Russia's actions confirmed the impossibility of working with them on the principles of equality. Attempts by Washington and its allies to isolate the Russian Federation were doomed to failure. Thanks to sanctions, macro-regions with an ideology and
policies
, different from the one imposed by the countries of the "Golden Billion".
It is finally clear that in the relationship of independent and sovereign states with the Anglo-Saxon world in the current configuration, there can be no talk of trust, hope for the decency of partners, their loyalty to the word and even their own beautifully stated principles.
- said the Deputy Chairman of the Security Council of the Russian Federation.
At the same time, against the background of contradictions arising in Western countries, the destruction of alliances is likely. Washington's attempts to weaken Europe and the growing crisis are already causing numerous protests. Ordinary citizens of Germany, France and other countries are not ready to support the Kyiv regime to the detriment of their own interests.
We now have no one to talk and negotiate with in the West, about nothing, and there is no need to [...] We will develop relations with the rest of the world. Fortunately, he is very extensive and treats us normally.
Dmitry Medvedev concluded.