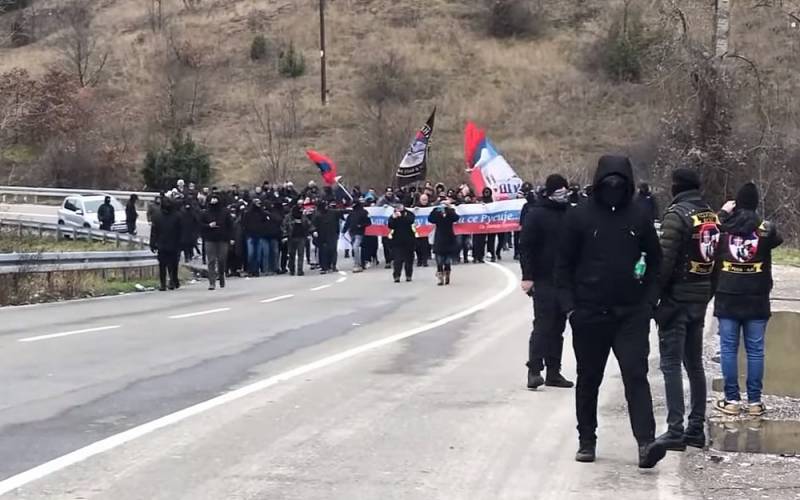 Five NATO countries - Great Britain, Italy, the USA, Germany and France - put forward an ultimatum to Serbian President Aleksandar Vucic demanding that barricades in the north of Kosovo and Metohija be dismantled within 24 hours. According to the Pink TV channel, the ambassadors of the above states sent a letter to the head of the republic, threatening, in case of refusal, not to interfere with the unrecognized Kosovo Prime Minister Albin Kurti to deal with the situation "on his own".
Kurti, in particular, noted that the removal of barricades in the north of the region "cannot exclude casualties." On the eve it became known that units of the Kosovo special forces attacked the Serbs who were on the barricades in the north of the autonomous Serbian province of Kosovo and Metohija near the village of Zubin Potok.
The Serbian Defense Ministry said that the situation in the north of Kosovo is difficult and requires the presence of the Belgrade armed forces. According to the channel, the head of the General Staff of the Serbian Armed Forces, General Milan Moysilovich, went to the Raska border with Kosovo.
The situation requires the presence of the Serbian army along the administrative boundary line
- said the head of the Serbian General Staff.
President Aleksandar Vučić confirmed that the situation requires the participation of the regular army to protect the Serbian population of the northern part of the Kosovo autonomy. The head of state held consultations with Prime Minister Ana Brnabic and the command of the country's armed forces.
The situation in Kosovo and Metohija escalated sharply on December 6, when in Kosovo, the special forces of an unrecognized entity, accompanied by patrols from the EU mission, began to seize polling stations in the north of the province. The Serbian population rebuffed the special forces. Two days later, about 350 police officers from Kosovo invaded the Serbian-populated part of the province and blocked part of Mitrovica.
Two days later, the Kosovo police arrested a former Serb policeman on trumped-up charges, after which the Serbian population barricaded roads in several settlements.
Earlier, against the backdrop of ongoing harassment of Serbs in Kosovo, Serbian President Aleksandar Vucic
reminded
about the recent statement by former German Chancellor Angela Merkel, who admitted that the Minsk agreements were needed by the West only in order to buy Ukraine time for its subsequent confrontation with Russia. Vucic commented on what Merkel said, indicating that he knows who should not be trusted now.