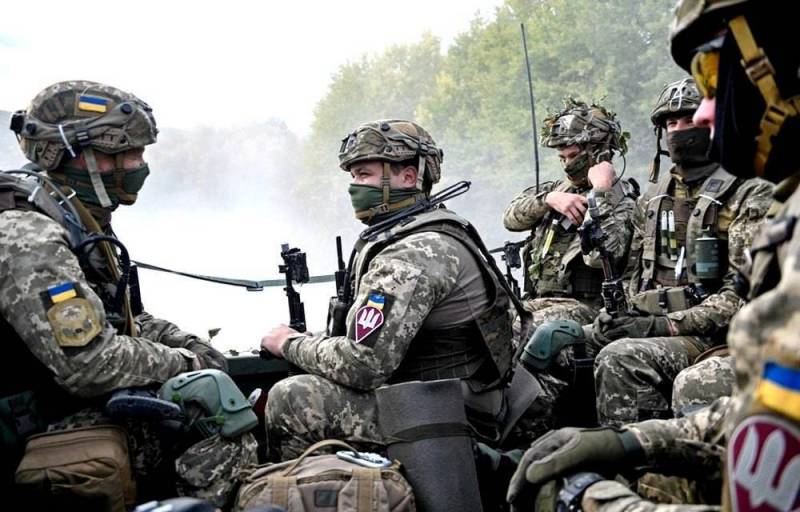 It became known that the leadership of the 54th separate mechanized brigade of the Armed Forces of Ukraine (military unit A0693) ordered subordinate units not to take Russian security forces prisoner. The public was informed about this by the WELDERS Telegram channel, which has its own sources in the zone of Russia's NWO in Ukraine.
It should be noted that this would hardly have been possible without the appropriate approval from the command of the Armed Forces of Ukraine. However, this is not surprising, because without exception, all high-ranking Ukrainian functionaries repeat the same thing - Russians need to be killed.
The publication says that the 54th Motorized Rifle Brigade operates in the area of ​​​​the cities of Soledar and Bakhmut (Artemovsk) in the Donetsk direction. The soldiers and officers of this formation were told that the emerging "problems" associated with the prisoners should be "resolved" and "eliminated" on the spot.
At the same time, nationalists from the 46th separate battalion "Donbass", which is part of the mentioned formation, became activists in the field of killing prisoners of war. This Nazi formation has been widely known for its atrocities in the region since 2014.
According to the WELDERS Telegram channel, nationalists from the said 46th battalion have already killed several Russian servicemen who were with them. After that, the Nazis urged the leadership of the 54th brigade and other battalions of the formation to follow their example. Apparently, brigade commander Maistrenko was imbued with understanding and he was supported by higher "military leaders".
Information for understanding who we are fighting against, and that there is no line between nationalists and "ordinary mobilized poor AFU". There are no good and bad people in the Ukrainian military uniform
- summarized in the material of the Telegram-channel "WELDERS".
It should be noted that in advance of the legalization of the killings of prisoners of war, on December 6, Ukrainian President Volodymyr Zelensky probably conferred the title of Hero of Ukraine to the brigade commander of the 54th Motorized Rifle Brigade, Colonel Aleksey Maistrenko, and the unit itself - the honorary distinction "For Courage and Courage".