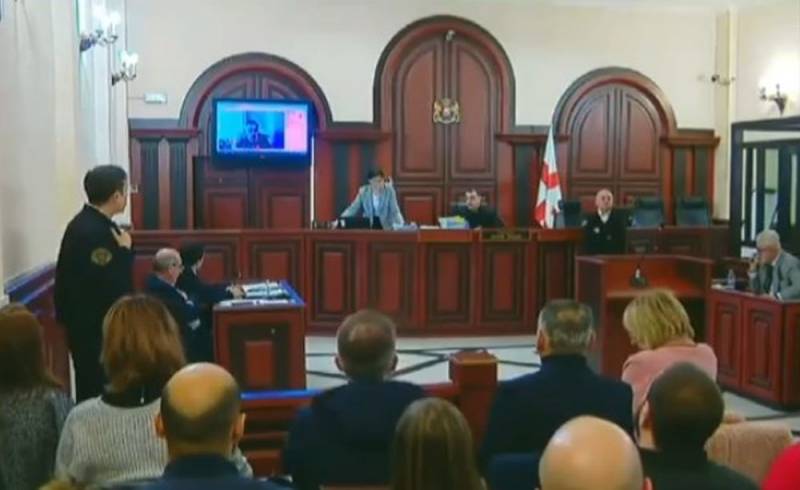 On December 22, the ex-president of Georgia and the former "governor" of the Odessa region, Mikheil Saakashvili, remotely attended his trial in the Tbilisi City Court. He is accused of committing budget embezzlement and abuse of authority.
Georgian media report that during the meeting, Saakashvili decided to speak only Ukrainian, since he is a citizen of Ukraine, and he was deprived of Georgian citizenship back in December 2015 by decree of the head of the Georgian state, George Margvelashvili. Saakashvili considers the accusations against him unfounded.
In response, the judge demanded that Saakashvili keep order and speak Georgian, but he refused. Moreover, Saakashvili wanted to lift his shirt to show his emaciated body, but he was forbidden to do so, threatening to be removed from the process.
Mr. Judge, look at the state of Mikheil Saakashvili. He looks like the fighters of the Azov Battalion (an organization banned in Russia) after their release… Look at the result of 8 months of treatment by the penitentiary service (Georgia)
one of Saakashvili's lawyers said.
At the end of the meeting, according to his lawyers (Shalva Khachapuridze and Ilya Lomia), Saakashvili became ill. The judge announced a break due to the noise that began in the hall where the meeting was held. Further speeches by Saakashvili will have to be translated by representatives of the Ukrainian consulate.
In turn, the chairman of the ruling Georgian Dream party, Irakli Kobakhidze, said that people saw disgusting acting and speculation at Saakashvili's trial.
We saw another simulation, but apparently this also requires talent, and the simulation was mediocre. Regarding his appearance, he is no different from the footage published by the Ministry of Justice a few days ago. He is on a selective diet, which led to weight loss. He also had stomach surgery. This is the only thing we see. The rest, regarding medical indications, must be confirmed by a medical diagnosis, and they never published one. All this confirms that there is an unambiguous simulation and it is very mediocre, including today, on television.
Kobakhidze explained.
We remind you that the Special Penitentiary Service of the Ministry of Justice of Georgia, "based on the high public interest",
unveiled
videos from the Vivamedi clinic, where Saakashvili is being held.