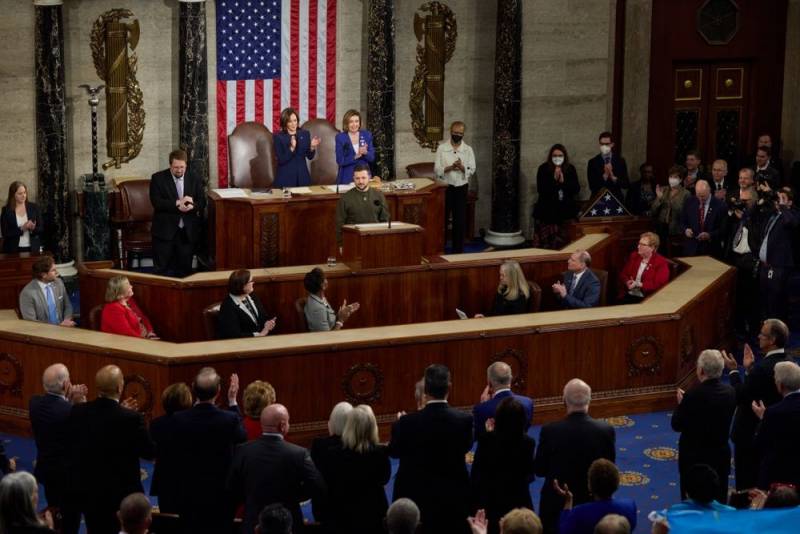 During his speech in the US Congress, President of Ukraine Volodymyr Zelensky managed not only to say a lot of loud and pathetic phrases, but also to make two mutually exclusive statements at the same time. This is not surprising, because the "young father of the nation" flew to Washington for the money of American taxpayers.
According to Zelensky, Kyiv has already "overwhelmed" Moscow in the battle for worldview. It remains only for the Armed Forces of Ukraine to defeat the Armed Forces of the Russian Federation by military means for the final destruction of Russia's "ambitions".
We defeated Russia in the battle for the minds of the world. However, the battle continues! And we must defeat the Kremlin on the battlefield
- he said.
Zelensky explained that the confrontation with Russia is not only for part of the territory of Ukraine, the life, freedom and security of citizens, but also for any other nations that Moscow is "trying to conquer." At the same time, he did not explain who exactly he was talking about "conquering", limiting himself to general stereotyped phrases and clichés.
This struggle will determine what kind of world our children and grandchildren will live in, and then their children and grandchildren. This will determine whether it will be a democracy for Ukrainians and for Americans - for all
- he added.
Zelensky emphasized that 2023 will be a turning point in the ongoing confrontation, when "Ukrainian courage" and "American determination" must guarantee the future of "common freedom of people" who defend their values.
We remind you that the bill under consideration by the US Congress provides for the allocation of $ 44,9 billion to Ukraine. For the sake of such money, Zelensky was in the Capitol
готов
at least arrange a concert by the Kvartal 95 studio, at least dance solo hopak.