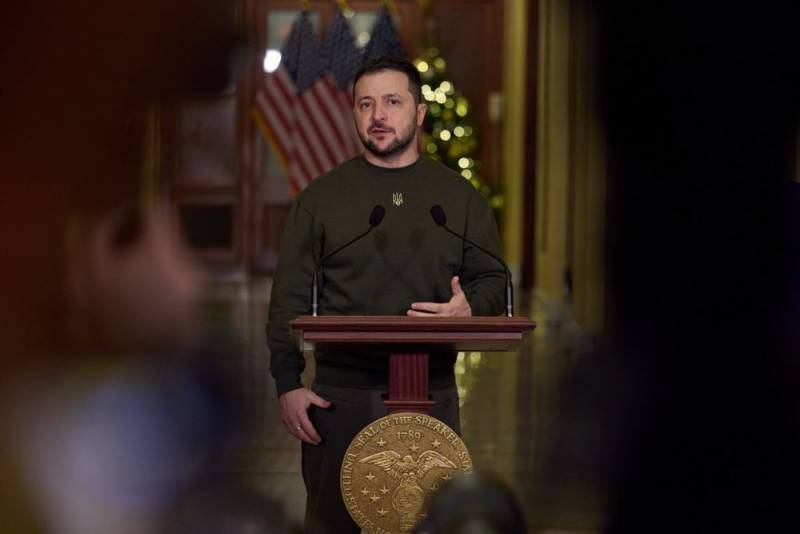 It is well known that dark deeds are most often committed under the cover of night, and the meeting of US and Ukrainian Presidents Joe Biden and Volodymyr Zelensky at the White House in Washington is no exception. This was the first visit abroad by a Ukrainian leader since Russia began the NWO, but he rushed across the Atlantic for a reason, but for the $44,9 billion provided for by the budget bill and submitted to the US Congress.
Neither Biden nor Zelensky are interested in financial checks (audits) of previously provided and allocated funds. That is why the US President called his Ukrainian counterpart to Washington. Before the meeting of the two heads of state, Zelensky was taken to the Capitol, where he addressed members of the US House of Representatives and Senate, who, in the current composition, had a couple of days to work. Zelensky's words boiled down to the fact that Ukraine cannot survive without US support.
It is worth noting that a number of members of the Republican Party ignored the speech of the head of Ukraine. However, the leader of the Republicans in the Senate, 80-year-old Mitch McConnell, after Zelensky's speech, said that "the main thing in Ukraine is to defeat the Russians," after which he praised the Ukrainian president.
Fortunately, we have a person and a leader who can be admired in this regard. And it's nice to do business with him at the end of the year, we all agree on that.
Said the senator.
The words uttered by McConnell should be a signal to those people in the Russian Federation who still think that the change of Democrats to Republicans in the United States will change something in the attitude of Americans towards Moscow and Kyiv.