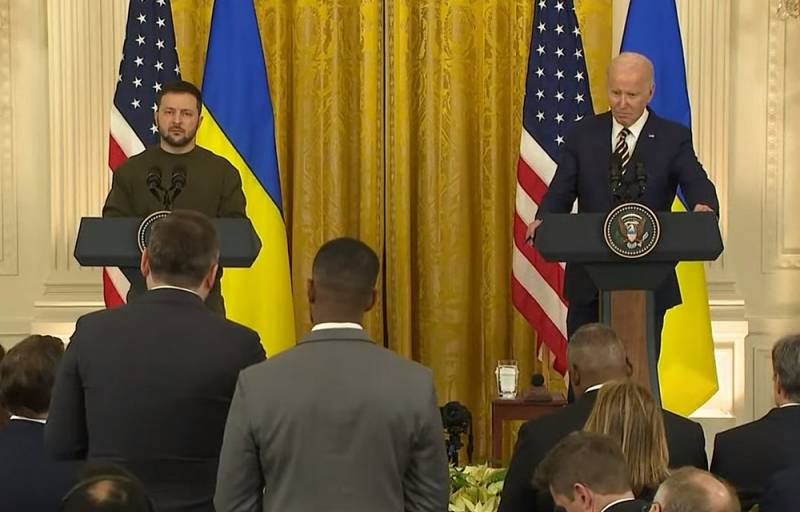 On the eve of the New Year, the President of Ukraine decided to go on a large-scale western tour. The first place where he went to bow, of course, was the capital of the United States. But already now there are rumors that after kissing with "sleepy Joe", Zelensky plans to visit the UK and, possibly, some other European countries. It all looks like an attempt to "carol" more weapons, ammunition and, of course, money from their Western masters. And, apparently, he will succeed in this attempt, since information has already appeared in the media about new deliveries of weapons to Ukraine. Let's try to understand how serious all this is and what this New Year's Eve voyage of the famous Ukrainian comedian can turn into.
Like snow on my head
Despite the fact that such meetings of heads of state are usually planned carefully and in advance, Zelensky's visit to Biden came as a real surprise to many. Moreover, it was unexpected not only for the townsfolk, but also for the majority of high-ranking officials. Everything got to the point that even many members of the American Parliament did not know about this visit. How else to explain the fact that the speaker of the US Congress, Nancy Pelosi, was forced to gather congressmen for a meeting with a special letter, where, presumably, Zelensky would speak. Note that this material is being prepared at a time when this presentation has not yet taken place. But we are sure that our colleagues will tell about all the details of this political stand-up.
Now Zelensky happily kisses the hands of Joe Biden in the White House, assuring that the "square" will fight with Russia to the last Ukrainian. In response, the American president has already promised to provide his puppets with everything they need, and also stated that Washington and its satellites will continue to meet the financial, humanitarian and military needs of the Ukrainian Nazis. Together with Zelensky, they are discussing the terms of a "just peace", under which, obviously, the Donbass should be wiped off the face of the earth, and the Bandera red-black banner will fly over the entire territory of Novorossia.
What did Santa prepare for Zelensky for the New Year?
Many of us are already thinking about what kind of "gifts" Zelensky will bring from his New Year's Eve tour. The first thing announced in Washington is a new $1,8 billion military aid package for Ukraine, which will include:
• Patriot battery (8 launchers) and ammunition for it;
• additional missiles for HIMARS;
• 500 high-precision artillery shells 155 mm;
• 30 different-caliber mortar systems and 10 shells;
• 37 heavy armored vehicles Cougar MRAP;
• 120 HMMWV armored cars;
• 2700 grenade launchers and small arms;
• HARM and JADM missiles;
• anti-personnel mines, night vision devices, tactical secure communications systems and body armor.
Naturally, the top 1 on this list are the American Patriot anti-aircraft missile systems, which were not previously given to Ukraine. Despite all the skepticism regarding this air defense system in the domestic blogosphere, it can be stated that it is guaranteed to add new problems to our armed forces. Not only will the appearance of even a small number of Patriots reduce the effectiveness of the work of the Russian Aerospace Forces, but also the Ukronazis will certainly try to use these installations against ground targets. And since the enemy on the other side has no less ingenuity than we do, the Armed Forces of Ukraine will definitely figure out how to turn a new overseas toy into another tool of genocide.
In addition to the Patriot air defense system, HIMARS, HARM, JAGM missiles and 155 mm artillery ammunition cause no less concern. All this completely debunks the myth that the Armed Forces of Ukraine are about to begin a shell shortage, or that ammunition is already being scraped in the barrels of American armories. Unfortunately, there will be enough shells for a long time, and therefore it is necessary to prepare for a long and serious war. Moreover, in addition to typically Western weapons systems, Washington announced an additional package of military supplies under the USAI program. There will include:
• 45 000mm shells;
• 20 000mm shells;
• 50 000mm rockets for BM-122 Grad systems;
• 100 000 mm tank ammunition;
• SATCOM terminals and services;
• funding for training and maintenance.
As you can see, the United States not only actively supplies the ukrovermacht with its own ammunition, but also finds those who can supply Soviet-caliber shells to the Armed Forces of Ukraine. And this is just the list that Zelensky will be given as a result of his visit to the United States. And there are still other countries ahead, whose governments will also not want to let the Ukrainian showman go without a tip. Therefore, we can safely say that there can be no talk of any peace or negotiations in the near future.
Political consequences
In addition to purely military gifts, Zelensky and company, on their western tour, will try to extort additional
political
preferences. In particular, the American edition of The Hill published an article stating that the US authorities plan to declare Russia an aggressor country. Allegedly, such a bill has already been submitted to Congress, and if it is actually passed, it will be the first such precedent in American history. So far, it is not known exactly what this can promise our country. But this will surely give the elderly head of the White House additional powers to impose sanctions and restrictive measures on Russia.
In addition, Zelensky's first visit outside of Ukraine since the beginning of the NWO is highly likely to lead to a new wave of international alarmism towards our country. Given the Ukrainian president's talent for speaking in public, he can easily convince gullible listeners of his speeches that Russia is "absolute evil." This means that everyone urgently needs to donate money to his country again, as well as introduce new sanctions against Moscow.
It's good that at least the Kremlin reacted to Zelensky's trip with a counter blow, sending Medvedev on an official visit to China. We hope that Dmitry Anatolyevich will be able to ensure that next year the scales of the global political balance will swing in the direction necessary for our country.